Killed my engine... BAD
---
So back on March 12th I was out on a group ride. We were riding VERY spiritedly: I had it pegged at about 105. All of a sudden I had a loss of power. Pulled to the side of the road, and as I slowed the engine died. Started it back up and there was a terrible sound in the front cylinder. Tried to limp it back to civilization, but didn't make it very far before there was a loud thud/crunch and the engine seized.
Since then, I hadn't gotten around to finding out what the problem was, simply because I just didn't want to know/see how bad the damage is.
Well, I finally started taking it apart this week. And it's just as bad as I feared.
Drained the oil and found a lot of metal flakes in the oil screen. That's a bad sign: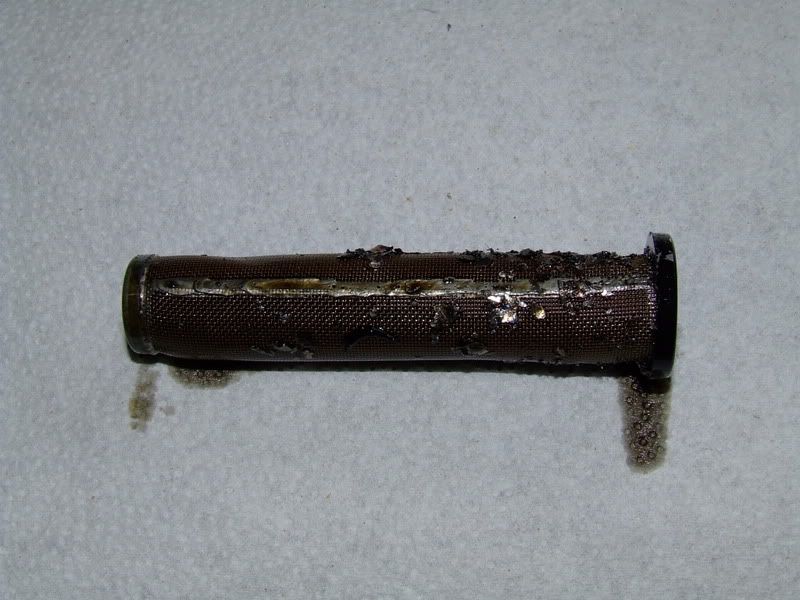 Got the engine out (God it's such a pain in the ass to remove the engine!) and took off the valve cover. Immediately saw that two rocker arms were not on their valves. Not sure if that happened before or after I removed the engine.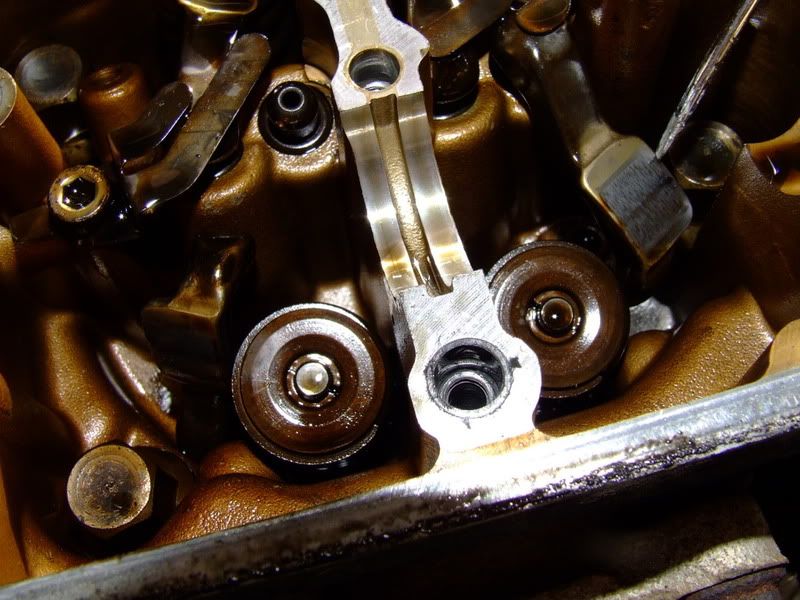 Pulled off the cylinder head, and the badness is immediately obvious: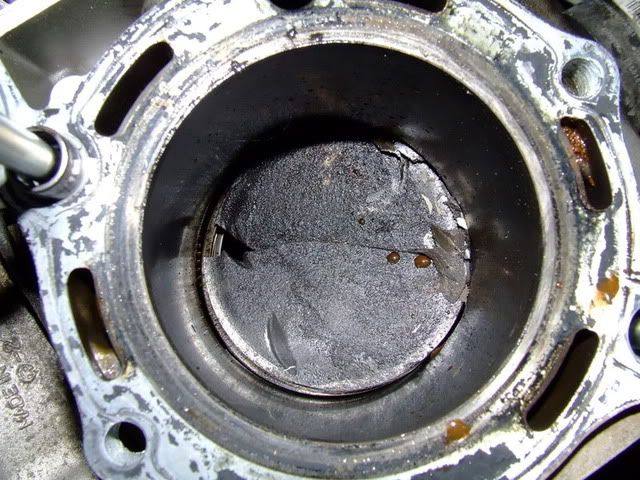 Get the cylinder off, and it's even worse: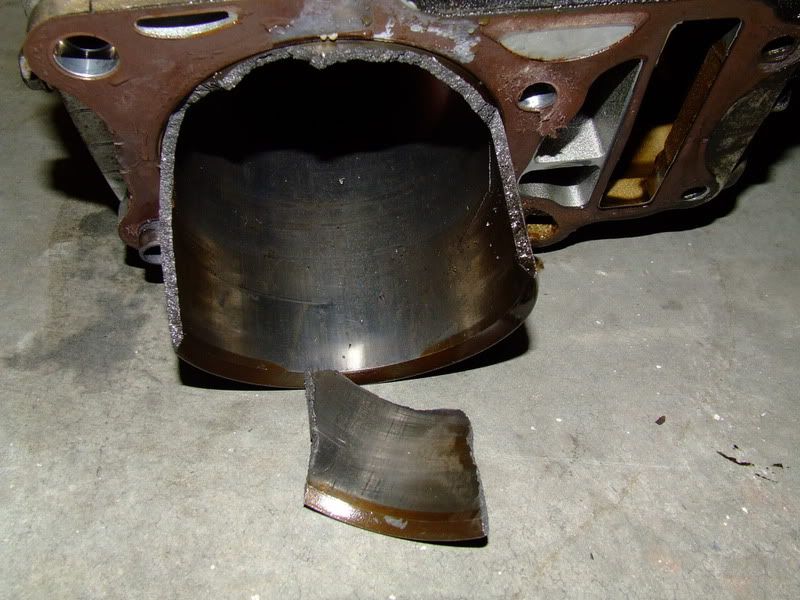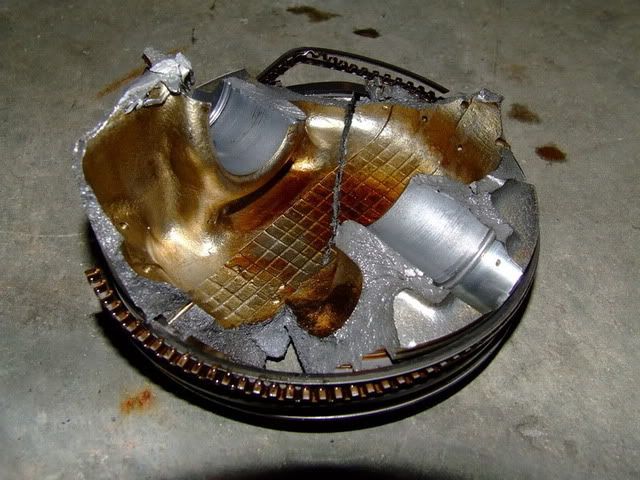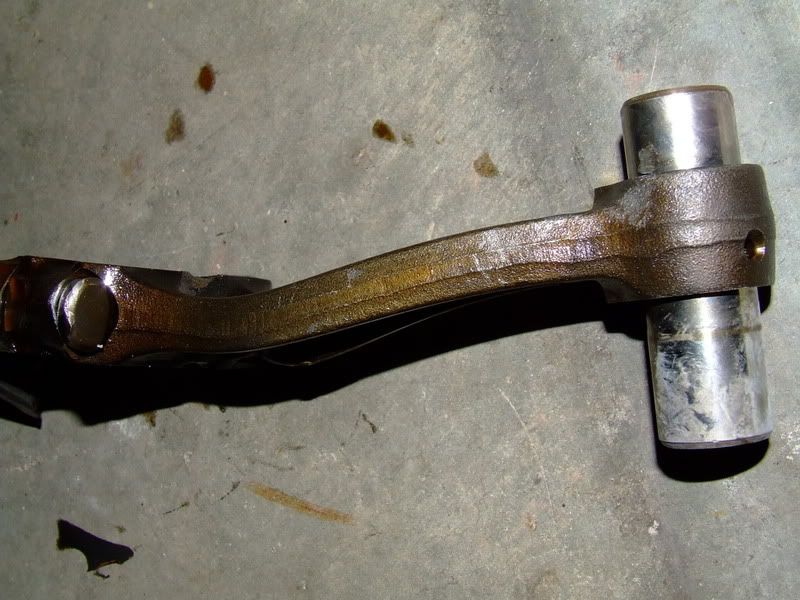 Plenty of metal pieces down in the bowels of the engine too: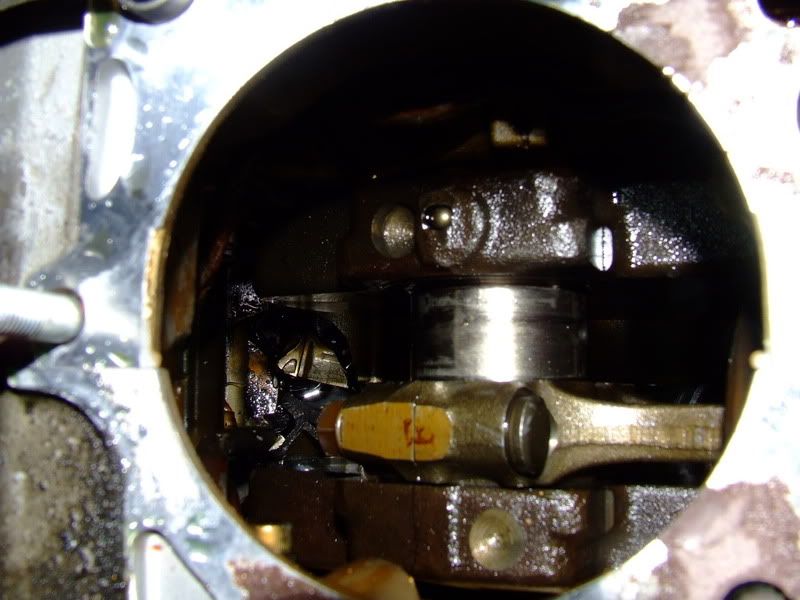 Looks like I've got my work cut out for myself to get it going again. But I know I can get it done. Just a matter of time, money, and effort. Worst part is that I'm off the road during the prime riding season. Sucks.
I'll update with more photos as I keep going.
---
'95 Vulcan 750
- Purchased 8/2003 w/ 21,124 miles - passed 50K 9/3/15
* VN900 seat * Daytona handlebar * Converted ACCTs to MCCTs * Relocated R/R * Drilled clutch basket * Coastered * Repainted *
OUCH, sorry for your bad luck, good pics though.
---
"Show me a man who makes no mistakes, and I'll show you a man who doesn't do things." Theodore Roosevelt."
2007 Victory Kingpin
Current projects - 1986 VN750 & 1988 EL250
Concert connoisseur
so sorry to see that, good luck with the rebuild!
Members who have donated towards server costs
Join Date: Jun 2010
Posts: 386
deleted
---
1988 VN750[SIGPIC][/SIGPIC]
---
Last edited by FlacoLove; 03-25-2013 at

10:07 AM

.
Senior Member
Join Date: Aug 2010
Location: Daleville, Alabama
Posts: 445
That sure left a mark! Hey can I use your VN900 seat while you re-build? (Figured that you needed some humor cause you got to be crying deep down inside.)
Senior Member
Join Date: Jun 2011
Location: New York
Posts: 120
New head, piston, sleeve rod, bearings, and that just what we can see. Might be time to part it out and buy a new bike.
Do you know what happened? Did you throw a cam chain or something?
---
No more Vulcan
New ride 2012 Victory hammer 8 ball
Stage 1 with Cobra 2 into 1 exhaust.
Linkmeister Supreme
Join Date: Aug 2008
Location: Lethbridge, Alberta, Canada
Posts: 7,960
Wow Dave, that`s a kind of bad luck, good luck story.
Bad luck that the engine broke, but good that it didn`t seize solid while you were traveling at a buck five.
That would have made the ride so much more...mmmmm...interesting....than you needed.

I will be watching to see what else you discover here, as to why it broke in the first place.
Good luck with a speedy and solid fix.
---
Gordon
1991 VN 750 -"
Cosmic Lady
" or "
Bad Girl
"?
Purchased May 16, 2008
Approx.19,300km (12,000 miles)
H-D windshield
Relocated R/R
MF-AGM battery
Fiamm Freeway Blaster horns
F&S luggage rack and engine guard
Kury Offset Hiway pegs
July 13, 2016, Riding on the DARKSIDE now, Classic Radial 165/80-15
TOP TEN THINGS A NEW RIDER/OWNER SHOULD DO.
Click on link.
https://www.vn750.com/forum/11-vn750-general-discussion/9127-top-ten-items-you-would.html
---
Last edited by OlHossCanada; 07-31-2011 at

01:15 PM

.
Senior Member
Join Date: Sep 2010
Location: Jacksonville fl
Posts: 458
Curious here, So what does the tach show when your going 105 MPH?
The Reanimater
Join Date: Apr 2009
Location: A Little Town Along I-5 in Northern California
Posts: 847
---
JaY
"Veronica"
2002 VN750 Vulcan
Rebuilt Engine
ACCTs lubed w/TOC Springs
Pick-up Coils Gapped at .018"
Splines Lubed
Deka MF AGM EXT15L Battery
NGK Iridium IX Spark Plugs
R/R Relocation Fix
New Rear Rack
Stock Seat Repadded
Ext-BackRest
Members who have donated towards server costs
Join Date: Mar 2011
Location: NJ
Posts: 301
Quote:
Curious here, So what does the tach show when your going 105 MPH?
for me, roughly 7K
---