Junior Member
Join Date: Mar 2010
Location: Oxford, MS
Posts: 11
Oil Leak - need patch job repair
---
I took my bike to a mechanic because I was traveling on business on the Vulcan and didn't have the time or facilities to repair it. The guy replaced my stator by cutting through the frame and used a cardboard gasket. I will have to address that later.

Here's my problem, though: The gasket is leaking, pretty badly. I don't have time to bring it back to this out-of-town mechanic and make him re-do the job, but I need to quit leaking oil, at least for a while. I also don't have time to pull the engine to get to that gasket. Is there a quick fix?

Thanks all.
Andy
Your only hope here is to see if all the bolts holding the cover on are tight, and just adding oil as you lose it.

Am guessing it is not leaking too bad, as I would not ride a bike that was...(oil on the rear tire has bad effects)

There is no patch I know of that will work on an oil leak.


KM
Linkmeister Supreme
Join Date: Aug 2008
Location: Lethbridge, Alberta, Canada
Posts: 7,960
Quote:
I took my bike to a mechanic because I was traveling on business on the Vulcan and didn't have the time or facilities to repair it. The guy replaced my stator by cutting through the frame and used a cardboard gasket. I will have to address that later.

Here's my problem, though: The gasket is leaking, pretty badly. I don't have time to bring it back to this out-of-town mechanic and make him re-do the job, but I need to quit leaking oil, at least for a while. I also don't have time to pull the engine to get to that gasket. Is there a quick fix?

Thanks all.
Andy
He replaced the stator by cutting the frame, and you are worried about some dripping oil??!!
How did he repair the frame? Is it even safe to ride?
I know Edilbriss or someone has pics on the gallery of building a subframe for the left side to match the right side, but this strikes me as a major mod, not a quick repair done on the road.
---
Gordon
1991 VN 750 -"
Cosmic Lady
" or "
Bad Girl
"?
Purchased May 16, 2008
Approx.19,300km (12,000 miles)
H-D windshield
Relocated R/R
MF-AGM battery
Fiamm Freeway Blaster horns
F&S luggage rack and engine guard
Kury Offset Hiway pegs
July 13, 2016, Riding on the DARKSIDE now, Classic Radial 165/80-15
TOP TEN THINGS A NEW RIDER/OWNER SHOULD DO.
Click on link.
https://www.vn750.com/forum/11-vn750-general-discussion/9127-top-ten-items-you-would-suggest-new-owner-do-his-new-ride.html
1985 VN-700
Join Date: Jun 2010
Location: Worcester, MA
Posts: 418
Are you kidding. Thats awful. I hate hammer mechanics. I do wish Kawasaki thought of making that side of the frame the removable one.
I modded my frame to allow easy stator changes. I've been thru 4 now (don't buy used! lol) I sat & thought about it for quite a WHILE. I wouldn't suggest what I did which is also why I never posted it. As for the oil leak, a very temperary fix would be to clean off all the leaked oil & use the black gasket stuff in a tube (forget the actual name) & apply it liberally around the seam, all the way around. This would have to set up overnight atleast & could get you home with minimal leakage. It will be fun cleaning it all back off too. Like KM said, there's really not a fix that will last unless you wanted to JBweld the seam closed but I wouldn't sujest that one either. Good luck getting home & becarefull!
---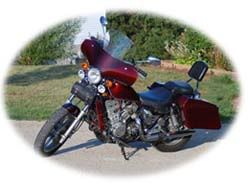 Orig. 8600 Miles 5/12/7 Currently 50,500Miles

Owners Manual
Repair Manual Download
Mosfet RR Test
Goof Proof Stator Test
VoIP Doc's Ear Shave & Re-jet Procedure
Hyperbuzzin's "How To Post Photo's.
Mosfet R&R Headlight Fix.
Members who have donated towards server costs
Join Date: Dec 2008
Location: Monroe, LA
Posts: 4,699
I think you have grounds for a suit. What an idiot!
---
I'm keepin' all the left over parts. I'm gonna use 'em to build another bike!
_____________________________________________
"Black Beauty"
1989 VN750 acquired December, 2008, 6,711 miles
Currently 23,298 miles
Old Blue
2001 Honda CMX250 Rebel acquired July, 2008
1987 VN750 project bike, acquired August, 2009, 33,000 miles and balancer sticking out of the case, currently awaiting attention and parts
Senior Member
Join Date: Jun 2007
Location: Gardnerville, NV
Posts: 195
---
1986
Purchased 7/03 w/13000 mi
Sold10/10 27,000miles
Ear shave
V&H Cruisers
Tim Parrott stator
R/R relocated
Iridium Plugs
AGM Battery
Splines lubed
Clear Alternative LED brake light
TOC mcct
Mutazu LN Hard saddlebags
Chad's floorboards
Current ride-2009 Honda VTX1300