Side drain plug
---
Does anyone know the part number of the side oil drain plug on an 86 vn750? Plug is stripped from the previous owner and I have not been able to get it off. I have used the center plug to drain, but really want to check the oil screen. If and when I do get it off, I want to replace it. I checked the parts diagram at ron ayers website, but can't seem to find. Any help would be appreciated.

Thanks
Greg
Members who have donated towards server costs
Join Date: Jun 2004
Location: Naperville, IL
Posts: 382
If you look at the "Oil Pump Oil Filter 1 2" page, you will find the part number is 11012-1483
---
Deuce (Loran Naperville IL)
1995 VN750 (Black w/ 2004 tins - no teal)
2003 VN750
Both have: - F&S Bags & brackets
- Corbin seat w backrest
- Progressive suspension.
- Kury iso goldwing grips
2 1983 V65 Magnas
2 1985 V65 Mangas (1 which is in many parts)
Join Date: Sep 2005
Posts: 169
Thanks. I was looking for it on the crankcase diagram.

Also, any ideas how to get the damn thing off? I've tried with vise grips and it wont budge.
sounds like you have a small problem. some ways to get it off in order of less chance of making the problem bigger is:

1] some type of spray prenertrate for a day or 2 and then use an air impact wrench

2] heat the crank case block with a propane torch to expand the metal around the plug ( REMOVE THE GAS TANK AND GET IT FAR FAR AWAY FroM THE FRAME) or use a heat gun once again remove the tank. don't heat the plug

3} drill out the center of the plug until you are able to get a chisel in there and either turn it or colapse it away from the block the screen if its in there will collect the metal shavings. be careful and drill real sloooooooooooooow


good luck not really wonderful choices but it seems you don't have many at this time

ride safe john
remove the gas tank FIRST
Join Date: Jun 2005
Posts: 198
Put a big cresent wrench on it and tap the end of the wrench a few times with a hammer. It worked for me.
Thanks for the tips.

I'm going to try the liquid wrench and vise grips with warm engine.

If that fails I'll probably drill the center out and try to collapse it as suggested.

I'm telling you, that thing is really on there. I don't think its been off in twenty years.

My biggest fear is ruining the threads on the case.

Wish me luck.

Greg
Members who have donated towards server costs
Join Date: Jan 2006
Location: Cheyenne Wyoming
Posts: 508
stuck plug
---
Try a good fitting wrench- 6 point and hitting straight in with the hammer first. If you have ever owned or worked on an old bug you know how a smart hit with the hammer does magic on the lug nuts. I think you will find this the easiest and least intrusive method.
.
Rckmtn--an old wrench
---
Rckmtn
Dennis Huff
Cheyenne, Wy.
05 VN 750
KURYAKYN grips, helmet locks, and highway pegs
Spitfire windshield
Saddleman saddlebags/sissybar bag
Highwayman gelseat with Protac backrest
self canx turnsignals
Diamondstar headlight modulator
Jardine 2 into 2
MCC turn signal relocator and floorboards
Luggage rack
Extended passenger backrest
KURYAKYN LED voltmeter
Custom tank bra with analog clock
Snider paint protector on tank side
130 DB horns
Members who have donated towards server costs
Join Date: Apr 2006
Location: Tacoma, Washington
Posts: 103
My experience...argh!
---
Well just like bunky I fell victim to the drain plug issue. It was time to change the oil on my wife's bike. I had recently purchased it but hadn't yet made time to perform the first round of maintenance. Long story short, her drain plug was stuck tight, properly sized wrench and some taps later...I rounded it off.
Vice grips...oblonged it.
Pipe wrench...mauled it.
Drill and screw extractors...bored a fat hole.
Desperation and a cold chisel...succces!!!
I made two notches radially and was rewarded with a nice radial crack. Immediately after it cracked it turned smoothly like nothing had happened. Here's a few pics of the little cuss: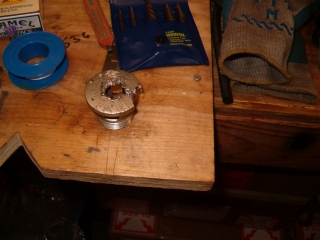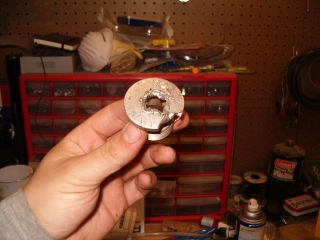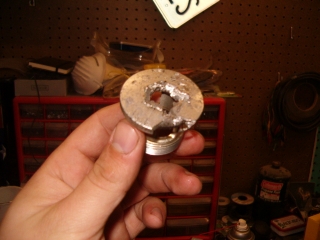 I'm just glad I had the foresight to stop what I was doing once I rounded it off until I got a new part from ronayers.
---
Last edited by RepairmanSki; 06-17-2006 at

02:49 AM

. Reason: pic links