Junior Member
Join Date: Jun 2008
Posts: 9
Do you have any problem with the bags sagging in towards the bike when they are fully loaded? I had some ammo cans mounted with the same brackets and I had to take them off due to the sagging, though the ammo cans are much heavier.

Jesse
'01750
damn those look good...I have been wanting to make a bagger and was looking for some bags...I think I found them...thanks for the picks
Senior Member
Join Date: Apr 2008
Location: Londonderry, NH
Posts: 152
Quote:
Originally Posted by
Sloppyburpfest
View Post
Thanks Niterider
The saddlebags were only $115 (for the pair), but the supports were at least $123.
I'm generally not a fan of hard bags, but those look pretty good.
How is the ride for the passenger?. Looks like they are a little forward
According to the Matazu website shipping is $30 per item and the only give a 7 day warranty.
Hows' the quality?
---
Glenn Douglas
Londonderry, NH
why would you need more than 7 days of a warantee on hard bags...if any thing is wrong with them when you get them its due to shipping...and if any thing breaks after 7 days then it is owners misuse or neglect.
Senior Lurker
Join Date: Nov 2006
Location: Westchester, New York
Posts: 509
Hi guys, thanks for the compliments.
No problems with sagging so far. Having said that, these are very light bags to begin with especially compared to ammo cans. The Mutazu website lists their dimensions as 17" L x 12 1/4" H x 7 1/2" W. Since these bags are a pretty modest size (so are our VN750s) and light weight, I have not been going out of my way to stuff them with heavy things. Last summer I went on a week long trip to Lake George NY for the Americade motorcycle rally
www.tourexpo.com
and I packed the heavy stuff in a duffel bag strapped to the passenger seat.
The things I mostly put in the saddlebags were some spare tools, rain suit, sweatshirt, warmer gloves, riding pants, spare face shield, baseball cap and a camera, with a little extra room left for souvenirs. Basically the good to have and nice to have stuff on daily rides went into the saddlebags and the trip stuff went in the duffel bag.
As mentioned earlier, the LeatherLyke bags
http://leatherlyke.com/stores/showde..._ID=58&CATID=3
are a lot sturdier (will probably hold 20 lbs each without a problem) but they are lot more expensive, they are larger, and not the look I was going for with this bike. One more thing that the LeatherLyke bags have in their favor is that they can be removed and put back on the bike in seconds without any tools.
As for the Mutazu bags quality, it's a little bit of you get what you pay for. The hinges in the front will keep honest people out. The hinges on the LeatherLyke bags are hidden away on the inside of those bags and are riveted on in a way that the rivets blend in with the overall look of the bags and you can't even tell those bags have hinges at all when looking at them closed.
One of the "M" logos on the top of my bags popped lose and got lost on a ride (same thing happned to Niterider's Mutazu LH saddlebags
https://www.vn750.com/forum/showthread.php?t=9818
). And the rubber gasket that seals the top part of the bags to the lowers seems to be pressed into place and is coming lose on my left bag. That doesn't bother me as a little bit of glue will fix that just fine.
During that week long trip last summer I had a 5'2" passenger for three days and about 200 miles and there were no complaints about the bags being in the way. No issues with the front corners of the bags hitting the back of their knees at all. But that all goes back to the original placement of the bags on the saddlebag supports. These bags come with no markings on them for drilling. The left and right bags are identical. So before I drilled into them I made a template, taped it to the supports and had my wife sit on it to be sure it wouldn't be in her way.
I originally stumbled upon the Mutazu website directly but I wound up buying them through Ebay. Dunno why, but I felt a little better having Ebay behind the deal as well as PayPal. Same cost both places. The Ebay feedback on these guys at the time wasn't stellar but it was acceptable enough. They were straight forward with the shipping and everything, no surprises, just very little communication. Something tells me that English is not their first language.
So the bottom line question is: How happy am I with them? Answer: Thrilled so far. They hold all my daily riding stuff just fine. No more fumbling with tank bags or strapping down a backpack with a bungee net. They didn't break my budget and they look pretty sharp too.
-Sloppy
---
Last edited by Sloppyburpfest; 10-02-2009 at

05:01 PM

.
Drive less, ride more...
Join Date: Nov 2005
Location: SW Ga
Posts: 1,114
Great lookin' setup, 'burpfest!....
Sharp bike!!!....
Yours looks almost like mine (same GA saddlebags), but I installed LED turn signals on the back of the bags--the stemmed stockers on my bike are gone.
The only negative you might watch for over time is to look (more?) carefully for corrosion starting to form on the shocks/springs, as they are now (mostly) hidden from view.
Wax will of course stop this process, but now of course the shocks/springs are that much harder to wax....
---
'05 VN750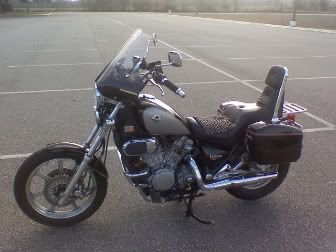 For other bike pix & mods, go to:
http://s1203.photobucket.com/albums/...k/VN750%20pix/
The more I look at these bags the more I want a pair...I am still torn between these and the Harley Bags... These are cheaper and seam to fit the profile of the bike prety well...How hard would they be to paint to match the bike?
Senior Lurker
Join Date: Nov 2006
Location: Westchester, New York
Posts: 509
Thanks Theauhawk for the compliment and the tip about the wax. I'll keep an eye out for grime collecting behind the bags. Since I paid so much for the Kawasaki F&S supports I wanted to make full use of them and I kept the stock turn signals. I may swap out their bulbs for LEDs in the future.

Slimvulcanrider these bags come pre-painted in high gloss black. They matched my bike's color scheme perfectly without painting them (one of the reasons I chose them). Sorry, I know nothing about painting. Mutazu also sells the GA bags in Silver and also in White if that helps.

I've seen the GA bags on a much larger Honda Valkyrie once. The bike was blue and it looked like the owner had spray painted the bags blue to mostly match. They lost some of the shine that the high gloss black has and the bags looked way too small in proportion to that large bike IMO. The Mutazu site has loads of pictures of customer's bikes to help give you some more ideas.

-Sloppy
---
Last edited by Sloppyburpfest; 03-19-2009 at

08:19 AM

.
yes i saw the pics...the also said the bags were made of ABS plastic....wich if that is the case...painting them will be harder than if they had paint on em to begin with.
Linkmeister Supreme
Join Date: Aug 2008
Location: Lethbridge, Alberta, Canada
Posts: 7,960
Good looking bags and installation slbf. Looks way better than my throw over leather bags.
---
Gordon
1991 VN 750 -"
Cosmic Lady
" or "
Bad Girl
"?
Purchased May 16, 2008
Approx.19,300km (12,000 miles)
H-D windshield
Relocated R/R
MF-AGM battery
Fiamm Freeway Blaster horns
F&S luggage rack and engine guard
Kury Offset Hiway pegs
July 13, 2016, Riding on the DARKSIDE now, Classic Radial 165/80-15
TOP TEN THINGS A NEW RIDER/OWNER SHOULD DO.
Click on link.
https://www.vn750.com/forum/11-vn750-general-discussion/9127-top-ten-items-you-would-suggest-new-owner-do-his-new-ride.html