REDRIDER
Join Date: Jan 2006
Location: pearcy, arkansas
Posts: 117
Mike's Custom Grills
---
I found on ebay an individual who is selling custom grills for all makes of bikes to include the vn750. Has anyone bought one and installed it. Also, I do not buy or sell on ebay anymore because of unauthorized charges ebay sometime ago. I cannot send a message by ebay to Mike. Does anyone have another email address for him. thanks
Members who have donated towards server costs
Join Date: Oct 2007
Location: Jim Thorpe, Pa
Posts: 122
Quote:
I found on ebay an individual who is selling custom grills for all makes of bikes to include the vn750. Has anyone bought one and installed it. Also, I do not buy or sell on ebay anymore because of unauthorized charges ebay sometime ago. I cannot send a message by ebay to Mike. Does anyone have another email address for him. thanks
I have one on the way. Should be here tomorrow or Monday. I'll let everyone here know how it works out. I was in contact with him before Xmas trying to convince him to make some for our bikes. I did find his address in one of the emails. Mikes Custom Grills
[email protected]
---
Kuryakyn Flame Grips
Bar End helmet locks
Chrome / Gold "Live to Ride Mirrors"
Coastered, Shaved & Jetted
K&N Pod Air Filters
KisanTech headlamp & Taillight modulators
Iridium's
Leather Lyke Hard Bags
Voltmeter, Clock
Stebel Nautilus horn
Slipstreamer SS28
J&M CB Radio
Audiovox CCS-100 Electronic Cruise Control
Mustang Seat, Protac Drivers Backrest
And of course the obligatory stator replacement[/FONT]
Member
Join Date: Nov 2006
Location: Robinson Twp.Pittsburgh,PA
Posts: 239
---
Steve from Pittsburgh
2005 vn750
modified knifemaker driver boards
chrome levers, Shaved saddle
Ape manual CCT's, nylon saddle bags
engine mount covers, plexIII windshield
crash bar w/floor boards, air hawk pad
ear mod, rad cover/,w/ss mesh
chrome cable and wire covers
chrome anti-freeze cover
RR relocation,MF battery,drilled out
idle plugs,marbled
Calif Rider
Join Date: Jan 2006
Location: Petaluma Calif
Posts: 725
That is a great price for the grills. Boy do they look great. Just picked up a engine grill on Ebay at a good price and a seat pad. This looks like something I also need, they are 1/3 the price of other ones on Ebay, and they are new.
Thanks for the info.
---
2004 25,500 miles
Led tail light enhancement
Homemade floor boards
Headlight modulator
Extra heat sink on R+R
R+R relocation
Homemade driver's backrest
Fused Stator
Mcct conversion-cost 4.50
Ride-on in tires
crash bar with home made hyway pegs
iridium plugs
home made fork wind deflectors
coil pickups adjusted.
Kenda kruz tires 110/90 170/80
Senior Member
Join Date: Mar 2007
Location: Near Cooperstown, New York
Posts: 722
They look Great!!! Hope he makes some with the maltese cross,skull center for our bikes.Then I'll have to get one!!!
---
Brian Manchester
'89 "GRIMM"
CUSTOM
-Seat,quick detach backrest,2.5"slam brackets,Pipes,Fender struts,head light mount,9"rise dragbars,Grips,Mirrors, turnsignals,LED brake light/Lic.plate frame,Chopper headlight. Shaved,Jetted,coastered,polished forks,saddle&Tool bags,horns moved,180/70/15 rear tire!!! Yes a 180!!!!And other stuff.....
Springfield 1911-A1 Compact .45acp
03 F250 superduty 4x4 V-10 crew cab long box 33's,CAI,SS duals with magnaflow
04 durango AWD
Skulls and crosses...too "retro" for me..and a bit too "Harleyesque"


How about a nice big outline of a gloved hand giving the "finger" ...now that is badass baby....





KM
---
Well for what it's worth. I've been e-mailing him back and forth a few times. He's interested in doing a group run of vn750.com oriented grills for us. I don't have an exact quote on the cost yet. We're still working out a few details of file formats & such. I'm looking for ideas for the main body of the grills. I'm going to creats a simplified version of the logo, but I don't think it should be the main of the grill. I kinda like the thought tribal flames with the logo at the top. Shoot me some Ideas. If we can get a group idea worked up, I can work up a design or two. put it to a vote on the final & as long as we have enough orders it will all be good. I should know in the next day or so for a minimal order. Later!
---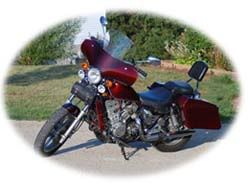 Orig. 8600 Miles 5/12/7 Currently 50,500Miles

Owners Manual
Repair Manual Download
Mosfet RR Test
Goof Proof Stator Test
VoIP Doc's Ear Shave & Re-jet Procedure
Hyperbuzzin's "How To Post Photo's.
Mosfet R&R Headlight Fix.
Join Date: Jul 2007
Posts: 140
i like the grills, it is a "cheap" dress up, and could be an identifing vn badge if one could be designed. however, even though i like it, the idea, living in texas, where ambient temp. from now till oct. will rarely be less than 80 deg., more likely to be 90-103, i would be concerned that the cooling would be affected.. any thoughts?
ride safe