Drive less, ride more...
Join Date: Nov 2005
Location: SW Ga
Posts: 1,114
Different mirrors???
---
Has anybody had any luck finding different mirrors (besides stock) of reasonable quality (i.e., stay in position without constant adjustment) that actually let you see around your shoulders and behind you?.....
I'm looking for some different mirrors...something that's not circular, with no writing or enscriptions on them. Would prefer a chrome finish.
Rounded sides/ends are ok, though.
Thanks!.....
---
'05 VN750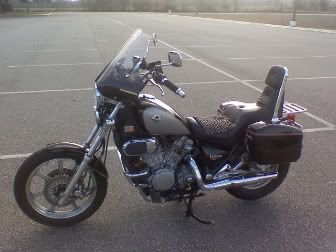 For other bike pix & mods, go to:
http://s1203.photobucket.com/albums/...k/VN750%20pix/
Senior Member
Join Date: Jun 2006
Location: Springfield MO
Posts: 659
The first bike I had was a Suzuki GZ250. I had to buy some other long stem mirrors to be able to see behind me at all. The stock mirrors I took off the Suzuki are rectangular and have two vibration dampeners on the stems. They turned out to be perfect for the Vulcan when I got it. Here is a pic that sort of shows them. I really like them.
[IMG]
[/IMG]
---
"Shutting up rarely leads to anything bad"
Joe McAdoo
Springfield, MO
[email protected]
VROC # 28175
-2004 Vulcan 1500 Classic 22000 miles
-1995 VN750 (Back home again!) 25000 miles
-1995 Suzuki DR350 Dualsport 1720 miles
Members who have donated towards server costs
Join Date: Jul 2006
Location: Kennett Square, PA
Posts: 3,505
I've got the same ones as Lurch; there are some on eBay that look the same but have a smaller profile, so just check the size before you order them. But I'm really happy with mine.
JC Whitney sells about 50 of them...you should get yourself a catalog...
I got the chrome "tear drop ones"
SEE:
http://tinyurl.com/ysuc22
KM
HAWK
Join Date: Feb 2006
Location: Chicago land
Posts: 2,576
I found a set of Mean Streak mirrors that work great, they are not to expensive as people are getting rid of there stock ones when they upgrade.
---
Chad Falstad "Hawk"
Vroc #17649
2011 HD Ultra Classic "angel"
2001 Nomad 1500 Sold March 2012
2001 VN 750 "Sold June with 2008 with 21,000""Serinity"
Members who have donated towards server costs
Join Date: Jan 2006
Location: Cheyenne Wyoming
Posts: 508
I've been told 1500 mirrors fit and they are larger. Try ebay for good prices.
---
Rckmtn
Dennis Huff
Cheyenne, Wy.
05 VN 750
KURYAKYN grips, helmet locks, and highway pegs
Spitfire windshield
Saddleman saddlebags/sissybar bag
Highwayman gelseat with Protac backrest
self canx turnsignals
Diamondstar headlight modulator
Jardine 2 into 2
MCC turn signal relocator and floorboards
Luggage rack
Extended passenger backrest
KURYAKYN LED voltmeter
Custom tank bra with analog clock
Snider paint protector on tank side
130 DB horns
Join Date: Aug 2007
Posts: 115
i got these from drag specialties....used their tall stalks and I can basically see behind me, sorta....Had to loctite the heck out of them to make them stay.
Undercover Sportbiker
Join Date: Oct 2007
Location: SoCal (SF Valley) 91343
Posts: 1,097
You can sort of see mine in this pic:
I have them turned so the oval is up and down instead of side to side. They are not the best, but by the time I figured it out, it was too late to return them. They're very simialr to the first ones in the list on JC Whitney's site. Definitely had to loc-tite the crap out of them...
---
Join Date: Jan 2008
Posts: 135