SEAT choice help !!!!!!!!
---
OK, my dad (67 yrs young) has a '01 yamaha vstar 650, we ride together all the time, well he has complained on occasion about the uncomfortable seat(stock yamaha)so his birthday is 10 days away and me and my sisters are going in together to get him a seat, but which brand? I have a mustang on my vulcan and love it, Know nothing of Corbin's or saddlemans, hope to get some help from all on here, please send your suggestions , and why you recommend brand X, thanks in advance, and I know my dad would thank you all.
HAWK
Join Date: Feb 2006
Location: Chicago land
Posts: 2,576
The Corbin is a stiff seat but comfortabel, I use a Air Hawk for longer rides and can do 500 miles in a day without a problem.
---
Chad Falstad "Hawk"
Vroc #17649
2011 HD Ultra Classic "angel"
2001 Nomad 1500 Sold March 2012
2001 VN 750 "Sold June with 2008 with 21,000""Serinity"
Members who have donated towards server costs
Join Date: Jan 2006
Location: Cheyenne Wyoming
Posts: 508
I like my Saddleman with gel.
---
Rckmtn
Dennis Huff
Cheyenne, Wy.
05 VN 750
KURYAKYN grips, helmet locks, and highway pegs
Spitfire windshield
Saddleman saddlebags/sissybar bag
Highwayman gelseat with Protac backrest
self canx turnsignals
Diamondstar headlight modulator
Jardine 2 into 2
MCC turn signal relocator and floorboards
Luggage rack
Extended passenger backrest
KURYAKYN LED voltmeter
Custom tank bra with analog clock
Snider paint protector on tank side
130 DB horns
I seriously doubt you will be able to get one in 10 days, but I highly reccomend the Russell Day Long Seat. These are custom fitted to the rider, using photos and information you give them.
http://www.day-long.com/
As you did not give his size or weight, asking us for opinions is a bit useless, partly because many of us do not hve the yamaha. Everyones butt is a bit diffrent and seats are very subjective. Most "heavier" folks like the Mustangs, and smaller riders seem to like the Corbins, but again, this is a vague generalization.
I do know that eveyone I spoke to or read about that got the Russell was 100% happy with it.
KM
Drive less, ride more...
Join Date: Nov 2005
Location: SW Ga
Posts: 1,114
The Gold Wing crowd really likes the Russell brand of custom-made seats.
If you are interested, you can check them out at the following link:
http://www.day-long.com/
In any case, Merry Xmas, and good luck with your search....!!!
---
'05 VN750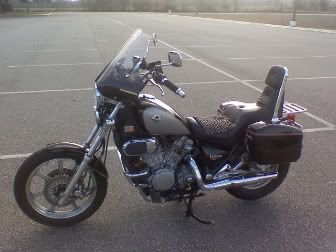 For other bike pix & mods, go to:
http://s1203.photobucket.com/albums/...k/VN750%20pix/
seat help
---
thanks to all, we are getting dad a custom made russel seat, I'm sure he will love it, thanks again-mark