Cold Weather Gear
---
It's muggy and 91 degrees outside, but I'm already thinking about the cold weather gear that I need. Last year I wore an LL Bean down jacket, which (along with lined Carhartt bibs and/or thermal underwear, a balaclava, good gloves, and hiking boots) kept me very warm ~ but offered little road-rash protection in the event of a spill.
What I'm looking for is gear to wear on the highway when the temperature is between 35-50 degrees. I'm not that worried about rain/snow protection because I rarely ride in the wet stuff, and I have big orange Frogg Toggs to slip on if I get caught in bad weather. What I'm basically looking for is a warm/protective jacket (and not-necessarily-matching pants) or a riding suit that I can wear over work clothes when I commute.
Right now I'm torn between a Fieldsheer Highland 1-piece textile suit (
http://www.motorcycle-superstore.com...e-TX-Suit.aspx
) or a Fox Creek Leather Vented Bomber Jacket (
http://www.foxcreekleather.com/351.html
) -- two very different products! I suppose I am also considering the pricey Roadcrafter gear, but there may be other options.
Price IS a consideration. On the other hand, if I get something good that offers years of warmth/protection, it would be worth it to me.
What ideas can you share from
your
experience?
---
EZC
---
Last edited by EasyRector; 09-06-2007 at

05:45 PM

.
Senior Member
Join Date: Sep 2004
Location: Norcross, GA
Posts: 120
I invested in a Fieldsheer "Zero Condition" jacket and "Astro" pants nearly 3 years ago. They have served me well. I have ridden for hours with temperatures dipping into the mid 20's without discomfort. They are also waterproof, so I don't have to worry about trying to pull a rainsuit on over some other bulky suit. They have removable quilted liners and zippered vents so they can be worn when temperatures are higher. Also, there's removable armor in them, if you think you might be in for a serious spill. I took the armor out of mine.
---
Wally Colly

2004 VN750 "Freedom"
Members who have donated towards server costs
Join Date: May 2007
Posts: 84
I have the 3 layered tourmaster intake jacket. Mesh outer with body armor, waterproof liner, then another quilted liner. I don't have the matching pants yet, but will soon. In the summer take out both liners and it's just a mesh coat with armor. Doesn't bother you at all to be in 95 degrees and put the liners in and I've been fine so far with the mornings dipping into the 30's here in michigan. totally waterproof also.. for 120 bucks new seems like a good deal to this newbie! I like it!!
---
Borto
2004 750
splines lubed
memphis shades windshield
chrome rad cover
chrome MC cover
chrome coolant cover
saddle bags
jardine sissy bar
protac back rest
jardine luggage rack
marbled
iridium plugs
R&R relocated
ram mounted quest GPS
Kaw engine guard
V&H Cruzers
Tour Master XL sissy bar bag
bought 6/1/07 with 3200
currently just shy of 9000
as of 8-9-07
Bringing this one back to life. It's now the season, not sept 6 when I posted on this thread. I've got a question. My current clothing situation is just fine down to about 30 degrees. Except my gloves. I have a cheep pair of snow gloves I started using. Got a little colder, switched to my ski gloves. I don't think they were made to keep 70mph wind & rain out! lol. What's on your hands this time of year. I'm still wanting to ride, It's really not to bad except for my hands. I'm not sure what to look for in a good cold weather riding glove. I can read all the reviews I want & they still wont tell me as much as you can, Thanks!
---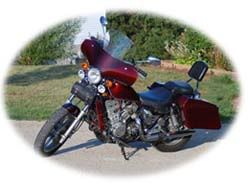 Orig. 8600 Miles 5/12/7 Currently 50,500Miles

Owners Manual
Repair Manual Download
Mosfet RR Test
Goof Proof Stator Test
VoIP Doc's Ear Shave & Re-jet Procedure
Hyperbuzzin's "How To Post Photo's.
Mosfet R&R Headlight Fix.
Old Truck Junkie
Join Date: Jul 2007
Location: Roby Texas
Posts: 4,130
If the only problem is the hands, look for electric heated gloves. Also look into some stuff that I was told about fleece.
---
02 honda sabre 1100
Senior Member
Join Date: May 2007
Location: Massachusetts
Posts: 387
I've been looking for a new pair of winter gloves myself. The ones I have are 15 years old, leather outer shell with Thinsulate. Still in decent shape, but after all the years, the Thinsulate has compressed and isn't keeping the cold out like it use to. Any 20 degree riders out there with suggestions?
---
2001 VN750
Vista Cruise Control
V-Force shield
Kawasaki Saddlebag supports
Fixed trunk hinge
TOC MCCT
Clear Alternatives LED tail light
Knifemaker style floorboards
Knifemaker style dash
Avon Venom X 110/90 Front
Avon Venom X 170/80 Rear
Big Crank AGM battery
25,100 miles as of 04/20/2010
First off..the Highland suit is very nice, and warm. also check out the Olympia one:
http://tinyurl.com/2ufkca
A warm jacket is easy to find, what you need are warm pants and warm gloves, as these will get cold on a bike no matter how many sweaters you wear.
I have tried all the gloves and would say that if your hands are still cold, electricaly heated gloves are the way to go...
Or heated grips:
http://tinyurl.com/4g2um
Not sure how much power the Vulcan has to spare for these or heated gear, but Gerbring does make gloves that use their own battery.
I installed a set of V-Strom knuckle guards on my FJR..these do a good job of cuting the wind off your hands.
http://tinyurl.com/2lbg52
I imagine one could use them on the Vulcan also.
I have a pair of Tourmaster Winter Gloves and they are fine when used with the knuckle guards. Obviously heated stuff would be better.
KM
Senior Member
Join Date: May 2007
Location: Massachusetts
Posts: 387
They have the plexi handguards that mount to the mirror socket. Last I saw they were $90 for a set.
---
2001 VN750
Vista Cruise Control
V-Force shield
Kawasaki Saddlebag supports
Fixed trunk hinge
TOC MCCT
Clear Alternatives LED tail light
Knifemaker style floorboards
Knifemaker style dash
Avon Venom X 110/90 Front
Avon Venom X 170/80 Rear
Big Crank AGM battery
25,100 miles as of 04/20/2010