Bearcat
Join Date: Mar 2013
Location: Southeast Kentucky
Posts: 135
Trailer
---
I've been designing a travel trailer and hitch set up for my bike in my head for a while now. Got some mods to the bike on the agenda too to make her a better tourer. Basically I won't to be able to load the bike up and just go or Maby take the bike grocery shopping. I already use it for next to everything and I can haul anything I can get a bungy cord around
Today while filling up a guy on a trike rolled up and he was pulling a trailer. My wife thought I was nuts becouase I went over and asked if I could check out how his trailer was made. My initial designs were pretty close to what his production trailer but he had no suspension. The wheel hubs were mounted to tubes that came strait down off the frame.
I posted here cause it ain't a topic normaly discussed with our bikes but I was wondering what kind of set up outhers on here have run or heard of. I'm digging the simplicity of the solid axel and I had decided for the cupples hitch to cut and box it and weld a sealed bearing onto one side with a nut and bolt threw the outher to hold it together. This would aloe for the bike to lean white the trailer stayin upright.
The frame would be a simple box platform made from tubing. The hitch would mount to the swing arm of the bike. I'm going with fiberglass for the body. Strong and light
.
Thoese were my thoughts on how to set up a trailer on my bike
any one got any suggestions or have a trailer they pull with their bike.
---
Keep her rubber side down.
---
Last edited by Jamesoct1990; 06-25-2013 at

07:49 PM

.
bamafrankie
Join Date: Apr 2013
Location: south east alabama
Posts: 83
Aluminum would probably be lighter than fiberglass and could build frame out of aluminun square tubing
Sent from
Motorcycle.com Free App
Old Twistie Sticks Rider
Join Date: Aug 2007
Location: Country Created by Geniuses, But Run by Idiots...!!!
Posts: 5,072
My son bought an aluminum (small box type) trailer for his RK to carry his & the wife's golf clubs in... He has only used it a few times but he said he had to change the straight back exhausts due to the sound bouncing back, he put some turned outs on it for that reason... He said it made a difference... Just Sayin...
Have a good one...Old Dog...
---
Southern Central Tennessee....
...
Now on the Dark Side...
...
Girl's Bike 09 Sporty xl 1200 Custom...33k + & clickin...
...
Sportster Owner/Rider since age 72...lol... Rider since Simplex...???
09-xl1200 "C" Vivid Black, Cast wheels w/19" Frt., SE-Stage 1+, X14iEDs...
MicroTach +, Higher wider H-bars, GPS Mt., Mustach bar Hwy. pegs...
Viking Shock cutout Saddlebags, Rear Mt. Signal Lt. Kit, Fork Brace...
RoadKing Air Shocks, Mustang Seat, Progressive Fork Springs...
Bearcat
Join Date: Mar 2013
Location: Southeast Kentucky
Posts: 135
My only problem with aluminum is that it's hard to weld with a non shielded welder. Ill be using a stick or wire welder for the fab work depending on whitch one I can barrow. I was going fiberglass for the body becouase it would be Easyer for me to sculpt and build. I don't have access to a lot of metal working tools outher than a welder, hammer and grinder. I know with these 3 u can build most anything but I like to do things the easy way
.
That's some good advice old dog
depending on how things sound I might be doing a little exhaust work once the trailer is made.
---
Keep her rubber side down.
Senior Member
Join Date: Nov 2012
Location: WV
Posts: 6,670
Since you want to mold your own fiberglas, do one of these. A bike pulling a car! I bet fiberglas materials are quite expensive these days, it wasn't cheap back in the day.
..have a vulcan good day!
Join Date: May 2011
Location: Pensacola, FL.
Posts: 4,508
Quote:
Some people just get those car top carriers, the turtle shell, and build a trailer frame for it. Not really custom or unique, but they do the job.
https://www.google.com/search?q=moto...w=1600&bih=768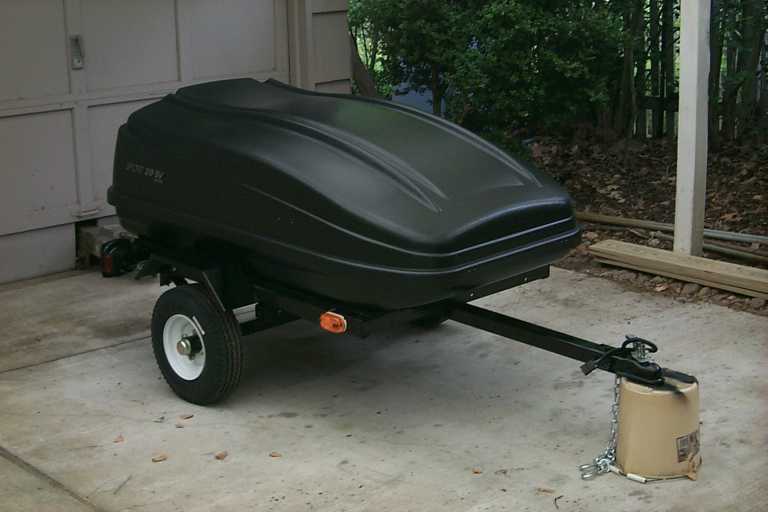 That appears as the WTG ! - Light weight too !
---
'86 VN750 13,700 mi -Stock
-Purchased 2008 w/8800mi
Replaced
ALL
Cables . Kuryakyn LED Voltmeter
SilverStar Ultra 9003/HB2 H4 Headlamp, Jardine Fwd Controls,
Iridiums DPR7EIX-9 & Wires, Tuxedo Mod, Coil Mod, P/U Sensor Mod, Fork Seals,
Splines Lubed - 11/4/2012 - MF AGM Battery
Additional Flashing LED Brake Light on Trunk
Dampers went out @ 13+K !
After TOC MCCT's..... so amazingly quiet I discovered a rattling heat shield on my stock exhaust !
...have a vulcan good day!
Members who have donated towards server costs
The biggest WARNING!!! Is do NOT mount the hitch to the swingarm!! all motorcycle hitches I have ever seen mount to the frame of the bike,Even automotive hitches don't mount to the rear suspension,That is a recipe for disaster. Go to Hitch Doc or Chucksters customs and look at their hitches and fab up a reasonable copy of their design since you probably won't find one for your bike ready made.
Check out GCextreme's home built hitch on here.I think he even builds and sells some stuff,he might be able to "hook you up",pun intended.
I also like the trailer with the car top carrier.A lot of people buy the small Harbor Freight trailer and put the carrier on it and ,voila,instant motorcycle trailer.
---
If you see it on my bike I did it
VROC#30324
92 vn750(sold)
Current ride 05 1500 Classic FI
lovin' the new scoot
Quote:
"When all is said and done,usually more is said than done" UNK
Click on one x and drag to the other to read between them.
Psalm 40:1...
XI waited patiently for the Lord; and he turned unto me, and heard my cry. X
Senior Member
Join Date: Aug 2011
Location: Dallas, Texas Area
Posts: 923
I think I remember the "vulcan 750 pulling a trailer" subject being discussed before....

How well would the VN750 do pulling a trailer?
How much weight would it handle?
What would be the downsides of pulling a trailer?
---
Old Bike: 2006 VN750 - Sold
Current Bike: 2007 Yamaha V-Star 1300 Tourer