My version of the stock seat mod
---
So a little background first. I had been searching for a VN900 seat to mod to fit my bike for a while. I missed two really good deals on ebay...turns out that is probably for the best. The more I looked at pictures of bikes with the 900 seat, the more I got to feeling I didn't like the way there was extra fender space showing. You can't see it with saddlebags of course, but I don't have any (yet...they will be here Thursday... but that is beside the point!). So I decided I would mod my stock seat and save some money.
The real drivers behind this are 1) I really didn't like the banana seat look of the stock seat and 2) when riding 2 up there just wasn't enough room for my wife and I to ride comfortably. So, I had already bought a backrest from a Honda 1100 and I figured I would just mod the stock seat to lay flat and give her the extra room.
I didn't take any pictures of the steps because you can find those in other threads here. Basically I took my dremel and a cutoff wheel and cut the seat pan where it curves up at the back. Then cut both pieces square and used a piece of scrap metal and some short bolts to hold them back together. Anyway, here are some pics of what it looks like.
Here is the bike from the side for the overall effect: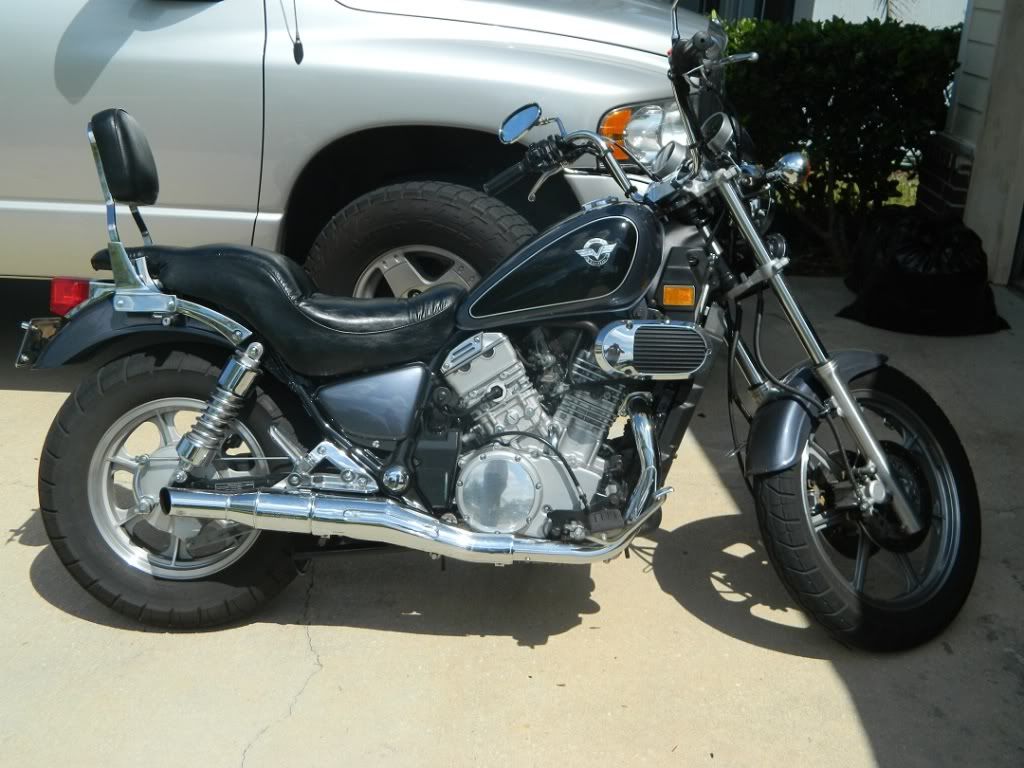 Here is a closer look of the backrest and all. You can see that I used cap nuts for a cleaner look. I fashioned a bracket for the back side. I'm going to redo it because as you might have noticed I have no rear turn signals (not required in FL anyway) and I want to extend the brackets a little so I can mount the new turn signals I bought on ebay on them.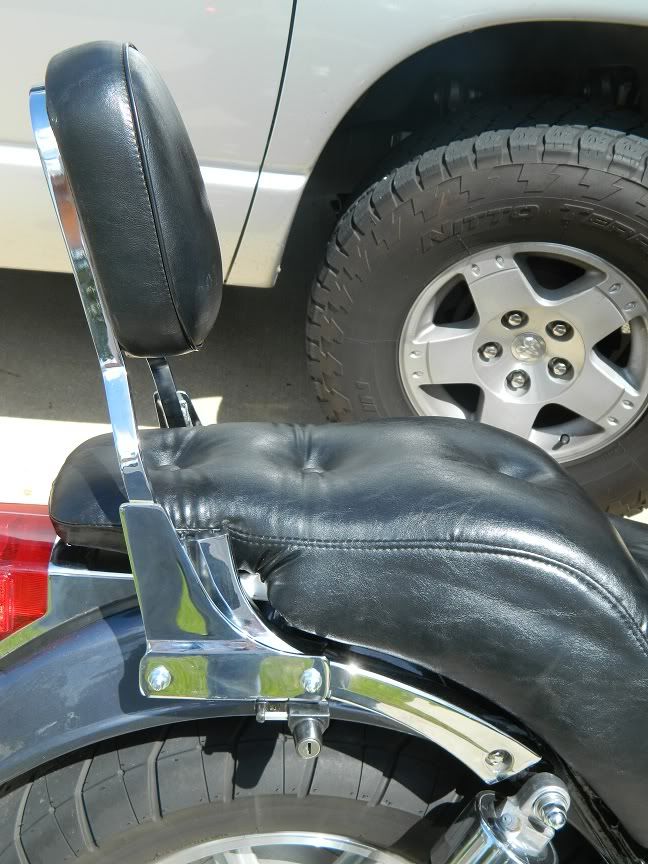 Now, to support the seat I used a couple of pieces of closet maid hanger rod stuck into the frame with a set screw holding it in place. It's white. I need to paint it. But here is a shot of how I supported the back. I used the brackets that held the seat in place in the stock configuration.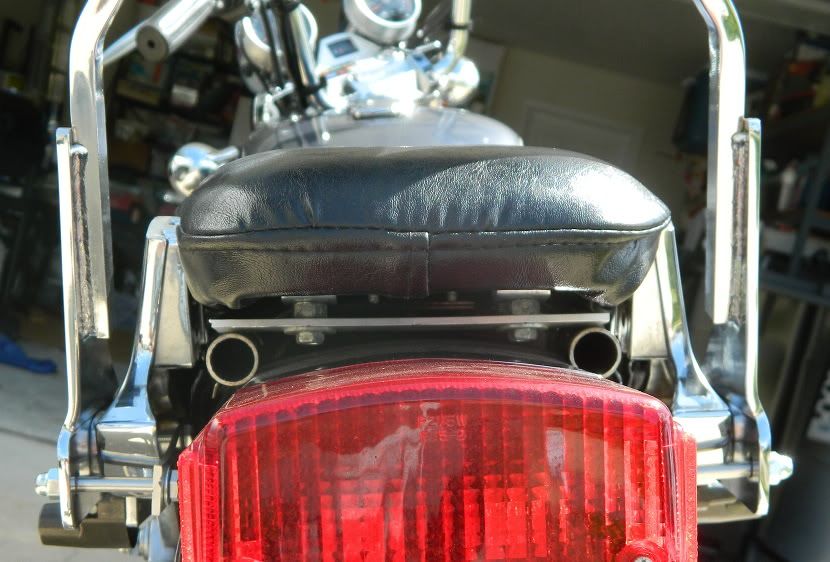 There is a longer bolt a little further up that goes all the way through the fender and is held down via another cap nut underneath to hold it all down. It's all very sturdy.
So, some things I still want to do:
Cut off the grab rails so they don't stick out so bad.
Modify the seat padding to move my butt back a little and make it more comfortable all the way around. I may see about talking to Spencer at greatdaytoride about that.
Recover it to get rid of the buttons. Sorry couch look...this is 2012.
Some how fill in the space on the back part. Any suggestions for how to do that? I was thinking about maybe making a frame out of wood that would cover it all and allow me to still staple the cover back down. Not sure yet.
Well judging by the overwhelming responses y'all are either unimpressed with my efforts or tired of seeing another seat thread.
Anyway, I did a little more today. Made my new brackets and added the rear turn signals. I need to go back and do the wiring better I just did it temporary like for now. Gotta cut the grab rails, paint the closet rod, and try to fill in the gap in the back somehow still. I'm shooting for this weekend for that part. Oh, and my saddlebags should be here on Thursday.
Blinkers side view: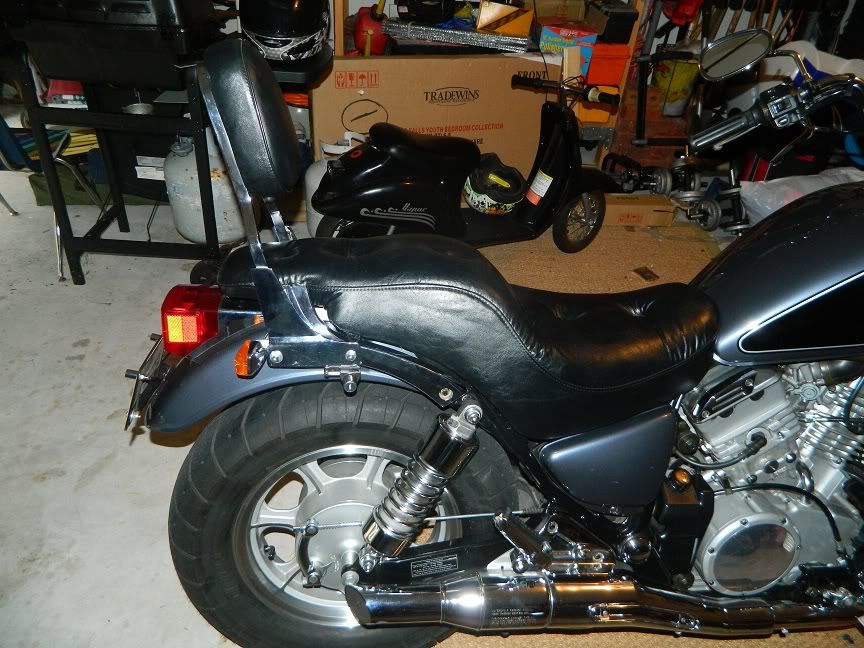 Rear view:
I like it. Nice that you can take the passenger back rest off when you're solo.
---
1986 Kawasaki Vulcan 750
NGK Iridium Plugs #7803/DPR7EIX-9
Duralast Gold ETX15 AGM Battery
Coastered & Shaved
TOC MCCTs
Metzeler ME880 [110/90-19, 170/80-15]
Balance Dampers Replaced
Tuxedo Mod
Rebuilt Forks w/ Progressive Springs
V&H Cruzers
VN750.com Grill Cover
Meanstreak Seat
Emgo 23-92411 Handlebars
MOSFET FH012AA R/R

1990 Kawasaki Vulcan 750

1998 Honda VFR800 FI

2014 Honda VFR800F

1989 Pontiac Firebird Formula 350
Registered User
Join Date: Aug 2011
Location: GreenwoodFrickinLakeNY
Posts: 10,354
Looks decent.....if it works fer you, run it.......thats what its all about...the you.....




Thanks guys. I still want to clean it up some cause I'm still not satisfied with the gap under the seat. But I have some thoughts on how to make that look better.
thtanner, it's not as easy to remove it when riding solo as you might think. But it is something that is doable. I had looked at some of the quick release back rests but most places seem to be pretty proud of them.
So far I'd guess I have about $60 in it so far. That includes $30 for the back rest, about $10 in nuts/bolts/flat bar, and $20 for 4 turn signals, even though I only used 2 so maybe I can get a little back on that. That's still a lot cheaper than I have been able to find a vn900 seat to go with my back rest. Plus it has given me a project...something other than just drinkin beer.
Member
Join Date: Jun 2011
Location: Colonial Heights VA
Posts: 73
I cant see the pics but that idea similarly reminds me of something im gonna do to my 750. I chopped the seat up real short. But theres just enough room for a rider...but no backrest.
What i was thinking of designing was getting smaller stock tubing and making a 'slide in' back rest for the passenger. Use a simple bolt and pin to keep it in. Yank out when taking it solo.

Gotta find tubing first that slides up inside the frame.
That is a good idea. The closet maid hanger rod is the right size to slide in the frame, but I'm not sure if it would be strong enough to support someone leaning against it on a backrest. Something to guide you as to what size to look for anyway.
Registered User
Join Date: Aug 2011
Location: GreenwoodFrickinLakeNY
Posts: 10,354
Quote:
Plus it has given me a project...something other than just drinkin beer.
There ya go bro !...and best yet, YER FABBIN !!!!...thats the first step that so many are afraid of...once ya get past that first hurdle, never know !!!!
I made some updates last weekend but I just got around to taking pictures to post. I added some 2x2 wood under the back part of the seat to make it thicker and hide the underneath bits. I also covered over the wood with some fake leather stuff I had so you can't see the wood reflection in the tail light cover. Then I cut off the side rails. And lastly I put my saddlebags on. So I think I can say I'm done with my seat now and pretty pleased with it.
Cut side rail and bracket:
Seat thickness now: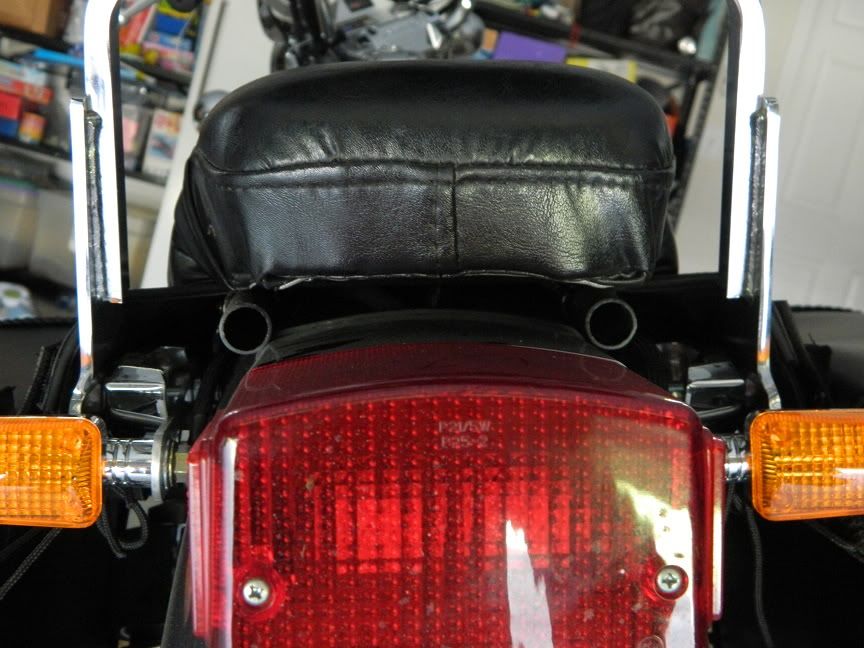 Rear view:
Side view:
Overall look:
Member
Join Date: May 2012
Posts: 98
that looks alot more natural. this is actually a mod im gonna do this winter. i already did the vn900 seat mod, but my wife dont like the feel of the driver seat at all, and i actually liked the stock seat better too. just need the bigger back seat so i dont have to drive all hunched over and unsafe like. wasn't sure how to support the back side that gets folded down. now i got my ideas. almost wanting winter to come along now lol... ALMOST
---
- 1998 Vulcan 750
- Black with red
- MCCT conversion
- Pick up coil mod
- Stereo with 3.5 inch speakers
- Sylvania ridiculously bright headlight
- Westco maintenance free battery
- Vance & Hines slash cut pipes
- Custom turn signal bracket
- Arrowhead universal turn signals (rear only)
- Kuryakyn longhorn offset highway pegs
- Suzuki Savage 650 rear shocks (2 inches shorter)
- Lowered front 1.5 inches