Red Wing Toe Armor Boot Guard Protector
---
Has anyone used this
stuff
? I just got some new Bates Enforcer boots and I was thinking about trying some this on the toes to keep them from looking so scuffed up after shifting. It seems pretty cool, has kind of a "rhino liner" finish.
Well judging by the overwhelming response i got, I'm going to assume that no one has used it.
Not to worry, I bought some anyway. I'll put it on maybe Tuesday...and we'll see how it does.
Members who have donated towards server costs
Join Date: Apr 2010
Location: Belvidere, IL
Posts: 267
That looks like a great idea! I'm glad you posted this, I'm going to give it a try when my new boots come in. I've torn up some boot tops with shifting over the years and this looks like a good solution.
Bronson
---
2005 VN 750
MF Battery
Plexistar windshield
.040 pilot jets.
Splines lubed 1955 mi.
Marbled
Iridium plugs
Reset pickup coil gaps.
Metzeler ME=880s
Shindengen MOSFET RR
V & H Cruzers
Degoated
Speed bleeders
MCCTs.
Yes, sorry. I never even heard of it untill your post.
I'd like to hear what you think of it.
Well I got it put on today. Now I have to wait 24 hours for it to cure. Here are some pics of steps as I was doing it.
First off, tape the area you want to coat. This was probably the hardest part of the whole process. LOL
Next, scuff the area to be coated with the provided sandpaper. This will make it adhere to the boot better.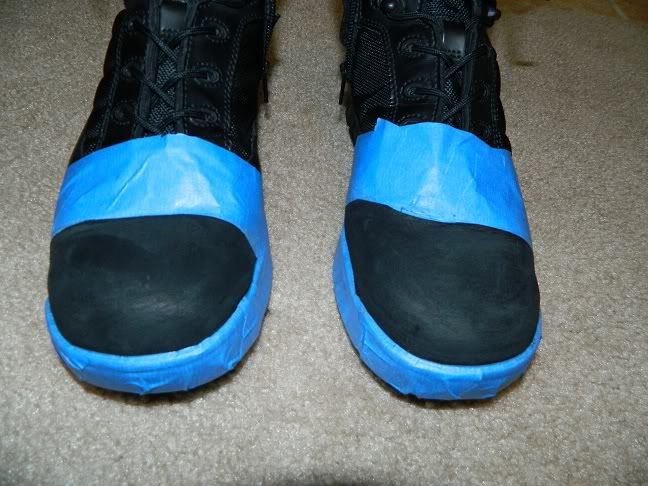 Now apply a light coat of the toe armor.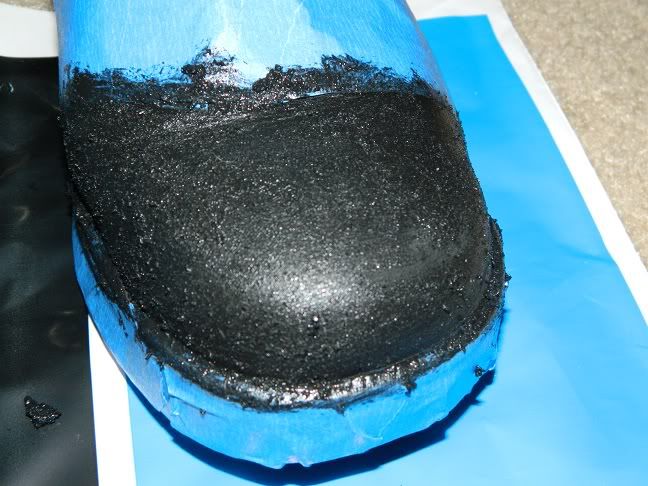 Wait for the previous coat to dry to the touch and apply another light coat. Continue with this until you have used the entire container. Coat #2:
Coat #3: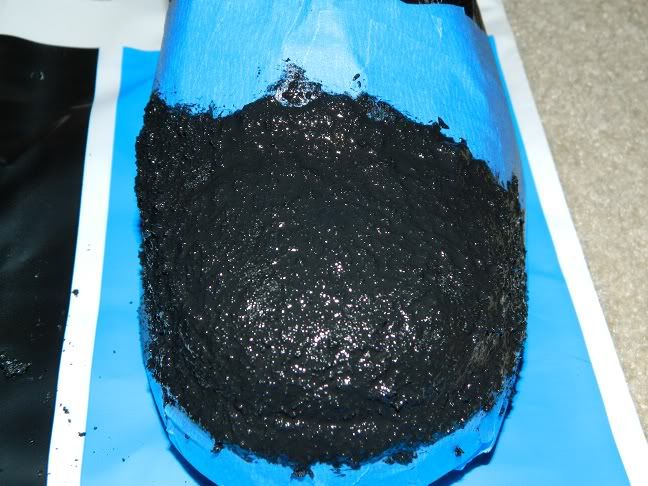 Final coat: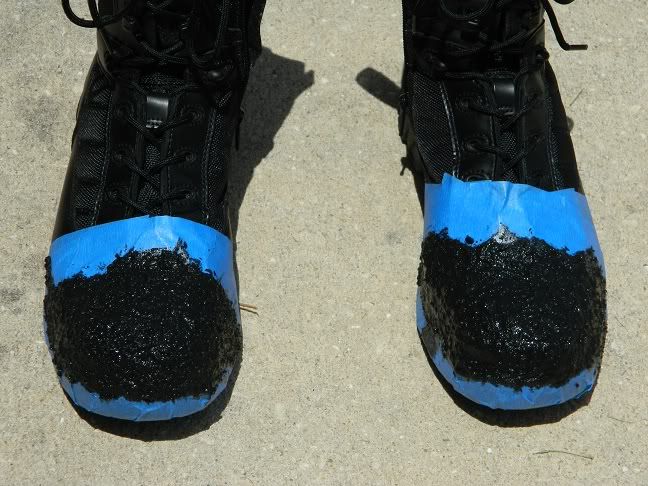 Pull of the tape before it dries.
And then let it cure for 24 hours to harden completely.
It was very easy to use. A little time consuming. The instructions on the package said to apply a light coat and then a heavy coat and let it cure. The woman at the Red Wing store suggested that I apply multiple light coats instead so it would adhere better and have less chance of chipping in the future. I also taped off the areas differently on each boot. Mainly because I was most concerned about getting the left one good because of the shifter. The right one I just did the toe so it would look kinda the same.
Will do. I was thinking it looks like rhino liner bed liners in pickup trucks. heh
So after about 2.5 months, it's holding up ok. I would do somethings differently if I were doing it again. First some updated pics: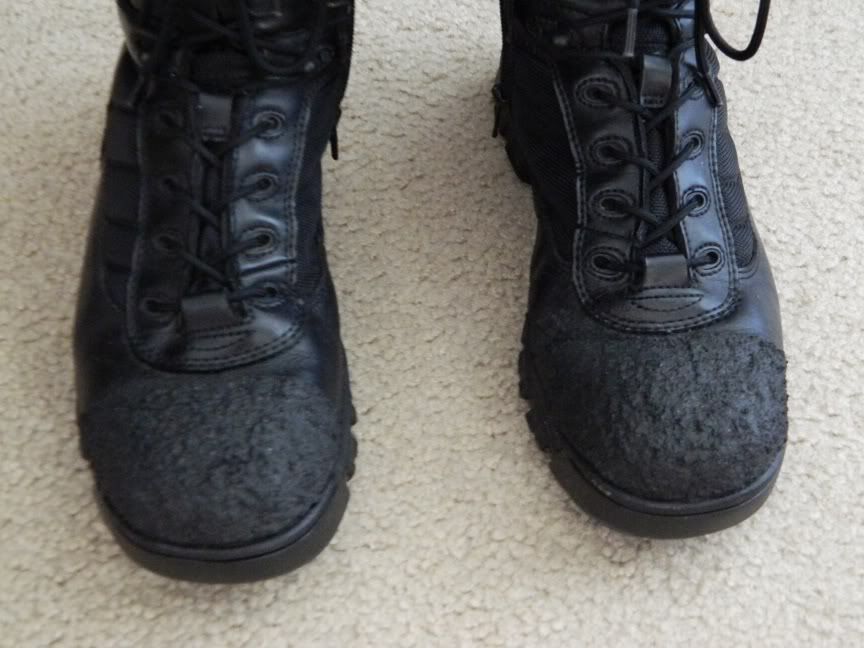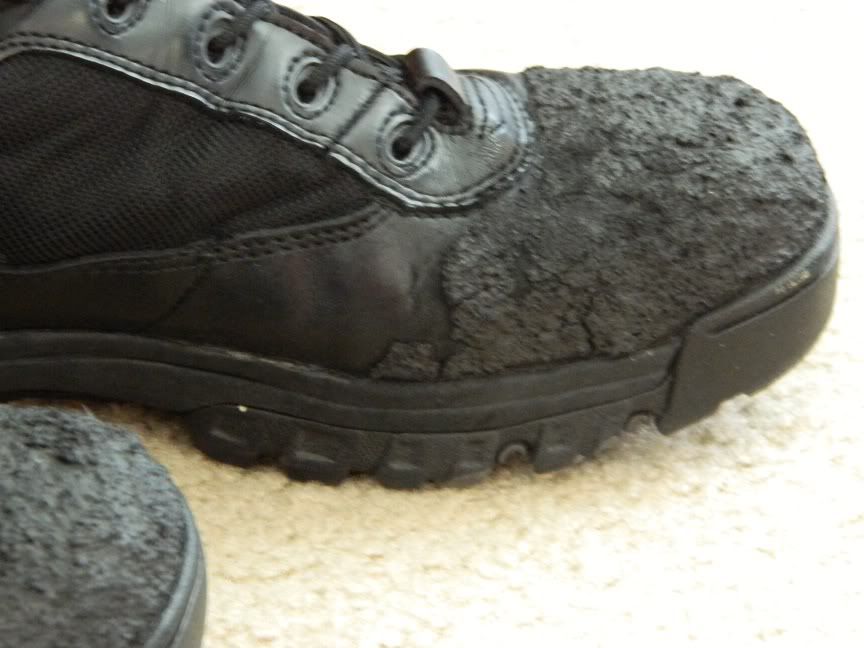 In the second pic you can see some cracks where the toe of the boot flexes. Of course this is my shifter foot and gets a lot more use than the other one. But other than that it seems to be holding up very well. So if I were to do it again, I wouldn't go as far up. I would just stop right on the toe like where a steel toe would be.
Member
Join Date: Aug 2012
Location: Cottonwood, Arizona, USA
Posts: 61
Quote:
Will do. I was thinking it looks like rhino liner bed liners in pickup trucks. heh
I was thinkin more like spray on shoes
like from "Cloudy with a Chance of Meatballs"
If you don't have small children, though, you probably have no idea what I'm talking about lol
Hehe I am familiar with that particular film.