Member
Join Date: Sep 2010
Posts: 53
my version of the vn900 seat and a passenger backrest
---
I recently swapped my seat for one from a vn900 was really happy with the extra comfort. My wife and stepdaughter missed the passenger backrest so after PMing Chuck A and asking several questions I found a passenger backrest from Drag Specialties and adapted it to fit. I already had the turn signal relocation brackets so I used the brackets to mark the holes to mount the turn signals to the bracket for the backrest.
I will add more photos when the weather cooperates.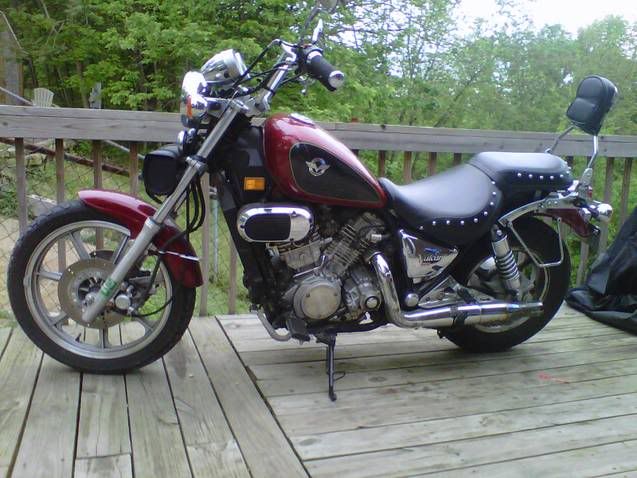 Travis
Louder IS better!
Join Date: Feb 2008
Posts: 289
I was lookin at the removable backrest on my mother in laws dyna and wondering if i could do something like this eventually. good to know it can be done and look good. great job!
---
2005 VN750
16,000 Miles
HAVE:
V-Force Windshield
V&H Cruzer Pipes
Luggage Rack
Lo-Jack
Intact Toolbox
Avon Venom Tires
Tour Master Cruiser II Slant Bags
K&N Air Filter
Custom Grill
NEED(want)
Engine Guard
16" Ape Hangers
Forward Controls
New Grips
New Mirrors
Driver Backrest
Passenger Backrest
Looks Good! Please do get some close-up pictures of not only the backrest mounting and signal mounting but also the seat mounting. Love to see all the ideas out there for this type project.
Senior Member
Join Date: Aug 2010
Location: Daleville, Alabama
Posts: 445
Does the 900 seat sit you a bit lower? And what make is the passenger backrest?
Really nice looking!
---
"Show me a man who makes no mistakes, and I'll show you a man who doesn't do things." Theodore Roosevelt."
2007 Victory Kingpin
Current projects - 1986 VN750 & 1988 EL250
Member
Join Date: Apr 2006
Location: Alaska
Posts: 56
I would like to know "how wide" is the seat for the driver?
---
03 VN750
nautillus horn
crash bars
saddlemen saddlebags
luggage rack
plexifairing 3 windshield
extended backrest
heated grips
led tail light
electro pods
dash board
Givi E-21 saddle bags
Senior Member
Join Date: Oct 2010
Location: Spencer, WV
Posts: 232
Looks like there is a LOT more room for the passenger!
---
05 VN750
Iridium Plugs
Spline Lubed front/rear
ignition pickups gapped
AGM Battery
Relocated MOSFET R/R
Coaster Mod
Pilot Screws at 2-1/4 turns
Slipstreamer S-08 Windshield
F&S Saddlebags/Mounts
Luggage Rack
12V Outlet
Mustang Seat
sissy bar
Oversized Pirelli Front Tire
6k miles
PW50, XR50, TTR90, XR100, DT175 (2-smoker), CRF230F, XR250R (dual sported), XR400R 4 KIDS, LOL!
1966 mustang street/strip
4-speed, nitrous
[email protected]
135.6
Member
Join Date: Sep 2010
Posts: 53
I got a couple more pics last night
this one is the underside of the seat shows the bracket.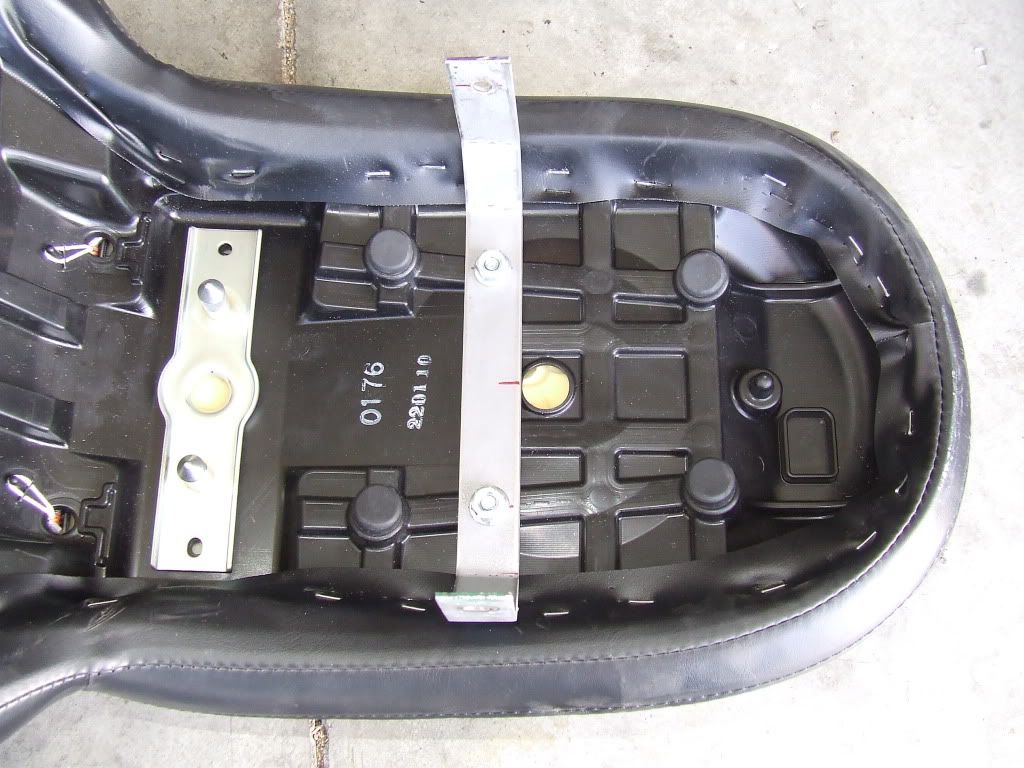 This piece will be put underneath the foam padding to sandwich the seat pan between it and the bracket and hopefully distribute the stress out so it doesnt crack the seat pan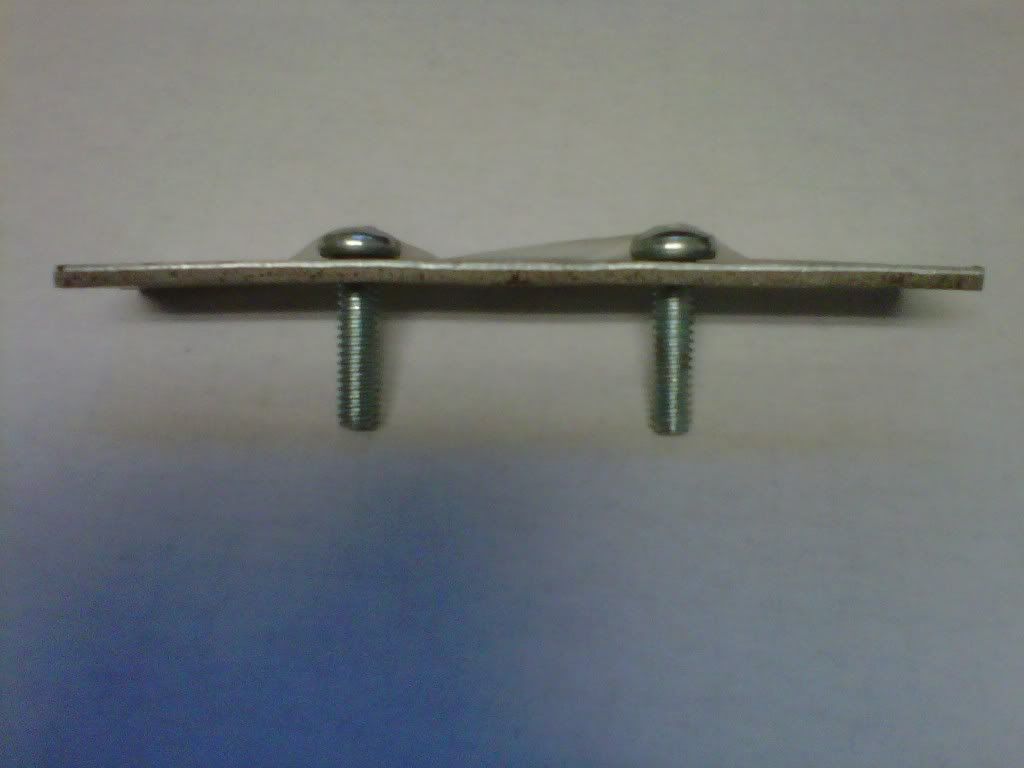 This is the turn signal from the rear.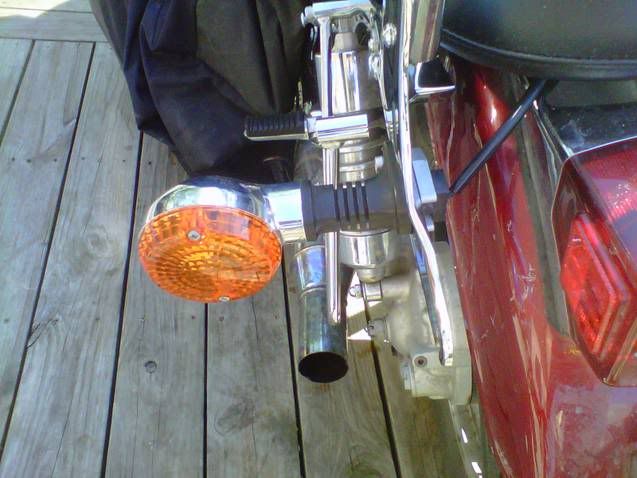 side view of the turn signal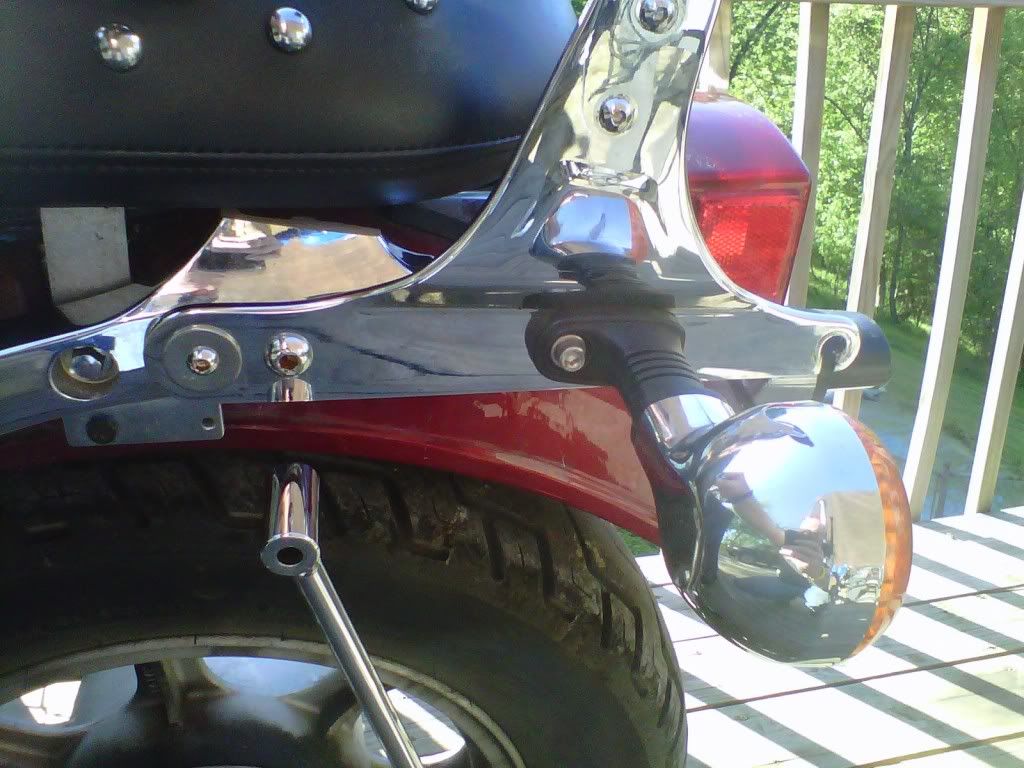 side view with the final things i need to do to it. I think for now I will just bolt a bracket on to hold the saddlebag supports...in a few weeks I may have the welders at work weld a tab on to support the saddle bag supports
there is a lot more room for a passenger...I had both my wife and daughter set on it and see where the best place to mount the backrest. if there had been room I would have mounted it further forward and put a bolt in where the seat bracket mount is.
The backrest originally fit a harley fxr...not sure what years. it was about 3/4" narrower than the vulcan but I was able to persuade it to fit.
I hope this answers some of the questions and the pics help
Travis
cool!
---
ONE RATS ASS GIVEN PER POST
Support your local
FREEBIRDS MC
1986/5 Vn700/750 Frankenfook cross eyed bitch "Mellisa Fayhe"
I am a BIKER and i'm proud.
FREEBIRDS MC CENTRAL NY
lowered with progessive 412 10" shocks
rejetted for K/N Pods part#rc 2340
sportster seat
'
I didn't lose my mind.i gave it away
BRING BACK WOLFIE."
Peace and Carrots
"RIP
"And I'm free...as a bird"John Lennon Free as a Bird
"
I only carry when I have my pants on
"Joe Robinson RIP aka Old Dog