Junior Member
Join Date: Apr 2011
Location: northern NJ
Posts: 11
900 seat mod need help please
---
I got a 900 seat that I am looking to swap out to my 750 and loads of great posts here from people who fabricated a bracket and attached to the frame fender holes. My question is what are you doing to hold the bracket to the seat? Self tapping srews into the ABS plastic? Please let me know, thanks.
Member
Join Date: May 2010
Location: Naples, Maine
Posts: 88
I didn't work with a 900 seat, but when I did my seat MOD I did I used rivets.
---
"Ruby" 1994 VN750
Purchased May of 2010 w/576 miles
Highway pegs
Cruise control
Rear turn signal relocation
Viking Saddle bags
Saddle bag supports
Chrome "Vulcan" oil cap
Chrome "K" Brake res. cover
Front tire:110/90-19 K673
Back tire:170/80-15 K673
VN750.com Grille Cover
Spline lube 8/8/10
Hot Grips, Heat-Troller & Relay
Irridium plugs DPR7E1X-9
Clock/Volt/Temp
Patriot Guard Rider
Join Date: Jan 2011
Location: Torrance, CA
Posts: 825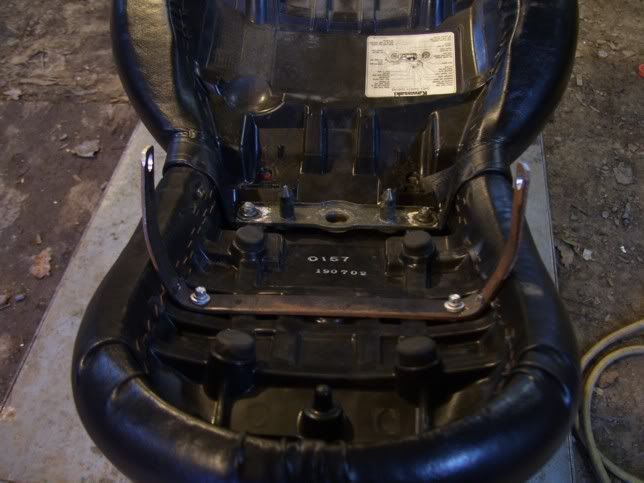 ---
1986 Black Kawasaki Vulcan VN750 "Black KAWK"
VN750 #9300 & VROC #33453
EMGO Handlebar, V&H Exhaust, Drop Shocks, Raised/Painted Fork, MeanStreak Seat, Tank Bib, ME880 Oversize Tires, Engine Guard, Custom Mirrors, Chris Products Turn Signals, Ear Shave, 150/42 Jets, PINGEL Fuel Valve, MCCT, Volt Meter, Shendegen R/R, AGM Battery, Coastered, .020 Coils, Relo Gauges & Headlamp, SilverStar Ultra, LED Flashing Brake Light, Center Stand Delete, WOLO Airhorn.
2FAS4U
Join Date: Mar 2006
Location: Kentucky
Posts: 469
My 900 seat had a rear bracket (tab) like the Vulcan 500 uses.
On my 1986, I drilled a small hole in the rear fender and bolted it down.