Member
Join Date: Jun 2011
Posts: 55
Bike cover
---
Hey guys, I searched the site but couldn't find anything pertaining to the topic so I'm asking here. What do you think is the best cover to protect the VN750? I plan to park it in the streets in front of my apartment in all weather (for heavy snow fall, I know of a covered parking location for it, but it isn't covered as it's simply under a bridge.)
Please let me know your recommendations for a non-flashy cover that's durable under the elements. Thanks and ride safe.
Drive less, ride more...
Join Date: Nov 2005
Location: SW Ga
Posts: 1,114
I would probably start out with one of the full-bike covers from Dowco--most likely, one from either their "Guardian" line or "Weatherall" products.
If you go with another brand, some things to include in the cover of your choice:
1) Flannel or other paneling to protect your bike's windshield (if you have one or will get one) from scratches;
2) Aluminized (or similar) panels to protect your cover from hot engine and/or exhaust pipes;
3) Reinforced grommets for a lockable cable, to keep your bike and cover more secure;
4) Last--but definitely not least--make sure the cover is VENTED--to let moisture escape.
Depending on the size of your bike's windshield and (hard) saddlebags, go with either a size large (L) or extra-large (XL). Stay away from the darker colors--avoid black and dark blue--and go instead with a more neutral color (greys, silvers).
Whatever brand you choose--most likely, what will kill your cover is exposure due to ultraviolet sunlight. One day, you'll go out to take your cover off, and as you pull up on it as normal, it will just tear, almost from its own weight, as this exposure will have weakened the fabric.
With this in mind, you might also compare cover warranties--and see what is/isn't covered, and for how long. Dowco covers may (or may not) currently have the best cover warranty in the industry. It's been a while since I've shopped for a cover.
If you plan on leaving your bike outside for extended periods of time, I would strongly encourage you to keep it waxed/polished, in addition to a quality cover. The cover will not really protect it from moisture in the air, which is the key catalyst for rust. If/when surface rust forms, you can usually take it off with either "Nevrdull" or (on chrome) with a piece of aluminum foil.
Do a forum search for "rust"--somewhere else here I did a post that tells where this bike is most prone to rust. Keep most of those locations covered with wax/polish, and your "baby" will stay much better looking over time.
You might wanna buy your first cover from a local shop, instead of over the internet. That way, if you don't like the way it fits your bike, you can simply take it back (assuming the shop will let you do this--ask about this, b4 buying--"what is your return policy on covers?"). If you do buy it online, go with somebody like Dennis Kirk, who may not have the cheapest price, but their return policy/customer service is second to none.
Seriously keeping your bike covered as it should be, is a true labor of love...but it is also a great deterrent to theft and/or vandalism. I wish you all the best....
---
'05 VN750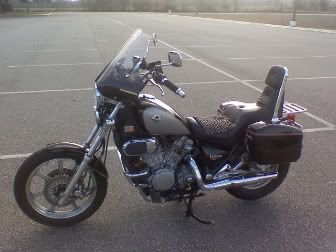 For other bike pix & mods, go to:
http://s1203.photobucket.com/albums/...k/VN750%20pix/
---
Last edited by theauhawk; 05-18-2012 at

03:11 AM

.
Member
Join Date: Jul 2009
Location: New Mexico
Posts: 83
Here in the desert I use two different covers. I use a heavy vinyl cover for the rainy season but only when it looks like rain. As soon as the rain stops, off it comes. Don't know how your summer days are but here we get a lot of mice and they love to get under the vinyl covers and chew the wires. So when it's not raining I use a Queen size sheet. Tie the two long corners together and hook it under the license plate. Then drape it over the bike' windshield. Then I tie the two remaining corners together at the lower corner of the windshield. The I put a bungee cord from the left to the right side. Makes a great sun shield and the mice don't like the sheet's movement. And if I happen to leave it on during a rain, it dries in a few minutes out here. And it's cheap too. Got one at WalMart for $7. I'm on my 2nd season with it.
Member
Join Date: Jun 2011
Posts: 55
Thank you Theauhawk and Desert Dog for the recommendations. I was going to buy a heavy duty bike cover on amazon but wanted to hear from the forum first. Waxing is definitely something I have not previously considered and will get on it asap. I plan on keeping my Archangel forever haha.

PS: Theauhawk, your bike is beautiful. She looks exactly like mine except for the seat cover, hard-case saddles (I have leather ones), and your windshield is a little wider and nicer.
I picked up a nice cover that fits over windscreens, and sadddle bags... if you have them... At Wal-Mart for 19.99. It has a padded section under the cover to not scratch your windshield and grommets along the bottom to tie it down or run a cable lock through.
Wareagle1970
Join Date: May 2010
Location: Hickory, NC
Posts: 409
I will try to remember who makes the cover that came with my bike so you will know not to get one just like it... It seeps water thru to various parts of the bike (no rips in it)...
---
2003 VN750 de-goated
Kuryakyn ISO Grips
Kuryakyn LED Voltmeter
coastered
R/R relocated
Slipstreamer Hellfire windshield
Shindengen Mosfet R/R
Kawasaki Engine Guard
Fire & Steel Footpegs
Need Knifemaker to make me a seat like his

Hickory, NC
Quote:
I will try to remember who makes the cover that came with my bike so you will know not to get one just like it... It seeps water thru to various parts of the bike (no rips in it)...
Many covers are not 100% waterproof. They really shouldn't be, as that means they will trap water
inside
and cause rust to develop faster.
I used an old cotton sheet myself and only used waterproof plastic if I knew it was going to rain hard. I pulled the plastic off as soon as the rain stopped.
A cover is really to cut sun damage and avoid dust and dirt.
Clint '89
Join Date: May 2009
Location: Suncook NH
Posts: 183
Awesome Information, just want to say thanks- for being so thorough, very helpful.
---
Last edited by ourselfish; 06-27-2011 at

12:52 AM

.
Senior Member
Join Date: Jul 2008
Location: Grand Prairie, TX
Posts: 802
I'll have to look at the current brand I have wadded up and tossed in a corner. Despite what their website claimed, it's not waterproof. Made a point to see if it was resistant or proof before I bought it. Threads coming apart after 2 months. Finally decided just to trash it. Did come with a warranty. All I have to do is pay to send it back, let them decide whether it was their fault or mine, pay to have it shipped back when they deny it's their fault and in the meantime, buy another cover while I wait for a 30 day process.

Would really like to get a bike shelter, but not so keen on forking out 300 bucks for it.
---
Global warming? So what if my kids never see a polar bear. I never saw a dinosaur and I'm ok.
Drive less, ride more...
Join Date: Nov 2005
Location: SW Ga
Posts: 1,114
The following forum thread should be a good primer (no pun intended, hah) on rust and prevention--it has the post I referred to earlier above:
https://www.vn750.com/forum/showthrea...highlight=rust
Otherwise, KM above is right--don't expect your new cover to keep your bike
completely
dry.
As soon as is practical, it's much less hassle for you as a cruiser owner to park/store your bike in a totally enclosed stucture somewhere. The heat that occurs in a totally enclosed structure during the day will do a good job of burning off any moisture that may collect on your bike, and this helps keep rust at bay a good bit.
But even if stored indoors, it's still a good idea to keep your bike's gas tank topped off (or nearly so) if stored overnite for any real length of time, for rust prevention inside the fuel tank.
Also: if you store your bike for a week or more at a time without riding it, be sure to mix a fuel conditioner in the gas (like Sea Foam, StarTron, etc) and then run the bike enough to get this conditioner
in the carbs
. Not doing this is a common mistake for bike owners; this mistake generates a lot of threads here (and elsewhere) with carb problems--omit this conditioner, & you'll have a bike that doesn't idle/run like it should when you later try to start and ride it!....
---
'05 VN750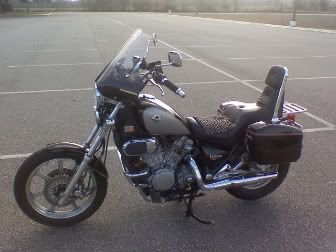 For other bike pix & mods, go to:
http://s1203.photobucket.com/albums/...k/VN750%20pix/
---
Last edited by theauhawk; 06-27-2011 at

02:36 PM

.