Young Gun
Join Date: Jun 2010
Location: Kansas City
Posts: 213
Custom Built Luggage Rack - Mock up done
---
I might be way off on this, but there seems to be a need for luggage racks around here.
I had some time in the ol' garage tonight, so I whipped up a mock up. I did it freehand so it ended up a little longer and slimmer than stock. Still a little rough, but it has potential.
Would anyone be interested in something like this?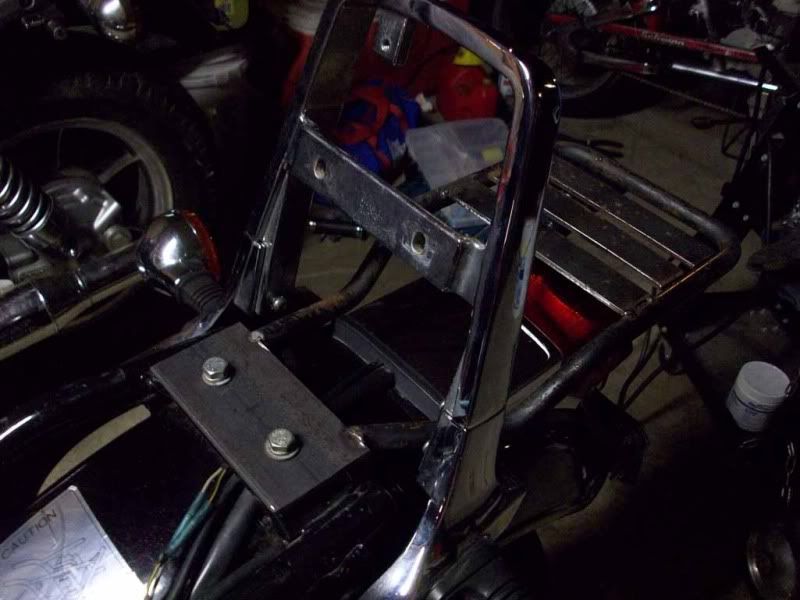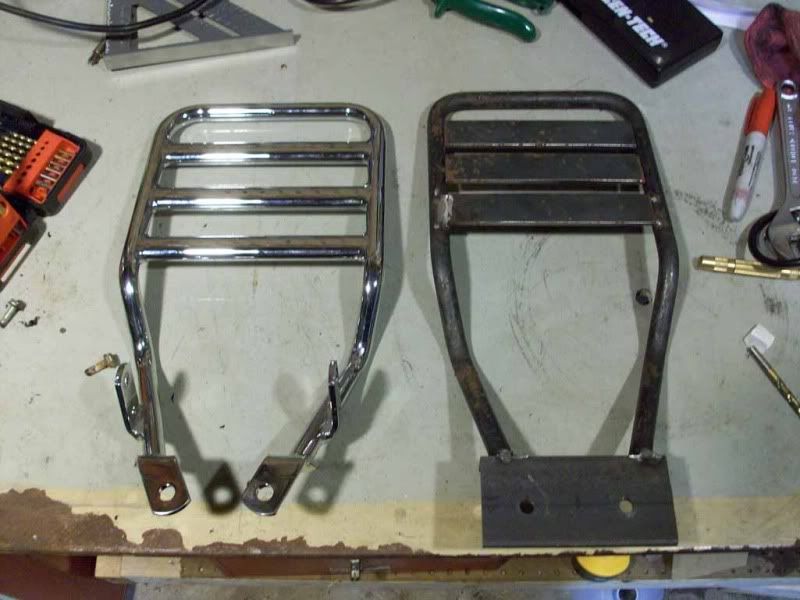 Headbanger/Popes of Hell
Join Date: Aug 2006
Location: ohio
Posts: 6,501
looks good to me! just paint it and ship it! lol

how's the seat fit with it on?
---
if it goes vroom or boom, I LIKE IT!
Senior Member
Join Date: Nov 2009
Location: Springfield, OH
Posts: 319
Interested here!
---
1986 VN 750
20,000 miles
MF Battery
Replaced Stock Turn signals
Starter Clutch
NGK plugs
MT66 Pirelli's
Seafoam
Senior Member
Join Date: Feb 2010
Location: Owensville, MO
Posts: 278
I don't need one, but my brother might. Please keep me in the loop.
---
1989 VN750
VROC#31798
I'm bad with names. May I just call you dumb?
Members who have donated towards server costs
Join Date: Mar 2011
Location: NJ
Posts: 301
I'm interested but concerned about ability to hold weight without the two upright supports as well as the base plate supports
---
Members who have donated towards server costs
Join Date: Apr 2010
Location: Belvidere, IL
Posts: 267
I have to say you have a nice rack there, I'd like to get my hands on one like that! Well done.
Bronson
---
2005 VN 750
MF Battery
Plexistar windshield
.040 pilot jets.
Splines lubed 1955 mi.
Marbled
Iridium plugs
Reset pickup coil gaps.
Metzeler ME=880s
Shindengen MOSFET RR
V & H Cruzers
Degoated
Speed bleeders
MCCTs.
Nice prototype kc. I would have interest. It will need the upright supports (easy right?).
After the rack flares out behind the backrest, it could even be a little wider than OEM.

I am going to subscribe to this thread ... anticipating a purchase!
---
~~C8> Ratt
________________________
'91 VN750 - Cosmic Splendor/Candy Wine
Done: Coastered, .020 ign., Iridiums, VM
Plexistar II, MCCT's, Relocated MOSFET
Next: LED's
Will Do: Horns, Shave(maybe)
---
Last edited by ZCraggRatt; 04-28-2011 at

09:29 AM

.
Senior Member
Join Date: Aug 2010
Location: manitowoc wisconsin
Posts: 555
paint it and ship it I agree. good work.
---
www.vulcanriders.us
scuba
vn750.com scuba
vulcanforum.com scuba54220
vroc.org VROC # 32658 (scuba)
1984 kz750 ltd
1982 yamaha maxim 750
2002 nomad trike
1978 suzuki 250
1964 harley amf
1987 yamaha venture 1300
1984 honda silverwing
custom exhaust
custom mirrors
custom grips
custom floorboards
ride-on tire sealant
corbin seat and backrest
custom exhaust
willie & max saddle bags
Senior Lurker
Join Date: Nov 2006
Location: Westchester, New York
Posts: 509
I agree that the upright support tabs will be needed for increased stability and durability.
Overall your project looks great so far.
-Sloppy
Nice job. With a little refinement you will probably have a winner. I suspect, though, that it will cost more to produce than you can get for them. Never know until you try, though, right?
---
2017 Indian Roadmaster (current ride)
2003 VN1600A (
Traded August 2017 to #1 son for a Bushmaster AR
)
2001 VN750 bought 4/19/08 w/2309 miles(
Sold April 2010 with just over 12,000 miles
)
VROC #33035
__________________________________________________ ________________
Just when I thought I was winning the rat race, somebody moved the finish line!