what do you think of these grips
---
found these on ebay and was thinking about trying them only 30 shipped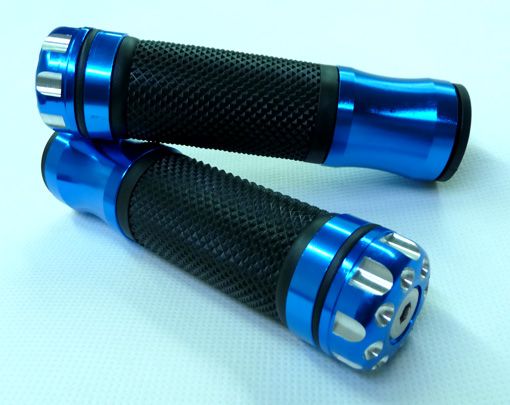 ---
34k so far
VN750.com member #613
Keep the shiny side up
coastered
de-goat and baffles removed
jetted 42-150 2 shims
Earshaved with unifilters
inside of tank coated
spline lube
long Beach Blue Pearl Paint 4/07
Shindengen FH012AA r/r
TPE stator
Exide sc30lfa Battery 28ah 445cca
Saddlemen saddlebags
2001 HD fatboy solo seat
Custom taillight & rear turn signals
Fergy's coil relay mod
Fiamm El-Grande high/low tone horns
Members who have donated towards server costs
Quote:
found these on ebay and was thinking about trying them only 30 shipped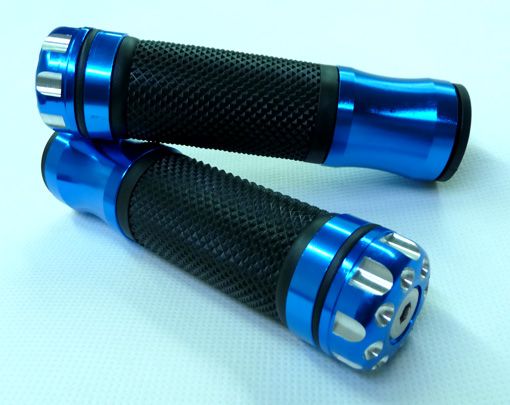 They seem to match your bike, but when it comes to grips I am all about comfort and like stock style grips as well as anything out there.I absolutely hate Kury grips, too much metal and chrome,Chrome don't get you home.Vanilla and chocolate I guess
---
If you see it on my bike I did it
VROC#30324
92 vn750(sold)
Current ride 05 1500 Classic FI
lovin' the new scoot
Quote:
"When all is said and done,usually more is said than done" UNK
Click on one x and drag to the other to read between them.
Psalm 40:1...
XI waited patiently for the Lord; and he turned unto me, and heard my cry. X
Members who have donated towards server costs
Join Date: Sep 2009
Location: SAN ANTONIO, Texas
Posts: 1,126
I like the color alot. Not sure how comfy they are. Now that i have kury iso grips...i am not too impressed. Im not a big chrome guy anyway...i like my bike dirty.
---
2011 Suzuki VSTROM DL650 with ABS Purchased Jan 28 now with 39,000miles WRECKED JAN 12 ,2013
"To strive, to seek, to find, not to yield."
05 Vulcan 750 26,050miles *Traded in*
Ventura guards
MadStadt mount
Givi windshield/Heated grips
Backoff
Riderbeads
Givi 52 topcase
Pat Walsh Crash bars skid plate
OEM centerstand
Headlight modulator
Battery tender
Aquarium thermometer with forward probe mount
Admore LED Lighting/Givi E36N panniers
The bike has leather grips on it now I like them but the have drawn up from living outside and there is rubber showing on the ends. i have used the kury grips before if the live outside the black comes off on our hands and like denny said not too comfortable. i am putting together my ape hanger setup and will need new grips. for long trips i wear gel gloves anyway so comfort isnt a problem.
---
34k so far
VN750.com member #613
Keep the shiny side up
coastered
de-goat and baffles removed
jetted 42-150 2 shims
Earshaved with unifilters
inside of tank coated
spline lube
long Beach Blue Pearl Paint 4/07
Shindengen FH012AA r/r
TPE stator
Exide sc30lfa Battery 28ah 445cca
Saddlemen saddlebags
2001 HD fatboy solo seat
Custom taillight & rear turn signals
Fergy's coil relay mod
Fiamm El-Grande high/low tone horns
new owner
Join Date: Apr 2010
Location: West Fargo ND
Posts: 79
Comfort is key, but those look like a nice Bling for your bike (colorwise and all). Cheap enouhg if its a fail you are not out to much and if its a Win, they will look good.
Louder IS better!
Join Date: Feb 2008
Posts: 289
like you said, if you ride with gloves i say go for it! they would look sweet and as long as you arent bare handed i think it would be cool.
---
2005 VN750
16,000 Miles
HAVE:
V-Force Windshield
V&H Cruzer Pipes
Luggage Rack
Lo-Jack
Intact Toolbox
Avon Venom Tires
Tour Master Cruiser II Slant Bags
K&N Air Filter
Custom Grill
NEED(want)
Engine Guard
16" Ape Hangers
Forward Controls
New Grips
New Mirrors
Driver Backrest
Passenger Backrest
Member
Join Date: May 2010
Location: Naples, FL
Posts: 70
I'd have to say I'm pretty jealous that you grabbed em before I did! :P
Well they sure are pretty. (Ghey that is....)
LOL...Seriously they just do not look comfy, but they would LOOK great on the bike.
Have your levers anodized blue too BTW....
KM
I would actually like to find the same leather ones that are on the bike now they are really comfy i don't like the kury isos i had those on my 1500 there just isnt anything out there i am happy with. they matched the bike was all. actually has anyone seen leather grips with gel pads on them that is what the ones i have now are and i would love another set for my ape hangers.
---
34k so far
VN750.com member #613
Keep the shiny side up
coastered
de-goat and baffles removed
jetted 42-150 2 shims
Earshaved with unifilters
inside of tank coated
spline lube
long Beach Blue Pearl Paint 4/07
Shindengen FH012AA r/r
TPE stator
Exide sc30lfa Battery 28ah 445cca
Saddlemen saddlebags
2001 HD fatboy solo seat
Custom taillight & rear turn signals
Fergy's coil relay mod
Fiamm El-Grande high/low tone horns