Anyone using the Kuryakyn Grantour Bag on the VN750?
---
I'm debating getting this bag, but I was wondering if anyone has it and how it performs as a backrest on the 750. (considering the passenger seat is a bit "slim" on the vn750.)
Here's a link on Kury's page:
---
LETS RIDE!!
VROC# 26137
☠ Black Candy ☠
'07 Mean Streak 1600
☠ Blue Crush ☠
'95 VN750-A11
---
Last edited by davewex; 05-06-2010 at

02:06 PM

. Reason: add link
HAWK
Join Date: Feb 2006
Location: Chicago land
Posts: 2,576
Link would be great.
---
Chad Falstad "Hawk"
Vroc #17649
2011 HD Ultra Classic "angel"
2001 Nomad 1500 Sold March 2012
2001 VN 750 "Sold June with 2008 with 21,000""Serinity"
I added a link, but I'm really interested in getting feedback from people who already own or have owned the Grantour bag and use it on the 750.
---
LETS RIDE!!
VROC# 26137
☠ Black Candy ☠
'07 Mean Streak 1600
☠ Blue Crush ☠
'95 VN750-A11
Drive less, ride more...
Join Date: Nov 2005
Location: SW Ga
Posts: 1,114
If you really like that bag, and it's advertised (also) as a working backrest...and no one else responds to your info request, then you might go ahead and order it....but get it from a vendor who has a very generous return policy (for instance, Dennis Kirk)...and then you can see/test it for yourself.

We're of course all built differently, so even if someone else commented on it, this bag may work better (or worse) for you.

I've used another Kury bag as a backrest, and have never had quality problems with anything from them. They're a bit more expensive than some other brands, but they seem to be worth it.
---
'05 VN750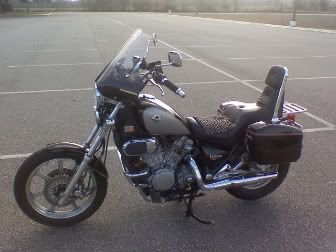 For other bike pix & mods, go to:
http://s1203.photobucket.com/albums/...k/VN750%20pix/
Member
Join Date: Apr 2010
Location: Vero Beach, Fl
Posts: 56
This might not help, but a buddy of mine has 1 on his 06 Harley Road Glide and he loves it! I know we are talking about 2 different bikes and yes, the road glide is bigger, but my buddy is 6'3 and weighs 385lbs. Good luck....
---
95' 750vn
10,900 - Bought
Custom Straight Pipes
Jet kit / carbs re-built
Final Drive Serviced
New Plugs
Maintenance Free Battery
VN900 Seat
Turn Signal Relocation
Still have lots of stuff to do, just need the green to proceed! Oh, and momma's approval....
Late to the party
Join Date: Apr 2008
Location: Rochester, MN
Posts: 321
Hey, I was thinking of ordering that too.
I have another project I'm working on and probably won't order one for a couple more months. Here's hoping you're first to write some feedback for your own question.
If for some reason I get one before you I will post back to this thread.
---
'05 VN750 - "Cookie"
My Gallery
I found one locally and I will probably pick it up today. (if everthing here at work quits breaking this week!)
It should get a good evaluation, going to spring fling next weekend.
---
LETS RIDE!!
VROC# 26137
☠ Black Candy ☠
'07 Mean Streak 1600
☠ Blue Crush ☠
'95 VN750-A11
Member
Join Date: Apr 2009
Posts: 34
I am looking forward to your post after you try it. I looked at one but wasn't sure how it would work with my VN750.
Updates after the trip
---
I added some photos of the bag on the 750. It is a great bag and well worth the money imho but it is a little too deep for a backrest on the 750 (even without the backrest pad) I found that it worked great as a tail bag on the 750 luggage rack. I just used my old cooler/backrest that is perfect for me as a backrest and I fill it with bottled water and a couple towels.

I also bought this bag to use as a backrest/bag on my Meanstreak and it does a good job on that also, but with the backrest pad installed. It came with alot of strapping options, (about 3 different sets) I was able to fit my HJC full face helmet or 1/2 helmet in the bag with enough room for a weekend's worth of clothes. A rain cover also comes with it and I was skeptical about it as it fits like a grill cover, but the cover never started to come off even at interstate speeds for hours and lots of rain at times....everything kept dry.

If anyone is interested, I even had the bag tied onto my dad's 2010 Fury and it worked well with the backrest, being tied under the seat....there's also a shot of it on my friend's Vulcan 2000 as a backrest.
---
LETS RIDE!!
VROC# 26137
☠ Black Candy ☠
'07 Mean Streak 1600
☠ Blue Crush ☠
'95 VN750-A11
---
Last edited by davewex; 05-31-2010 at

11:37 AM

.
Bandito
Join Date: Sep 2009
Location: Salisbury, MD
Posts: 160
Thanks for the pics, I was interested in this bag and that helps to narrow down my choices.

Btw, is that bread place in the last picture the same as Panera bread here on the east coast?
---
1993 Vulcan 750 - SOLD
---------------------------
1996 Suzuki Bandit 600 - Current ride