Locks
---
I have a question regarding all the locks on our bike. I got a new Lock set off of eBay because i am having problems with my ignition switch, I broke a key off inside the Gas cap, and wanted to replace the helmet locks so I could continue to use one key. Once the set came in... I found that the Ignition switch housing is broken and had been repaired with JB Weld at least once. So I plan on separating the Lock tumbler from the plastic switch and using my old lock tumbler and switch housing and the "new" switch. Now on to the gas Cap and the Helmet locks... whats going to be easier... re-keying the locks on the gas cap to match the rest of my locks, or re-keying the ignition switch
ohh and any information on how to do this would be a great help
Linkmeister Supreme
Join Date: Aug 2008
Location: Lethbridge, Alberta, Canada
Posts: 7,960
I worked at a building supply business 30 years ago, and watched home door locks being rekeyed a few times.
You could check at a stealship to see if they do it.
Or try a locksmith.

What you really need is the assortment of little cylindrical pins in the right length and diameter, that index against the cuts on the key.
OH, and how the lock cylinder slides out of the body. I think you are back to a lock smith.

I think some one here a few months ago rekeyed his helmet locks, and just used 1 or 2 pins that he salvaged from each lock to match up with the new key. The security is reduced, but if you don`t talk about it, no one is likely to know your lock is easier to pick.

Sorry I can`t give you any solid answers slim, just more questions to ask.
---
Gordon
1991 VN 750 -"
Cosmic Lady
" or "
Bad Girl
"?
Purchased May 16, 2008
Approx.19,300km (12,000 miles)
H-D windshield
Relocated R/R
MF-AGM battery
Fiamm Freeway Blaster horns
F&S luggage rack and engine guard
Kury Offset Hiway pegs
July 13, 2016, Riding on the DARKSIDE now, Classic Radial 165/80-15
TOP TEN THINGS A NEW RIDER/OWNER SHOULD DO.
Click on link.
https://www.vn750.com/forum/11-vn750-general-discussion/9127-top-ten-items-you-would-suggest-new-owner-do-his-new-ride.html
---
Last edited by OlHossCanada; 02-08-2010 at

06:26 PM

.
Simple Solutions
Join Date: Jun 2008
Location: SEQUIM, WA
Posts: 965
cant u pull the key out ... i use a lock pick kit but any thin pice of metal with a barb on it can pull out a key ??? or was the other lock buggered ??? can pull a key code of the lock cylinder to get a key made if it was your last key that broke ...
---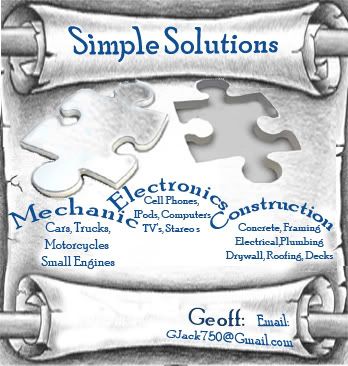 Stator #3
MF AGM
DeGoated
Ears Shaved
R/R relocated
Rebuilt
She's worth her weight in GOLD
If u dont have it already Here is the
Service Manual
How To
Test the Stator
Members who have donated towards server costs
Join Date: Dec 2008
Location: Monroe, LA
Posts: 4,706
DuPont Teflon Multi-use Dry Wax Lubricant, available at Lowes, is an excellent lubricant. I've used it on locks, motorcycle chains and my Vulcan kickstand. Comes in a spray can with a straw. Doesn't attract dirt.

Might make it easier to slide the broken off key out as well as lubricate the locks.
---
I'm keepin' all the left over parts. I'm gonna use 'em to build another bike!
_____________________________________________
"Black Beauty"
1989 VN750 acquired December, 2008, 6,711 miles
Currently 23,298 miles
Old Blue
2001 Honda CMX250 Rebel acquired July, 2008
1987 VN750 project bike, acquired August, 2009, 33,000 miles and balancer sticking out of the case, currently awaiting attention and parts
got the key out..thats not the issue...uppon getting the broken key out i fubared the gas cap. the reason that the key broke is that the locking mechanism is rusted solid...i alried tried tearing it apart and cleaning it, but it still binds, so i need new locks. The dealer will sell me a new gas cap, ignition switch, and the helmet locks and the tool box lock... but they want a small fortune for them... i found what I thought to be a deal on the lock set on eBay, but when it got here the ignition cylinder housing is broken beyond repair and doesn't turn all the way, but the switch itself checks out good, as does the lock tumbler... the gas cap is very pitted and in poor condition..., but I can take the locking mechanism from the eBay cap and put onto my cap and make a good cap, and the helmet locks look like junk, but the key opens and closes them very smoothly.

So what I am trying to do... is re-key my eBay gas cap to my old key configuration. I know I read on here some where that some one re keyed all the locks... I just can't find it... I wanted to print off the pictures and instructions so I could fallow the procedures very closely... I will figure this out on my own though and then post a write up for those who might need it in the future.
Chucklehead
Join Date: Dec 2007
Location: Poynette WI
Posts: 1,050
Just my $.02 .... I've come across that the tank lock can be opened by almost any Kaw key. I opened mine with my friend's KZ1000 key and opened his with mine .... just a thoiught. I find it hard to imagine that the same lock tumblers are on a 79 and 87 bike of different models. Someone please prove me wrong!
---
87 vn750at least that is what the frame #'s say
"Squirrel Bike" aka Jersey
Rat bike with a good PR agent

shaved and coastered
2 into 1 exhaust
rear 170 and front 110
Relocated R/R
custom dash with voltmeter
Spitfire windscreen
Plutonium plugs
Recovered seat without "butt hammers"
More to come
Praise to the Parts Goddess Crobins for needed things

When someone tells me "Great minds think alike" all I can think is "You Pervert"
i have had wierder one... my moms old 83 toyota station wagon key opened the doors and started my Mazda B2000 Sundowner, but my keys didn't work on her car.
Senior Member
Join Date: Jul 2008
Location: Miami, FL
Posts: 409
---
Scheherazade
'86 VN750
MF Battery, Iridium Plugs, RR relocated, Voltmeter, 170/80/15 Kenda Kruz rear tire, DIY Samsonite hard bags, DIY shaved seat with Beaded seat pad ('cause that's how I roll) and the dreaded STATOR CHANGE.

Shining Black Bess '86 VN750, retired for parts after a fried stator and being knocked (kee-runch) in her parking spot.