Member
Join Date: Jun 2009
Location: Miami, Fl
Posts: 92
Saddlebags
---
I am looking for a saddle bag for my VN. Do i need to instal any protector to keep the bags from falling agais the tire of the bike, or will my shock keep it out of the way?
Linkmeister Supreme
Join Date: Aug 2008
Location: Lethbridge, Alberta, Canada
Posts: 7,960
Are you looking for hardbags or soft? Lots of guys, including me, have just thrown softbags with a yoke over the seat and strapped them down. I haven`t driven that far with them, but for commuting to work and running around town, these worked ok for me.
If you are looking for something more secure (lockable) and not too expensive, check out these Mutazu hardbags that sloppy has here.
https://www.vn750.com/forum/showthrea...utazu+hardbags
He used the Kawi
Fire and Steel
bag supports which are pricey, at about $130 I think.
The Mutazu GA, LN, and FY hardbags that fit the vn750 are $115. The GA is the biggest at 7.5 inches thick, but has no lights included. The LN is 6.5 inches and the FY is 5.5 inches, and both of them have built in taillights.
They also have some universal mounting brackets for about $29, IIRC. He has a link to Mutazu in his thread, but I will put it here too.
http://www.mutazu.com/products.php?c...=10&s=prod.php
If you are on a really tight budget, I just spotted some soft leather bags they have for $70 on here too.
I hope this helps find some bags that work for you.
---
Gordon
1991 VN 750 -"
Cosmic Lady
" or "
Bad Girl
"?
Purchased May 16, 2008
Approx.19,300km (12,000 miles)
H-D windshield
Relocated R/R
MF-AGM battery
Fiamm Freeway Blaster horns
F&S luggage rack and engine guard
Kury Offset Hiway pegs
July 13, 2016, Riding on the DARKSIDE now, Classic Radial 165/80-15
TOP TEN THINGS A NEW RIDER/OWNER SHOULD DO.
Click on link.
https://www.vn750.com/forum/11-vn750-general-discussion/9127-top-ten-items-you-would-suggest-new-owner-do-his-new-ride.html
---
Last edited by OlHossCanada; 12-07-2009 at

04:15 PM

.
Simple Solutions
Join Date: Jun 2008
Location: SEQUIM, WA
Posts: 965
Quote:
I am looking for a saddle bag for my VN. Do i need to instal any protector to keep the bags from falling agais the tire of the bike, or will my shock keep it out of the way?
i would recomend supports but u should be ok but its a risk i wouldnt take on long trecs.... now the blinkers will probably need to be relocated... now the relocation and saddlebag supports came with my bike when i bought it so as of where or ow much not to sure ... i would start with ebay and u may find some here
---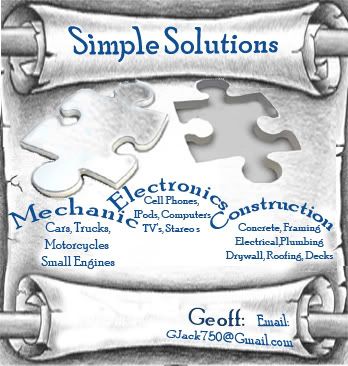 Stator #3
MF AGM
DeGoated
Ears Shaved
R/R relocated
Rebuilt
She's worth her weight in GOLD
If u dont have it already Here is the
Service Manual
How To
Test the Stator
Senior Member
Join Date: Jul 2009
Location: JACKSONVILLE, FL.
Posts: 123
I have Saddlemen hard saddlebages I got from
www.cruisercustomizing.com
. They have some good cheap ones on their. They are medium size and are big enuf for what I need them for. You might be able to go bigger cause it looks like they would fit. My mounts are three peice universal from a "ma and pa" bike shop. the helmet locks had to come off, I didnt relockat them. The turn signals are easy to relockat with a universal license plat mount from a local Cycle Gear store. turn signals as well, thier smaller then stock but do the job.
All together I spent about $150 and it took mabey an hour to put it all together.
Best thing I'v done to the bike so far. And for all those out there that have stuffed thier jacket full of groceries you know what I'm talking about. Unless I'm the only one that has done that!! LOL!!
---
CLARK47



2005 VN750
1,200 MILES WHEN NEW TO ME
JULY OF 2006
24,000 AND COUNTING NOW
ALLMOST ENTIRLY STOCK
Senior Lurker
Join Date: Nov 2006
Location: Westchester, New York
Posts: 509
Hey Dre82s,

The saddlebag supports are designed to keep your bags from getting wrapped up in your rear wheel. If your bags have enough free play in them that they even come close to the rear wheel, you should go for some kind of support. Some people here have made their own or found supports for less than $30, some people have spent much more. It's a safety issue. How much is your piece mind and your safety worth to you?

I'm a big fan of a penny of prevention is worth a dollar of cure.

Hope that helps -Sloppy
---
Last edited by Sloppyburpfest; 12-15-2009 at

10:58 AM

.
my cheap soft bags hit the tire... I am in limbo on what i am going to do
Members who have donated towards server costs
Join Date: Nov 2007
Location: Chandler, Arizona
Posts: 3,007
I went whole hog, got the Fire and Steel brackets from Kawasaki, which also relocate the turn signals, and the bolt on Auburn Leather bags, also from Kawasaki. I got them from Michael Andretti Powersports online, for about 70% of what the local stealerdealer wanted, plus no tax or shipping. Still came to almost $400. But it was a good investment, it was done right, the bags have been on the bike for 8 years and 43,000 miles, and still look like new. They really make the bike look good too.

If the Kawasaki brackets are still available, and you plan on keeping the bike for awhile, I recommend getting them. Or maybe you could find them used. They can also be used with pretty much any throw over bag, or with hard bags. What were once common accessories are now becoming hard to find. Jerry.
---
I am a motorcyclist, NOT a biker.


1997 Vulcan 750, purchased about a week ago
2006 Sportster 1200 Low
2013 Royal Enfield Bullet 500, converted to carb
2001 Yamaha XT225, heavily modified
2004 Honda Rebel 250
1979 Vespa P200E
2002 Vulcan 750 parts bike
1994 Yamaha XT225 parts bike
Adventuregeek
Join Date: Oct 2008
Location: Atlanta, GA
Posts: 162
Before I joined the Mutazu Dark Side, I had leather bags with no supports. They mostly sat okay on the shocks, but when I loaded them up they deformed and wrapped around the shock a wee bit. Looked weird, although well clear of the tire. I have the GA hard bags now (which require supports), and don't miss them leather things a bit.
Senior Member
Join Date: Feb 2009
Location: Columbus Ohio, USA
Posts: 268
I bought my saddle bags from Saddleman.
I LOVE the size. They're big enough that I can pack a whole weekend for myself, throw the bed roll on the passenger seat and take off, or I can pack at least one day for me and the ol' lady to spend together.
I didn't order supports because I was stubborn (and in a hurry to get them on). While the don't touch the tires, it doesn't look quite as nice as it will when I get supports for it- kinda makes her look a little bow legged. I'm also disappointed at the fact the helmet lock ripped through the leather- one reason why I'm removing it! I think I'm going to try to use the Willie & Max universal bag supports- Iron Pony has them for like $60 so that's reasonable.
As for the "long trek" comment, I have to say, I rode from Columbus Ohio to Nashville Tennessee with my bags as they are with no problems. Made for a nice ride and it was great to have all my gear with me considering it was 35 degrees on the return trip
---
NIL ILLEGITIMUS CARBORUNDUM

Phil aka Art
"Vanessa"
1995 VN 750 (bought as 2nd owner 11/2008)
26,440 miles
MF Battery
Stator replaced (55 Days!)
V&H Cruisers
Relocate rear turn signals
Highwayman Saddlemen bags
Wingerline Highway bars
Ear Shave
Rejet carbs
R/R relocate
Coastered
Kuryakin ISO Duallys all around
HD Heritage seat
12" ape hangers

To Do:
Some sort of new grips
Mirrors
Paint Job- should I do it myself?