Undercover Sportbiker
Gonna buy a trailer
---
The title says it all. I've decided I'm going to buy a trailer for hauling bikes around cause pulling the tonneau cover off my truck is a PITA. I've narrowed it down to 2 choices, but I've never bought my own before. I've always settled on renting whatever UHaul had in stock. That being said, I want one that I can load at least 2 bikes on, and I will probably be buying a wheel chock so I can load it single handed. My brother works in steel so even if I go with an "open frame" one, we can weld in diamond plate channels for the bikes, so that's a non issue. I'd like opinions on whether these seem sufficient to haul either 2 sportbikes, or one sportbike and one sport touring (along the lines of an FJR1300 or the BMW that the CHP uses). If you personally own one, even better! But all opinions are welcome.
Here are the 2 finalists that seem to fit the bill in both size and weight handling. I've purposely excluded smaller (and cheaper) ones that "could" work but had little 8 inch tires:
http://www.harborfreight.com/cpi/cta...emnumber=90154
http://www.harborfreight.com/cpi/cta...emnumber=92174
---
Member
Join Date: Aug 2006
Location: Tollesboro Kentucky
Posts: 45
Trailer
---
I went to Home Depot and bought one of thier $650 landscape trailers. Handles good, and with the flip down ramp, a breeze to drive on. Went and mounted a front tire holder to it, and bingo!
---
2006 750 VN
Vance and Hines Pipes
Crash Bar with Pegs
Mike's bags
Mustang seat
"I dont give a crap how much you paid for your ride,
you wanna go or not?"
Old Truck Junkie
Join Date: Jul 2007
Location: Roby Texas
Posts: 4,133
The one on the first pic is what I have. You may have to add outriggers for the straps to have two bikes on it. It does a fine job.
---
02 honda sabre 1100
Linkmeister Supreme
Join Date: Aug 2008
Location: Lethbridge, Alberta, Canada
Posts: 7,960
Hey AJ, I think you need to double check the deck dimensions on the second trailer on your short list. The overall length is 9' 4" long, but it doesn`t give a deck size. I don`t think the deck will be long enough to close the ramp/tailgate, especially if you are going to carry a bigger touring bike too.
http://www.harborfreight.com/cpi/cta...emnumber=92174
---
Gordon
1991 VN 750 -"
Cosmic Lady
" or "
Bad Girl
"?
Purchased May 16, 2008
Approx.19,300km (12,000 miles)
H-D windshield
Relocated R/R
MF-AGM battery
Fiamm Freeway Blaster horns
F&S luggage rack and engine guard
Kury Offset Hiway pegs
July 13, 2016, Riding on the DARKSIDE now, Classic Radial 165/80-15
TOP TEN THINGS A NEW RIDER/OWNER SHOULD DO.
Click on link.
https://www.vn750.com/forum/11-vn750-general-discussion/9127-top-ten-items-you-would-suggest-new-owner-do-his-new-ride.html
Concert connoisseur
50 more for the second one, I would definately go with it with the full floor and ramp if it is long enough, plus the side rails is a good place for tie downs.
scooterboy
Join Date: Jun 2006
Location: Lorain,Ohio-Lake Wales,Florida
Posts: 69
Hi AJ I have used a landscape trailer similar to 93747-ovga to haul 2 bikes. I was able to load the bikes side by side. My 750 and a 250 Johnny Pag Spyder. I have trailered these bikes back and forth to Florida from Ohio and Ohio to Florida for 3 Years. The extra bucks you might invest in the trailer would be for peace of mind. You would be well within the weight limit of the bikes. My trailer has a 2X8 floor and I use web straps to retain the bikes with the front wheels in wheel chocks. The construction of the trailer is similar to the 93747 in that the tongue is braced diagonally. Send me a PM if I can help you further. Jim
Members who have donated towards server costs
My advice to you AJ is buy the best trailer you can afford,the 1500 lb traile on down below the one on the second link looks pretty good,and if you want go to Tractor Supply ,Home Depot or Lowes and some Wally worlds have trailers you can look at and measure in the real world and you will see what is more important to you personally,a trailer to me is an all around handy Item to have once you have one you will wonder how you ever made it without one and the longer they are the easier they are to back up, to a point that the extra length gets cumbersome,you'll find yourself using it for every thing, so as big as you have room for and can afford is my advice.




---
If you see it on my bike I did it
VROC#30324
92 vn750(sold)
Current ride 05 1500 Classic FI
lovin' the new scoot
Quote:
"When all is said and done,usually more is said than done" UNK
Click on one x and drag to the other to read between them.
Psalm 40:1...
XI waited patiently for the Lord; and he turned unto me, and heard my cry. X
Undercover Sportbiker
Ya know, I've been scouring craigslit for the last week or so now. And it seems everyone is dumping their Zieman 3 rail trailers. Anyone not familiar with them they come with rails for 3 bikes, have a storage box in front and gas can mounts. Problem is that they also want close to $1k, AND none is closer than 75 miles to me. And not a good 75 mile drive, usually it's 75 miles of hte worst freaking SoCal freeways, read - 2+ hours to get there. I've also been looking at other options like Lowe's, thanks to recommendations here. Here's a 4x6 one I found: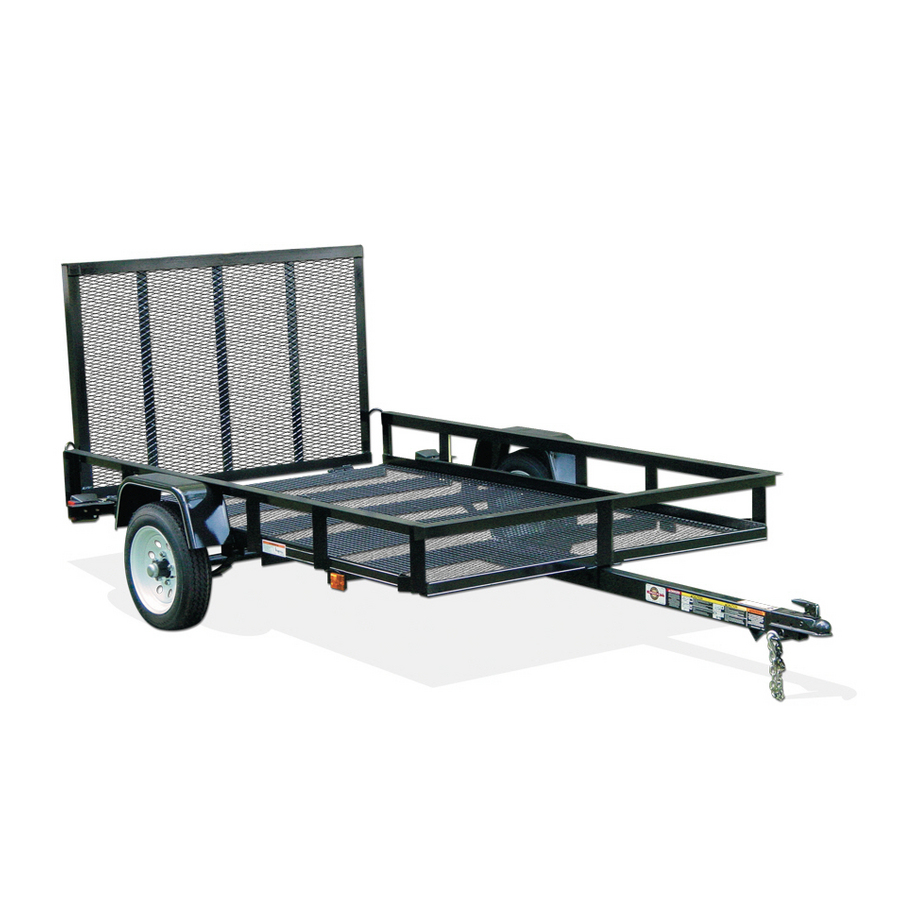 They also have a 5x8 that I think would be better cause of the length. We'll see how things turn out.
---
Old Truck Junkie
Join Date: Jul 2007
Location: Roby Texas
Posts: 4,133
This is the 4X8 with my bike on it. Wanted to give an idea of the size of the trailer.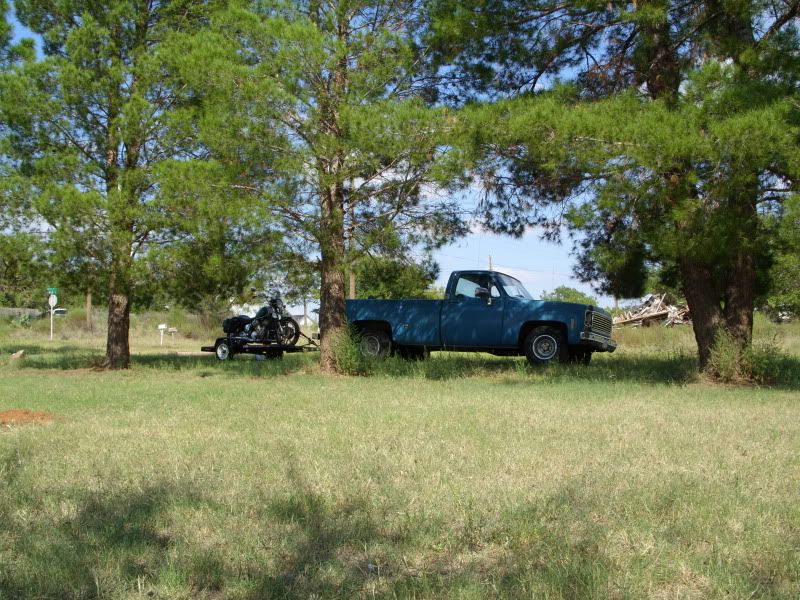 ---
02 honda sabre 1100
Undercover Sportbiker
Much obliged!
---