Members who have donated towards server costs
Join Date: Feb 2007
Location: owensboro ky
Posts: 355
my wife totally rocks.. she must really like me...lol
---
so my wife come in from yard sale shopping with a bunch of stuff for the house, (shes never finished redectorating..lol), cloths for the kids, herself..ect...ect. enyway, i was helping her put stuff away, when she tells me she got something for me too; i figure its a shirt, shoes, something for the house, weekend project thing that will end up being for her when i put it together...lol.
she goes out to the car a pulls out this bag and hands it to me...i pull out a Firstgear riding suit, mesh-tex 3.0 jacket and mesh-tex 2.0 pants, all black.
pants
jacket
i know this suit will run about $250 +/-, she said she paid $50 for it, the suit was to small for the other guy, and they didnt want to fool with returning it.
trying to keep my excitement to a low pitch little girl scream..lol.. i thank her the only way i could; very G rated, her sister and our daughter were presesnt..lol, i run into the house and try it on, perfect fit, agian trying to keep my excitment in check, i RUN through the house and WALK out to the garage where they are and show my wife it fits.
i jump on the bike and go for a short ride, about 25 miles. i must say it was very comfertable, and the air flowed right through the suit. i like it alot.
now if you will excuse me, her sister and our daughter are gone. im going to thank my wife agian...lol..she totally rocks
---
Jeff Brooks
Owensboro KY
'94 Vulcan 750
http://youtube.com/user/cm4cm5
Members who have donated towards server costs
Join Date: Dec 2008
Location: Monroe, LA
Posts: 4,706
The gift that keeps on giving! Good score, both of you!
---
I'm keepin' all the left over parts. I'm gonna use 'em to build another bike!
_____________________________________________
"Black Beauty"
1989 VN750 acquired December, 2008, 6,711 miles
Currently 23,298 miles
Old Blue
2001 Honda CMX250 Rebel acquired July, 2008
1987 VN750 project bike, acquired August, 2009, 33,000 miles and balancer sticking out of the case, currently awaiting attention and parts
Members who have donated towards server costs
Join Date: Apr 2008
Location: S.E. Michigan
Posts: 2,850
That's cool CM, congrat's!
Member
Join Date: Sep 2008
Posts: 41
That's cool! I got 2 "new to me" jackets from my aunt who doesn't ride anymore, including a nice mesh Joe Rocket.
I like my husband so much, I bought him a new bike: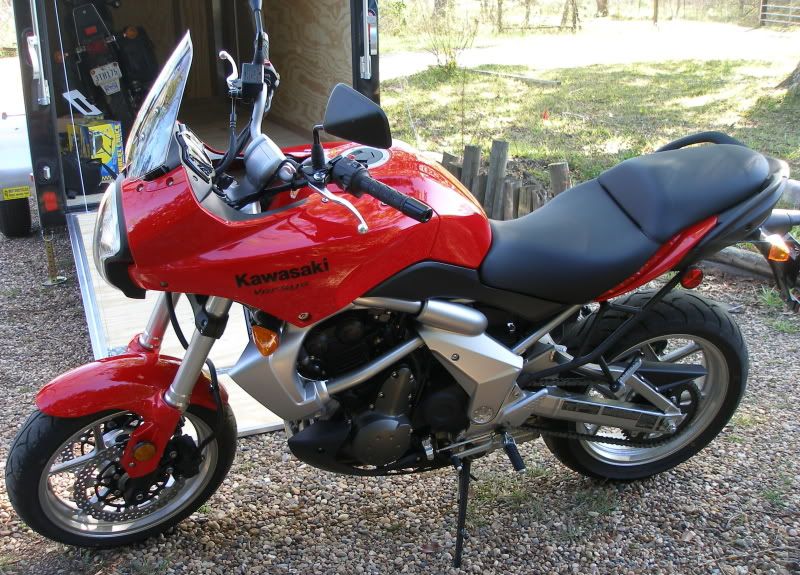 ---
[FONT="Arial Black"]Ceci
Cleveland, TX
'06 HD XL1200L
'01 VN750 (Sidelined AGAIN for now
)
'02 V-Star 650 Sold!
There and Almost Back Again- A Motorcyclist Tale
Finally DONE!!!