2014 KLR 650!
Join Date: Jun 2013
Location: Tega Cay, SC
Posts: 3,361
Meguiars Quick Detailer spray
---
So the pollen down here in South Carolina is falling like snow. We got some warm weather (FINALLY!!!!!!!!!!!!!!) this week. I've had this mcquiars laying arounds for a few years and decided to use it. Man, it worked great and it worked GREAT on EVERYTHING. Every surface. I used it on aluminum, chrome and even my windshield.
Now, I am fussy as sht about my windshield. I ONLY use soap and warm water. I've had this screen for years and no smokey or scratches. I happened to use the mcquiars on the rearviews and they came out great. So like a good junky I asked myself what it might do to the windshield which was filthy. Holy cow, and I don't use that term lightly. It was shiny and clear as Wolfie Fook.
So provided it doesn't smoke my street shield in a few days, I'm giving this **** two giant thumbs up.
https://www.walmart.com/ip/Meguiars-...3=2134&veh=sem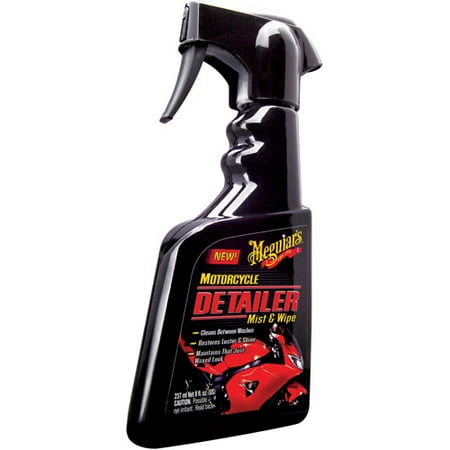 The shine in person is like a Blow jo...well you know it's shiny.
---
2014 Kawasaki KLR 650
Back to the Kawa World
Senior Member
Join Date: Jun 2016
Location: NE Florida
Posts: 729
Good to know, I have a plexi windshield and mine is scratched to absolute $hit already 'cause I'm a dummy I guess. I'll have to see if this helps at all (and I also wanna get my tank to shine)
yup.good product
---
ONE RATS ASS GIVEN PER POST
Support your local
FREEBIRDS MC
1986/5 Vn700/750 Frankenfook cross eyed bitch "Mellisa Fayhe"
I am a BIKER and i'm proud.
FREEBIRDS MC CENTRAL NY
lowered with progessive 412 10" shocks
rejetted for K/N Pods part#rc 2340
sportster seat
'
I didn't lose my mind.i gave it away
BRING BACK WOLFIE."
Peace and Carrots
"RIP
"And I'm free...as a bird"John Lennon Free as a Bird
"
I only carry when I have my pants on
"Joe Robinson RIP aka Old Dog
Senior Member
Join Date: Oct 2013
Location: Griswold,CT
Posts: 656
---
I can be quite lazy when it comes to cleaning and polishing my bikes. I will give this a try to clean up my old v-force windshield. Thanks for the tip. I recently spent 2 weeks in SC. The weather seemed warm to me,c oming from NE,so I was able to put some miles in.
Headbanger/Popes of Hell
Join Date: Aug 2006
Location: ohio
Posts: 6,639
for windshields, I just use Lemon Pledge. works great on getting bug guts off and smells great too. lol
---
if it goes vroom or boom, I LIKE IT!
Yep, lemon Pledge or Plexus for me.
2014 KLR 650!
Join Date: Jun 2013
Location: Tega Cay, SC
Posts: 3,361
I have been getting the hottest water from the tap and laying the hot rag over the shield to soften up the bugs and then wiping everything clean. That has worked wonders. Still not totally convinced McQuiars is good or not. It's just that this windshield is about six years old so I don't mind if I have to replace in the next couple years.
---
2014 Kawasaki KLR 650
Back to the Kawa World
Senior Member
Join Date: Nov 2012
Location: WV
Posts: 7,336
Had read before it's not good to use petroleum based products on some plastic surfaces, like plastic chrome, though I've done it a couple of times on my bike because it looks great at the moment. It's supposed to degrade the chrome finish over time, so they say.
I know Rain-X does wonders for scratches and light pitting on windshields, if only they could make it last longer than a few days.
The Meguiar's is good stuff, my friend carries his in the tail trunk, so I haven't had to buy any.
He's got the rag and bottle out at almost every stop. Tried to tell him he needs to wash the dirt off first, but... I make him stay away from my bike with the sandy rag.
Been using Sprayway foam, ammonia-free, glass cleaner on my visors and helmets for a few years, works well and loosens the bugs pretty quick. And for glass, it doesn't streak like Windex does. Walmart has it.