Senior Member
Join Date: Aug 2016
Location: Claremont, MN
Posts: 105
Rear wheel brake drum area badly discolored following break job!
---
Just got done putting new brake pads, tires, and spline lube. Took it for a 15 mile cruise and when I got to where I was going, I found my rear wheel
severly
discolored (see pics below). Seems it is heat related as the rim was well cleaned prior to reinstall. I used organic EBC pads and shoes. EBC shoes came with new springs which I used and were tighter than the oem ones I removed. Rear brakes were checked and brake pedal adjusted prior to ride. No noise, smells, or odd brake feel while moving down the road. It's worth mentioning I cleaned and re-lubed the rear wheel sprocket with Honda Moly 60 paste.
I have yet to remove the rear wheel and inspect the drum and shoes, best guess as to what caused this to happen? Rim is permanently discolored as best I can tell. Ordered a used replacement rear rim in great shape off Ebay for $33.76 shipped!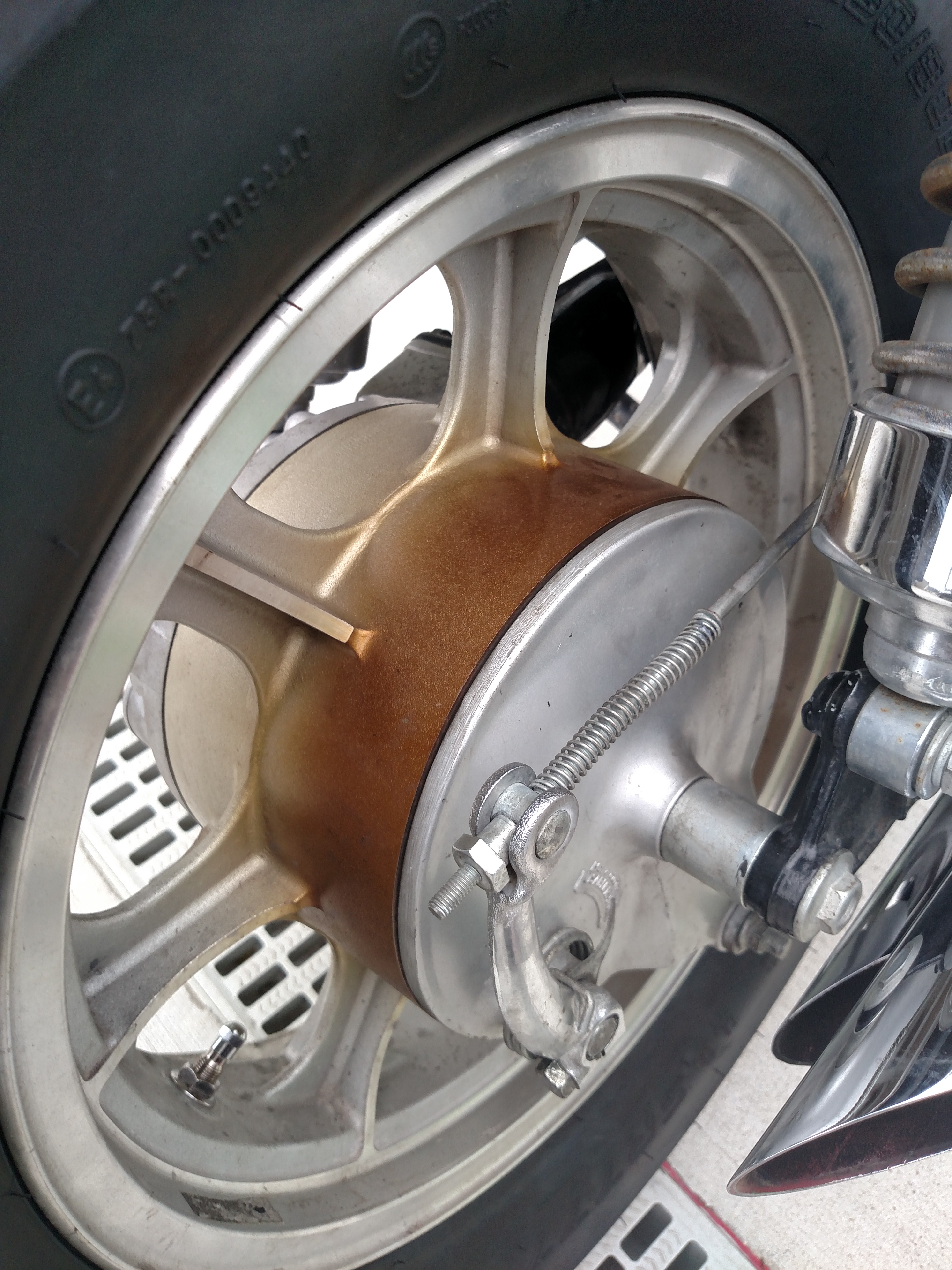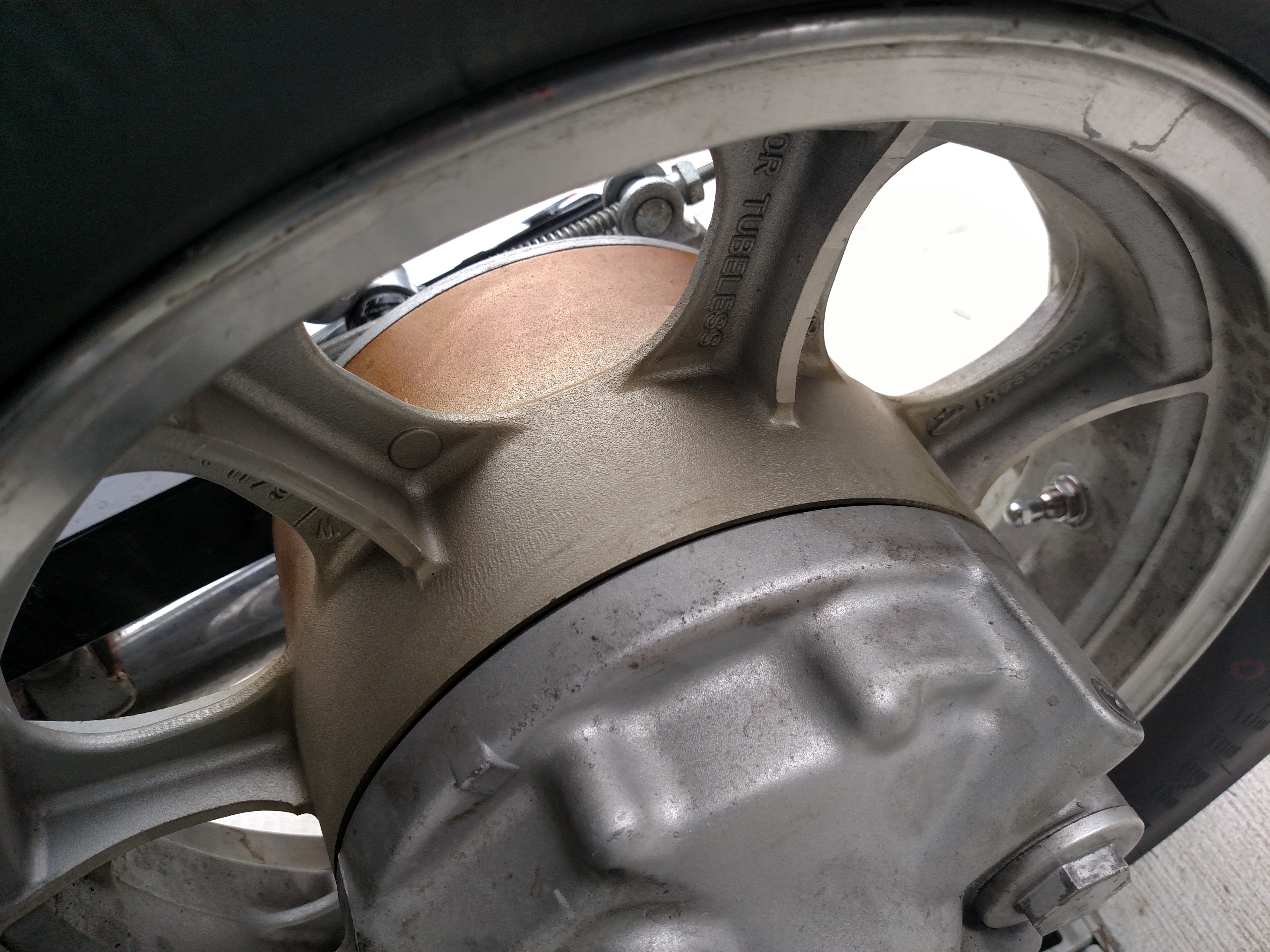 Questions are as follows...
1) Best educated guess as to what caused the discoloration?
2) The EBC organic shoes and springs currently installed, provided they look good would you use them in the replacement rim or get new shoes and springs?
3) Honda Moly 60 grease ok to use in the internal rim sprocket?
4) Ever see / run into this before?
---
1993 Vulcan 750 "T'Pol"

Cobra Full Exhaust (Single Sided)
M/F AGM Battery
NGK Iridium Plugs
Shinko 777 Tires
Sunpie 7" LED Projector Headlight / KZ750-B 76-79 Bucket & Trim
Full LED Bulb Conversion
Mustang Wide Regal Seat
Aftermarket Grips & Mirror's
Full Chrome Tach / Speedometer
Mobil 1 75-90 Synthetic Gear Oil
Rotella T6 / Bosch 3323 Filter
---
Last edited by Iceshot; 09-05-2017 at

08:20 PM

.
Senior Member
Join Date: Nov 2012
Location: WV
Posts: 6,699
Lack of free play on the brake adjustment? Looks like the shoes were dragging and overheated the drum. Looks a bit tight (for new shoes) just going by the threads on the adjustment. Looks like you could probably have lit a cigarette on the brake drum.

Should be ok to reuse if there's no grease or evidence of overheating on the shoes, burns, cracking, etc..

Think the moly 60 is recommended for the wheel splines also. (light coating)
x2 on what Spockster said.definitely dragging brakes, and that adjuster is tight for new shoes

Sent from my LGL34C using Tapatalk
---
ONE RATS ASS GIVEN PER POST
Support your local
FREEBIRDS MC
1986/5 Vn700/750 Frankenfook cross eyed bitch "Mellisa Fayhe"
I am a BIKER and i'm proud.
FREEBIRDS MC CENTRAL NY
lowered with progessive 412 10" shocks
rejetted for K/N Pods part#rc 2340
sportster seat
'
I didn't lose my mind.i gave it away
BRING BACK WOLFIE."
Peace and Carrots
"RIP
"And I'm free...as a bird"John Lennon Free as a Bird
"
I only carry when I have my pants on
"Joe Robinson RIP aka Old Dog