New Shoes
---
I just put on a new pair of Metzler 880s (the standard 100/90-19 on the front and the 150/90-15 on the rear). Maybe it's my imagination, but it seems to me that the bike is sticking to the road significantly better than it did with the stock Bridgestones. In any case, I'm still taking it easy as I scuff them up. But the first 50 miles have been impressive. I look forward to testing them on the twisties!
---
EZC
Metzelers
---
I have to say I'm enjoying my new Marathon 880s now that they're all scuffed up. I can really tell a difference on road grip from the stock Bridgestones.

I'm surprised at the difference in recommended air pressure. Metzeler suggests 38-40 psi on the front, and 44-46 psi on the back for a solo rider. I'm at 40/46 right now.

I did not get the 110 for the front... I may try that the next time I change tires!
---
EZC
Drive less, ride more...
Join Date: Nov 2005
Location: SW Ga
Posts: 1,114
The Metzelers are a pricier tire than the Dumflops, but they are worth it.

Best choice (from what I gather) for high mileage, combined with good grip--wet, or dry.

The 880's are much in vogue with the BMW touring bike crowd, and are also the OEM tires on Star's new Raider.

Next time, try the oversized tires....they will give you still more contact with the road, and better stability. Tight U-turns are easier to make now with the bigger sizes.

Having raised the license plate on the back, my rear tire is much more exposed. A VN750 friend says this mod (along with the wider rear Metzeler) gives the bike a more agressive look...
---
'05 VN750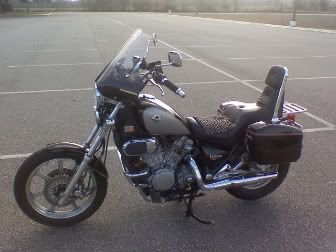 For other bike pix & mods, go to:
http://s1203.photobucket.com/albums/...k/VN750%20pix/