Senior Member
Join Date: Mar 2008
Location: Gillette, WY
Posts: 721
new tires help...
---
I am down to 3 choices for tires...
Sizes-
--front- 110/90-19
--rear- 150/90-15

Brands-
--Dunlop D404
--Bridgestone Spitfire S11
--Pirelli MT 66

I would go for Metzeler 880, but I cannot afford em.. I was looking at $175 tops for both tires.

which one is the best of the two for handling, and traction.. safety takes over mileage, but I would like the "best of the two".
or other tires that I could get both for under $175...
thanks
---
'99 VN750 with 8900 miles and growing (3,111 when I bought it 03-22-08)
Ear shave with Unipods
Drilled mufflers and degoat
TOC springs
N/C Street shield EX windshield
Jumbo Saddleman Highway Studded saddlebags
Willie and Max Saddlebag mounting kit
License plate turn signals
Home made sissy bar
Luggage Rack from Scoop
http://youtube.com/user/99vulcan750
---
Last edited by 99vulcan750; 04-12-2008 at

12:42 AM

.
Drive less, ride more...
Join Date: Nov 2005
Location: SW Ga
Posts: 1,114
For "best of the two"...go with the Pirellis.
Then after you've put a few thousand miles on them, why don't you report back to the rest of us with your experience on them....
BTW: in case you didn't already know it, Pirelli owns Metzeler.....
---
'05 VN750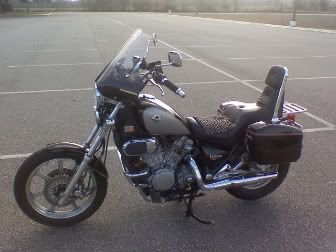 For other bike pix & mods, go to:
http://s1203.photobucket.com/albums/...k/VN750%20pix/
Members who have donated towards server costs
Join Date: Jan 2006
Location: Cheyenne Wyoming
Posts: 508
---
Rckmtn
Dennis Huff
Cheyenne, Wy.
05 VN 750
KURYAKYN grips, helmet locks, and highway pegs
Spitfire windshield
Saddleman saddlebags/sissybar bag
Highwayman gelseat with Protac backrest
self canx turnsignals
Diamondstar headlight modulator
Jardine 2 into 2
MCC turn signal relocator and floorboards
Luggage rack
Extended passenger backrest
KURYAKYN LED voltmeter
Custom tank bra with analog clock
Snider paint protector on tank side
130 DB horns
Senior Member
Join Date: Mar 2008
Location: Gillette, WY
Posts: 721
I was told by the dealership here in town- $80 to mount the tires- whether I bring in the bike or just the rims and old tires.. that sucks!
---
'99 VN750 with 8900 miles and growing (3,111 when I bought it 03-22-08)
Ear shave with Unipods
Drilled mufflers and degoat
TOC springs
N/C Street shield EX windshield
Jumbo Saddleman Highway Studded saddlebags
Willie and Max Saddlebag mounting kit
License plate turn signals
Home made sissy bar
Luggage Rack from Scoop
http://youtube.com/user/99vulcan750