Drive less, ride more...
Join Date: Nov 2005
Location: SW Ga
Posts: 1,114
Tire valve stem sizing
---
I found metal-based valve stems at the local bike shop.
The catalogue says (for both): "Fits most tubeless tires"....
I'm told they will fit the Gold Wing.
Is this generally a "one-size-fits-all" situation...or is there a certain size I should be asking for (and if so, what is that size)???.....
---
'05 VN750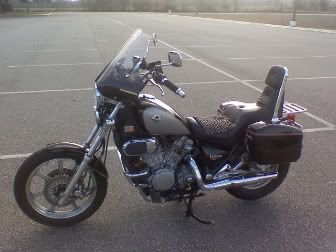 For other bike pix & mods, go to:
http://s1203.photobucket.com/albums/...k/VN750%20pix/
Members who have donated towards server costs
Join Date: Oct 2007
Location: Jim Thorpe, Pa
Posts: 122
I bought 90° chrome stems off fleabay for the rear of my bike and they fit just fine. I dont believe that they were bike specific. They were advertised as .453 hole size. I still have 10 of them left over if I remember correctly.
---
Kuryakyn Flame Grips
Bar End helmet locks
Chrome / Gold "Live to Ride Mirrors"
Coastered, Shaved & Jetted
K&N Pod Air Filters
KisanTech headlamp & Taillight modulators
Iridium's
Leather Lyke Hard Bags
Voltmeter, Clock
Stebel Nautilus horn
Slipstreamer SS28
J&M CB Radio
Audiovox CCS-100 Electronic Cruise Control
Mustang Seat, Protac Drivers Backrest
And of course the obligatory stator replacement[/FONT]