Join Date: Apr 2006
Posts: 70
Pictures! I painted my ugly forks black!
---
****UPDATE: 09-07-2007 - See Post 14 for Before and After Pictures of the Wheel Paint Job.****
My bike is 23 years old and the forks looked like crap. The clear coat they put on the natural aluminum was becoming brittle and yellowish and the sticker on the side is just a eyesore. So...I sanded the forks and painted them! I used Plasti-Kote Classic Lacquer - Gloss Black. I had to special order it, however, it's amazing stuff. The job came out beyond expectations, my advice is to take your time and do it right, if you plan on doing the same.
BEFORE: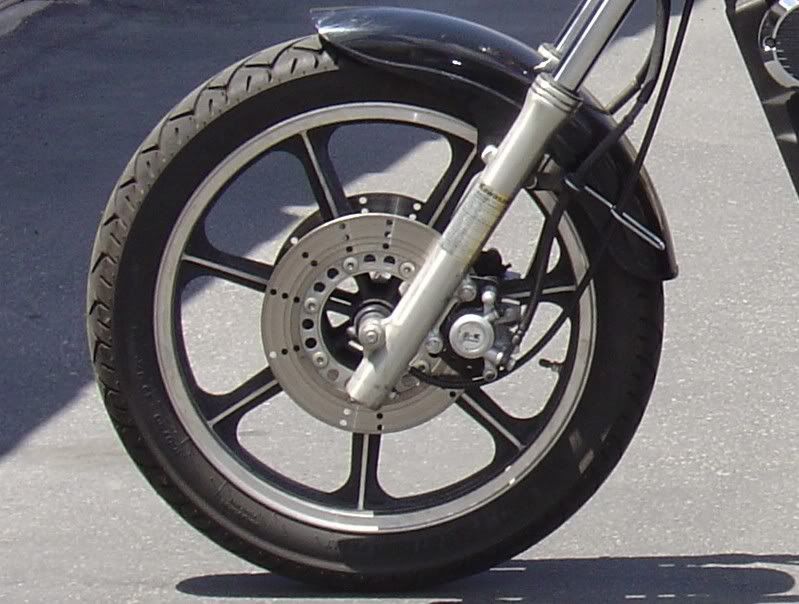 AFTER: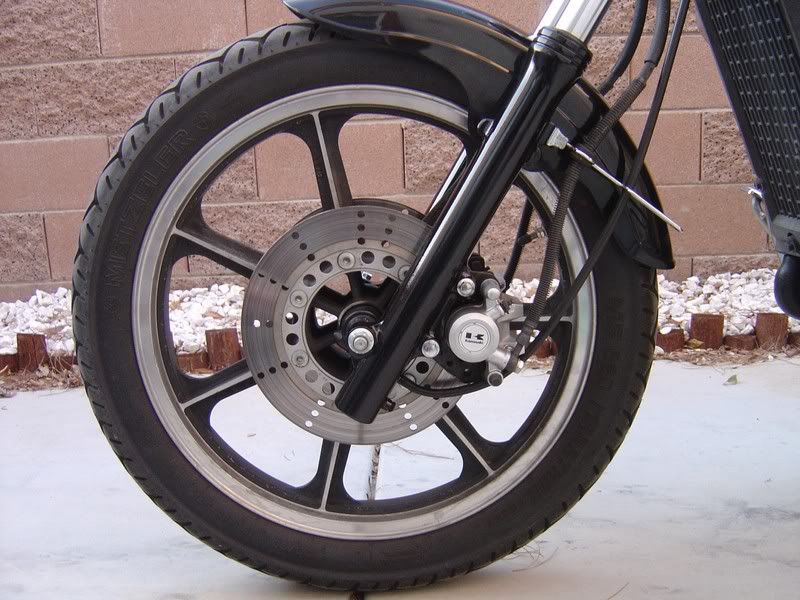 Next, the wheels are going all flat black. I am using the same brand paint, just in... flat black. It's really not rocket surgery, and it looks great.
---
Last edited by bcjoker04; 09-11-2007 at

03:47 PM

.
Join Date: Jul 2007
Posts: 20
looks great, give us a picture after you do the wheels, but i think the wheels should go in black gloss instead of flat.
Join Date: Jun 2007
Posts: 185
Thank you for sharing! Riding is a lot of fun. Polishing chrome is no fun.
I'd like to repaint every peice of chrome, and aluminum on my bike so I can just spray water, soap, maybe a little spray on whipe off polish and be done.
I have an 86. It was not abused but neglected by the last 2 owners. They didnt ride it much, and they did maintainence, upkeep, and TLC even less. I still have a lot fo rusted bits. When I first got it, my wife, son, and myself got after it, rubbing all over every metal part with steel wool. It looks a lot better but it still has some lack luster aspects, and trying to keep up with prevention of rerusting is a pain.
I'd like to see the whole bike, handlebars, forks, pipes, aluminum, EVERYTHING possible, painted black..........
do I hear a rolling stones song in that?
http://www.youtube.com/watch?v=-j4XSAX7bWg
85 VN 700
Join Date: Feb 2007
Location: Albany, OR
Posts: 1,033
Looks great - and another "vote" for gloss black on the wheels - keeping em clean will be easier that way.
---
Curtis - Albany Oregon.
Currently receiving therapy from "Doc" - My 1985 VN700.
Daily rider in NorthWET Oregon.
Ammo Can Saddlebags
Shaved and Rejetted. Coastered. Degoated w/ Hardley pipes.
Bought Feb 2007 with 12K miles.
Hit the 24k mile July 2008
http://photobucket.com/curtis97322
and the Adventure Cycle
Join Date: Jun 2004
Location: Western PA
Posts: 6,138
Looks really nice!
Glad to see I'm not the only one who isn't all that into the chrome & shiny look!
---
AKA: Tim & 'The Adventure Cycle' VROC #24567, NEVROC, SteelCity VROC
"When life throws you curves,
Aim for the apex."


Author Unknown
Member
Join Date: Nov 2006
Location: Robinson Twp.Pittsburgh,PA
Posts: 239
Really nice,looks great
---
Steve from Pittsburgh
2005 vn750
modified knifemaker driver boards
chrome levers, Shaved saddle
Ape manual CCT's, nylon saddle bags
engine mount covers, plexIII windshield
crash bar w/floor boards, air hawk pad
ear mod, rad cover/,w/ss mesh
chrome cable and wire covers
chrome anti-freeze cover
RR relocation,MF battery,drilled out
idle plugs,marbled
Senior Member
Join Date: Aug 2006
Location: Brisbane Australia
Posts: 123
Headbanger/Popes of Hell
Join Date: Aug 2006
Location: ohio
Posts: 6,493
forks look nice, good job. i also would go with the gloss on the wheels. like i always say; "chrome keeps you home!" i think the harley guys are starting to understand that and are now "blacking out" some of there newer bikes. i was never really into the "chrome" thing.
Members who have donated towards server costs
Join Date: Aug 2007
Location: Manassas, VA
Posts: 580
The paint looks good. Did you do anything else special to prep the metal for the paint? Or just spray it on after sanding? You might consider a satin or semi-gloss finish on the wheels instead of flat or high gloss.
---
97 VN 750
R&R Relocated
Degoated
Marbled
Ears Shaved/Rejetted
MF/AGM Battery
Irridium Plugs
Spring Solo Seat
32 Ford Model A Tail Light
Custom 2 into 1 Exhaust with 12 inch Glass Pack
Rear bobbed and hard-tailed!
https://www.vn750.com/forum/showthread.php?t=5385
Join Date: Sep 2005
Posts: 553
To tell you the truth I was expecting to open this thread and say "OMG" that is just another cheap spraycan job but Damn! that looks good. Semi-gloss would get my vote on the wheels also but looks like you know what your doing.