Senior Member
Join Date: Aug 2007
Location: Virginia
Posts: 103
How long do bike tires last?
---
I am a new rider and just purchased a 2003 Vulcan 750 with 4,300 miles on it. The tires look good to me, but I don't know much about bike tires. What kind of mileage do you usually get out of a set? Should they be replaced at a certain age even if they aren't worn out?
---
Vulcaneyez
Join Date: May 2006
Posts: 108
I just replaced my front with about 15,000 miles on them. My rear tire I changed at 9,000 only because I got a nail in it. The new one has 8,000 miles in them with plenty to go.
HAWK
Join Date: Feb 2006
Location: Chicago land
Posts: 2,576
That would depend on how you ride, what air pressure you set them and what tires you have. My Stock tires needed replaceing at 10K, The Metzlers I put on have 9k on them now and look good.
---
Chad Falstad "Hawk"
Vroc #17649
2011 HD Ultra Classic "angel"
2001 Nomad 1500 Sold March 2012
2001 VN 750 "Sold June with 2008 with 21,000""Serinity"
Member
Join Date: Mar 2007
Location: London
Posts: 77
It is possible for tyres to start to perish if the bike is left standing unused for a period of time. The rubber starts to crack. Maybe the previous owner did 1,000 miles a year which isn't a lot - or maybe he did more than that for a couple of years and then left it. Have a good look at the tyres to see if there is any cracking and make sure they hold their pressure. As long as they look all right there is no need to change them. They should be good for a few more thousand miles.
S
85 VN 700
Join Date: Feb 2007
Location: Albany, OR
Posts: 1,033
My metzlers have 6k on em and still look new.

The tires that were on the bike when I bought it "looked" ok - but the rubber had dried out. All was well till I was riding in the rain, hit the brake in a panic stop - and went down a split second faster than I would have with fresher tires.

There should be a date stamp on the tire - go to the manufacturers website and see if you can't find a "date stamp decipherer". I personally wouldn't recommend having tires much older than 5 years - after then the tires dry out and any hard riding or wet weather riding becomes more dangerous.

Needless to say - the old tires that were on the bike when I bought it (which still looked great) are being used for something other than keeping traction on the road - my new tires grip well even in wet (more predictable - a bit of warning before letting go all the way).

No one mentioned it, but welcome to the forum and have you taken a MSF course?
---
Curtis - Albany Oregon.
Currently receiving therapy from "Doc" - My 1985 VN700.
Daily rider in NorthWET Oregon.
Ammo Can Saddlebags
Shaved and Rejetted. Coastered. Degoated w/ Hardley pipes.
Bought Feb 2007 with 12K miles.
Hit the 24k mile July 2008
http://photobucket.com/curtis97322
Old Truck Junkie
Join Date: Jul 2007
Location: Roby Texas
Posts: 4,130
I have 14,000 on my 491 dunlops and hope to get at least 24,000 out of them.
---
02 honda sabre 1100
Drive less, ride more...
Join Date: Nov 2005
Location: SW Ga
Posts: 1,114
This is probably worst case scenario, but my back (stock) tire will need replacing shortly after 8k miles, while the front tire looks good for a while longer.

I've been religious with tire pressures--28 (+/-) psi on the front, 32-34 psi on the back.
---
'05 VN750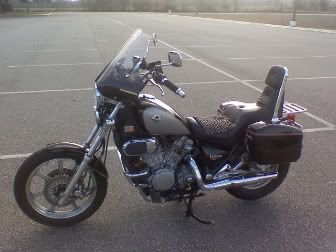 For other bike pix & mods, go to:
http://s1203.photobucket.com/albums/...k/VN750%20pix/
Senior Member
Join Date: Aug 2007
Location: Virginia
Posts: 103
Thanks, curtis97322, I did take the MSF course before I bought my bike. I have also put 40 miles on the clock just riding up and back in my neighborhood before I take it out for a real ride.

Thanks everyone else as well.
---
Vulcaneyez
Old Truck Junkie
Join Date: Jul 2007
Location: Roby Texas
Posts: 4,130
Some tires are made from softer materials, tires for sport bikes, so that they will hold the road better. That is why they ware faster than cruiser tires.
---
02 honda sabre 1100