Member
Join Date: May 2012
Posts: 98
cheap way to lower the vulcan?
---
so i was watchin my wife ride today while following her. i noticed the bike is a bit on the tall side for her. so im lookin for a CHEAP way to lower the bike down. not really sure what way to go on this one, as everything ive found is... well... not cheap lol. if anyone has any ideas, im all ears (obviously, i mean eyes, not ears lol) couldnt resist that one!
---
- 1998 Vulcan 750
- Black with red
- MCCT conversion
- Pick up coil mod
- Stereo with 3.5 inch speakers
- Sylvania ridiculously bright headlight
- Westco maintenance free battery
- Vance & Hines slash cut pipes
- Custom turn signal bracket
- Arrowhead universal turn signals (rear only)
- Kuryakyn longhorn offset highway pegs
- Suzuki Savage 650 rear shocks (2 inches shorter)
- Lowered front 1.5 inches
Prowling Tiger
Join Date: Apr 2012
Posts: 2,048
I just sit on mine and it drops a couple inches.

Only options are to find a pair of lowered shocks or make struts. You'll want a spring seat if making a hard tail. I guess you could fashion a bracket to lower stock shock.
---
I only understand what I don't understand.
Old Truck Junkie
Join Date: Jul 2007
Location: Roby Texas
Posts: 4,133
Cheapest way I know is to just lower the seat. Pull the cover off, grab an electric knife and carve off a few inches, narrowing the sides as much you can. Recover the seat with black vinyl from a fabric store (you'll only need less than a yard -about 10 bucks) and add two fifty for the staples to put it back on, (if you own a staple gun)

The next cheapest is to build some shorter struts to replace the stock shocks (which are 12.5 inches eye to eye)

Or, keep feeding her doughnuts untill she gets heavy enough to compress the stock suspension.

Your call .....
Old Twistie Sticks Rider
Join Date: Aug 2007
Location: Country Created by Geniuses, But Run by Idiots...!!!
Posts: 5,072
I would think what niterider did would be hard to beat, that would keep the bike lower even without extra weight, makin it easier to get on & off... Of course you could go the extra mile and do the seat also, like KM said...
Have a good one...Old Dog...
---
Southern Central Tennessee....
...
Now on the Dark Side...
...
Girl's Bike 09 Sporty xl 1200 Custom...33k + & clickin...
...
Sportster Owner/Rider since age 72...lol... Rider since Simplex...???
09-xl1200 "C" Vivid Black, Cast wheels w/19" Frt., SE-Stage 1+, X14iEDs...
MicroTach +, Higher wider H-bars, GPS Mt., Mustach bar Hwy. pegs...
Viking Shock cutout Saddlebags, Rear Mt. Signal Lt. Kit, Fork Brace...
RoadKing Air Shocks, Mustang Seat, Progressive Fork Springs...
Quote:
lookin for a CHEAP way to lower the bike down.
Just let some air out of the tires, lol
I'd try a seat mod with some gel pads, it will be more comfortable in the long run too.
---
"Show me a man who makes no mistakes, and I'll show you a man who doesn't do things." Theodore Roosevelt."
2007 Victory Kingpin
Current projects - 1986 VN750 & 1988 EL250
Senior Member
Join Date: Sep 2011
Posts: 263
X2 that what i did lowered the front to,watch the kick stand might close if u lower bike too much,had it happen
Member
Join Date: Oct 2012
Location: Temecula, Ca
Posts: 73
Niterider has the plan.
Stock ride, good handling. I ran a set on a Z-1 and a CB750 for yrs. The farther back you move the lower mount the lower the bike.
Or you could lengthen the swing arm like i did, just a little more work. I moved it back 3" and took some out of the set as well. This is my daughter 5'3", the sets 26" without any weight on it. Good luck.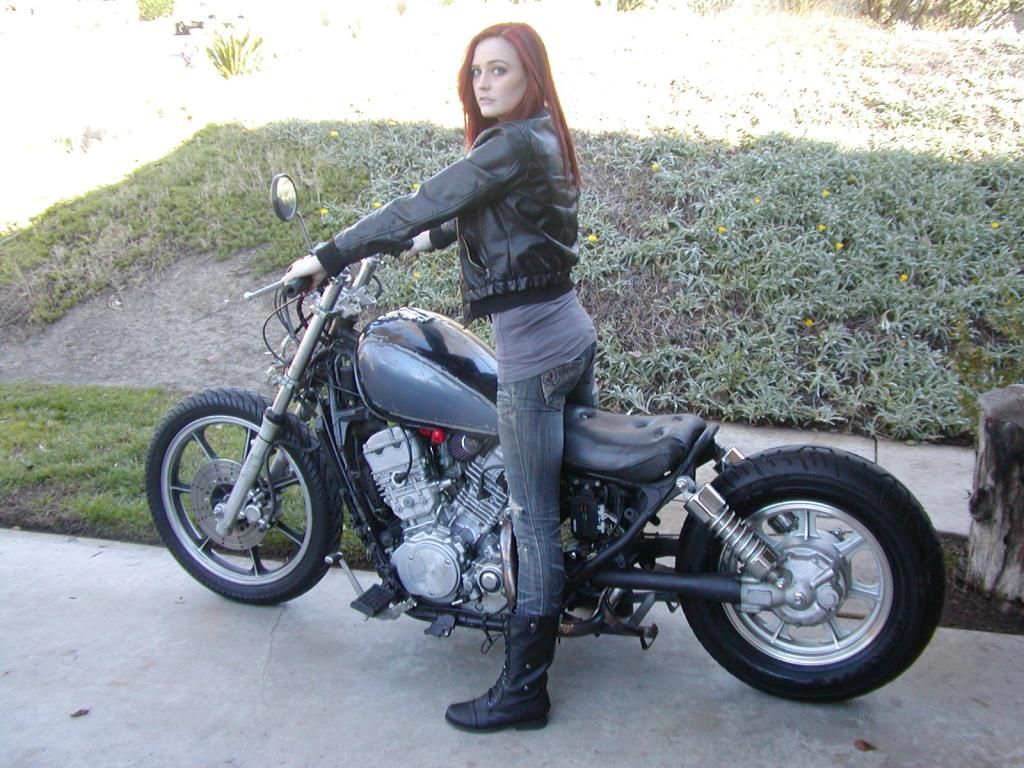 ---
Many many mod's
find a cheap set of suzuki savage 650(or s40)shocks and a two piece sportster seat.a few on ebay now
---
ONE RATS ASS GIVEN PER POST
Support your local
FREEBIRDS MC
1986/5 Vn700/750 Frankenfook cross eyed bitch "Mellisa Fayhe"
I am a BIKER and i'm proud.
FREEBIRDS MC CENTRAL NY
lowered with progessive 412 10" shocks
rejetted for K/N Pods part#rc 2340
sportster seat
'
I didn't lose my mind.i gave it away
BRING BACK WOLFIE."
Peace and Carrots
"RIP
"And I'm free...as a bird"John Lennon Free as a Bird
"
I only carry when I have my pants on
"Joe Robinson RIP aka Old Dog
---
Last edited by OleDirtyDoc; 04-30-2013 at

02:36 PM

.
Senior Member
Join Date: Dec 2012
Location: Norwich, CT
Posts: 203