Members who have donated towards server costs
Join Date: Apr 2010
Location: Belvidere, IL
Posts: 267
Flat tire
---
Hi Yall:
I've been thinking about some long trips this year, and am considering the best course of action if you have a flat hundreds of miles from home and don't know any reputable shops where you are stopped.

Do you have the bike towed? Use fix a flat? How do you deal with this? I'm sure it has happened to many over the years.
---
2005 VN 750
MF Battery
Plexistar windshield
.040 pilot jets.
Splines lubed 1955 mi.
Marbled
Iridium plugs
Reset pickup coil gaps.
Metzeler ME=880s
Shindengen MOSFET RR
V & H Cruzers
Degoated
Speed bleeders
MCCTs.
Members who have donated towards server costs
Join Date: Dec 2008
Location: Monroe, LA
Posts: 4,696
---
I'm keepin' all the left over parts. I'm gonna use 'em to build another bike!
_____________________________________________
"Black Beauty"
1989 VN750 acquired December, 2008, 6,711 miles
Currently 23,298 miles
Old Blue
2001 Honda CMX250 Rebel acquired July, 2008
1987 VN750 project bike, acquired August, 2009, 33,000 miles and balancer sticking out of the case, currently awaiting attention and parts
Linkmeister Supreme
Join Date: Aug 2008
Location: Lethbridge, Alberta, Canada
Posts: 7,960
I think the RideOn is the best preventative measure as fc says.
One of these mushroom tire plugger kits is another option.
http://www.stopngo.com/motorcycle.asp
Then you need an air pump of some kind.
---
Gordon
1991 VN 750 -"
Cosmic Lady
" or "
Bad Girl
"?
Purchased May 16, 2008
Approx.19,300km (12,000 miles)
H-D windshield
Relocated R/R
MF-AGM battery
Fiamm Freeway Blaster horns
F&S luggage rack and engine guard
Kury Offset Hiway pegs
July 13, 2016, Riding on the DARKSIDE now, Classic Radial 165/80-15
TOP TEN THINGS A NEW RIDER/OWNER SHOULD DO.
Click on link.
https://www.vn750.com/forum/11-vn750-general-discussion/9127-top-ten-items-you-would-suggest-new-owner-do-his-new-ride.html
---
Last edited by OlHossCanada; 03-05-2011 at

09:47 PM

.
Members who have donated towards server costs
But if the worst happens be prepared with a plugging kit and one of the small 12v compressors and take it easy until you can get a tire and if the hole is in the sidewall ,I'd go for the tow ,better safe than wrecked.




---
If you see it on my bike I did it
VROC#30324
92 vn750(sold)
Current ride 05 1500 Classic FI
lovin' the new scoot
Quote:
"When all is said and done,usually more is said than done" UNK
Click on one x and drag to the other to read between them.
Psalm 40:1...
XI waited patiently for the Lord; and he turned unto me, and heard my cry. X
Drive less, ride more...
Join Date: Nov 2005
Location: SW Ga
Posts: 1,114
"Ride On" tire sealant will protect you from a flat tire situation in probably at least 90% of cases.
A
huge
advantage you have with this bike--it has tubeless tires. So a flat is in fact fairly easily repaired with a kit, in the vast majority of cases (& without tire removal--not so with a tubed tire).
When I took my VN750 in for its current Metzeler tires, the factory originals were still on the bike, with just over 11,000 miles. The back tire had not one, but two--yes, two--nails in it. They had been there for at least 3k miles!
When the mechanics there asked me if I knew they were there, I just smiled and said, "sure"...
The moral to the story: the right motorcycle tire sealant is wonderful stuff....
With that said, plan ahead for Murphy's Law anyway. Also take along a tire repair kit, and some sort of compact air pump. I carry a "Slime" brand air pump (available at Pep Boys, etc) that I run off of the bike's accessory leads when needed.
Be sure you know how to use your tire repair kit (and
before
you need it on the road)! I got an old set of reject tires from a dealer, and practiced using it until I got proficient plugging holes I punched in them.
You can also sign up for a bike club membership that will tow you if your tire is shredded beyond what tire sealant or a tire repair kit will fix. Be sure to read the club paperwork fine print, and find out what exceptions/exclusions they stipulate, and what mileage limit (if any) they impose for a tow.
---
'05 VN750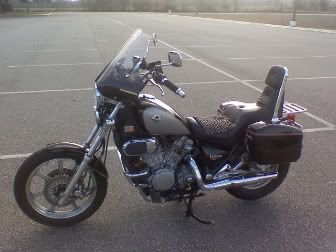 For other bike pix & mods, go to:
http://s1203.photobucket.com/albums/...k/VN750%20pix/
Banned
Join Date: Jun 2010
Location: Simpsonville, SC
Posts: 1,620
Speaking of Ride-On....... Do you think there is any difference between the 'car' formula and the 'bike' formula?
Member
Join Date: Nov 2010
Location: Tampa, FL
Posts: 77
I too will be making a couple of 1000+ mile rides this summer and intend on purchasing one of these kits.
CO2 Tire Inflation and Repair Kit
CO2 Tire Inflation and Repair Kit
Damned if I know what the difference is beside the color, however, I figured I would link to them both for you.
Also, since I am already a AAA member, it was only an additional $30/year to add my bike on to my plan. They are EVERYWHERE and it includes trip interruption insurance, hotel reimbursement, etc. Might want to check into it...
HERE
---
2004 Vulcan 750
Purchased November 9th, 2010 w/1216 miles
Found on CL - listed for 3k paid $2400
First bike and first time rider
Senior Member
Join Date: Sep 2010
Location: Washington, DC
Posts: 167
My question about ride-on: I live in a city and their site says it takes 3-5 miles of riding to warm up and spread out. During that time there may be slight vibrations. Most of my rides are about 5 miles unless I am taking a trip. I would like to add this to my tires, but for my riding would it be more annoyance than good?
Quote:
Speaking of Ride-On....... Do you think there is any difference between the 'car' formula and the 'bike' formula?
They say there is.. so from my thinking , I'd use the motorcycle formula in your bike...why take chances?
+1 on taking a tire plugger kit and a small electric pump. You can buy one of those tiny Slime brand pumps at Wall mart for 10 bucks.
The CO2 kits are going to be kinda useless if you don't bring enough CO2 cartridges. They are completely useless if you need to re-seat your tire...
Where the pump can give you a limitless supply of air and takes up a very small space.
I like the "sticky string" repair kits myself. Get a tube of rubber cement to use with them...this makes inserting the plug easier as it "lubes" the plug some, and helps make a tighter seal when it dries.
The one I got was pretty cheap..just two screwdriver looking things..one that is basicly a round rasp to clean out the punture hole, and the other the insertion tool for installing the plug. The plug is just a 4 inch long round band of rubber, around a 1/4 inch in diameter ......with a coating of rubber adhesive. Sometimes this kinda gets rubbed off while trying to insert the plug in the tire, hence the suggestion to supplement the plug with a smear of extra rubber cement .
I keep a small razor knife in the kit to cut off the excess plug material after installing, and a tube of hand cleaner and few papeer towels to get the goo off my hands when I am done.
Those cans of "tire sealant" you can buy do not always do the trick. ...but can be used if you don't have any of the above stuff on hand.
Ride On by the way is put in the tire prior to getting a puncture...and as mentioned sometimes seals up holes without you even knowing one was there.....
.....so that is why it is a good idea to examine your tires every now and then.
KM
Banned
Join Date: Mar 2009
Location: Cedar Grove, NC
Posts: 431
I would join VROC (if you haven't already) and print out the VERS (VROC emergency road service) list of volunteers that may be able to help you out along the way. I keep a copy in my tool kit/trunk; never know where the road my lead so it's always nice to have someone to call that cares

X2 on the ride-on (not sure if it will really help 90% of the time, sounds a little optimistic), and if you really worried/have extra room, take a patch kit and compressor... or some type of fix-a-flat temporary patch
---
Last edited by km60155; 03-06-2011 at

03:09 PM

.