Drive less, ride more...
Join Date: Nov 2005
Location: SW Ga
Posts: 1,114
Wheel cleaners?
---
As a follow-up to an earlier thread (posted by someone else), I thought I would ask if any of you had any consistent success with any of the wheel cleaners available at local auto parts stores.
Lance says that the wheels on our bike are clear-coated aluminum. So I was curious if anyone had tried a spray wheel cleaner formulated for that finish (from say, Meguiar's, Eagle One, Black Magic, or Turtle Wax), and what results you have had....???....
---
'05 VN750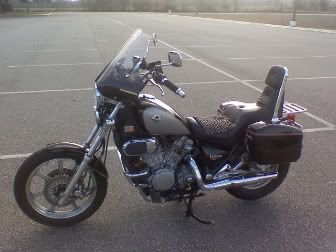 For other bike pix & mods, go to:
http://s1203.photobucket.com/albums/...k/VN750%20pix/
Jack of all trades
Join Date: Jul 2009
Location: Westland, Michigan
Posts: 2,863
I have actually had pretty good results from wd-40 and a moderately soft rag. just be careful not to get any on the rotors or anywhere it shouldn't be.
Dawn Dish Soap and a sponge works well.
Members who have donated towards server costs
Join Date: Nov 2007
Location: Chandler, Arizona
Posts: 2,921
I use gasoline, a paint brush, and a toothbrush, to get all the grease/oil off them, then follow up with Simple Green, rinse them good with a water hose (no nozzle), then either use compressed air to dry them, or rinse them off good with distilled water from a pump up garden sprayer. Jerry.
---
I am a motorcyclist, NOT a biker.


1997 Vulcan 750, purchased about a week ago
2006 Sportster 1200 Low
2013 Royal Enfield Bullet 500, converted to carb
2001 Yamaha XT225, heavily modified
2004 Honda Rebel 250
1979 Vespa P200E
2002 Vulcan 750 parts bike
1994 Yamaha XT225 parts bike
Senior Member
Join Date: Jul 2007
Location: Castle Rock, Wa
Posts: 1,750
wesley's bleach white works for me.
DT
---
95 VN750 (eBay)31k+
GL1100 front fender
OEM engine guard
OEM high back rest
'V-Twin' HWY pegs
Black 750 Spectre handlebars
SunPro Volt Meter (Amazon)
Maier bug shield (JCW)
Bar Ends anti-vibe (JCW)
Emgo air filters
Tank bag-Eclipse
Tail bag-FroZone Cooler
Back Rest-Igloo 6 pak cooler
WalMart Saddle Bags
R/R Relocate
Dry Splines Lubed
AGM DieHard-Sears
Gutted Goat
Sporster XL Mufflers
LED's-stop,tail,turn,marker
Pickup coil mod to .45mm
Silverstar headlight
Rotella T6
MANIC MECHANIC
Join Date: Feb 2006
Location: Dale City, VA
Posts: 942
i use orange glo and a soft rag no problems
---
34k so far
VN750.com member #613
Keep the shiny side up
coastered
de-goat and baffles removed
jetted 42-150 2 shims
Earshaved with unifilters
inside of tank coated
spline lube
long Beach Blue Pearl Paint 4/07
Shindengen FH012AA r/r
TPE stator
Exide sc30lfa Battery 28ah 445cca
Saddlemen saddlebags
2001 HD fatboy solo seat
Custom taillight & rear turn signals
Fergy's coil relay mod
Fiamm El-Grande high/low tone horns