Junior Member
Join Date: Mar 2008
Posts: 4
hanlebar/forks not in line
---
I dropped my bike fortunetly not going fast. now the handle bar and forks out of line slightly. nothing seems bent or broke. could one of the fork side slipped from triple tree or something like that. I cant see any damage but it is not right. any thought? With handlebar straight wheel goes to the right.
Simple Solutions
Join Date: Jun 2008
Location: SEQUIM, WA
Posts: 965
just lightly loosen the forks of the clamp (dont make to loose) grab tire with knees and twist bars to straight ... tighten back up and drive may take a couple trys but u will see on the test drives u should be all good .... oh and a few people here will tell u to take it to a shop and have them do it and to check the forks i persnaly think your fine u will see / feel when u get it straight if something more is wrong
---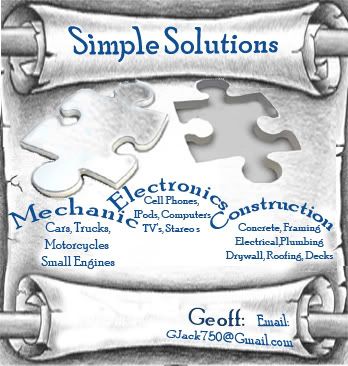 Stator #3
MF AGM
DeGoated
Ears Shaved
R/R relocated
Rebuilt
She's worth her weight in GOLD
If u dont have it already Here is the
Service Manual
How To
Test the Stator
Linkmeister Supreme
Join Date: Aug 2008
Location: Lethbridge, Alberta, Canada
Posts: 7,960
My forks tubes were twisted about 20*-30* off center in my crash. I did just as seebeeare suggested and have them twisted back as close to center as eyeballing it will measure. My tubes slid up in the triple tree about 2" while the pinch bolts were loosened off. I had to put a jack under the engine to take the weight off the front wheel to get the tubes down again. Save yourself the hassle, and jack it up first, just enough to take the weight off while you are adjusting the tubes. Grab one tube in each hand and twistback to center, with a strong friend sitting on the bike and holding the grips straight ahead.

Torque the upper bridge bolts to 14.5 ft/lbs, and the lower bridge bolts to 18 ft./lbs.

Then take it for a test ride, and tweek it a bit more if necessary. JM 2 cents worth.
---
Gordon
1991 VN 750 -"
Cosmic Lady
" or "
Bad Girl
"?
Purchased May 16, 2008
Approx.19,300km (12,000 miles)
H-D windshield
Relocated R/R
MF-AGM battery
Fiamm Freeway Blaster horns
F&S luggage rack and engine guard
Kury Offset Hiway pegs
July 13, 2016, Riding on the DARKSIDE now, Classic Radial 165/80-15
TOP TEN THINGS A NEW RIDER/OWNER SHOULD DO.
Click on link.
https://www.vn750.com/forum/11-vn750-general-discussion/9127-top-ten-items-you-would-suggest-new-owner-do-his-new-ride.html
---
Last edited by OlHossCanada; 11-11-2009 at

06:16 PM

.