Senior Member
Join Date: Feb 2009
Location: chesterfield ,Mi
Posts: 363
balolance or not
---
what is your take on ballancing new tires, i hear so manny people say its not needed , and somesay its a must ?????????????????????
The Professor
Join Date: Feb 2008
Location: BUFORD, GEORGIA
Posts: 3,147
Balance!
---

85 VN700 "Old Yella"
REBUILT ENGINE
CUSTOM PAINT
VANCE & HINES CRUZERS
EAR SHAVED AND RE-JETTED W/K&N'S
DUNLOP ELITE K591 FRONT & REAR
VOLTMETER
SYNTHETIC BRAKE FLUID
SYNTHETIC OIL & GEAR LUBE
PLEXISTAR 2 WINDSHIELD
SPLINES LUBED
ACCT'S GREASED W/TOC SPRINGS
COASTERD
LEATHER SADDLE BAGS
LEATHER TOOL AND ROLL BAG
PICKUP COILS GAPPED AT .018"
NGK CAP, WIRES, IRIDUMS
BARNETT FRICTION PLATES & SPRINGS
CUSTOM GRIPS, MIRRORS, LEVERS
ORIGINAL STATOR & R/R 14.5v
DEKA MF AGM ETX15L
Best Auto/Moto Insurance | Motorcycle Protection Today | FREE Trade-In Quote
Linkmeister Supreme
Join Date: Aug 2008
Location: Lethbridge, Alberta, Canada
Posts: 7,960
I would never drive an auto with tires that were not balanced, but have not yet had to replace tires on my bike. You don`t mention why you ask the question.

Do you need to balance tires that are already on the bike?

Or do you need new tires? If so you have three choices.

Let a shop do the whole job and pay the $$.

Do it all yourself, spend some of your time, learn a valuable skill and save your $$. There are directions in the Clymers manual to do the whole job, including balancing. You could improvise the the balancing stand with the axle and a pair of safety jack stands or blocks of wood, high enough to allow the tire to rotate freely. Just make sure the axle is straight and level before starting. Also make sure the balance mark on the tire is lined up with the valve stem on the wheel. It is a small dot of paint, near the bead that marks the lightest spot on the circumference of the tire.

Do SOME of the bull work yourself, remove wheels from bike and take them in and let a shop dismount and mount the tires on the wheels, and save some of the $$.

You have saved enough $$ to decide whether you want to pay for a balance or try to do it your self. When you order your tires, also get 3 bottles of Ride-On tire sealant and balancing fluid. This may be enough to balance the tires on its own, but I would check the balance of the tires first using the method described in the Clymers manual.

Insert the axle thru the wheel and set the axle on a pair of blocks so it is level.

Rotate the wheel and let it coast to a stop. Mark the lowest (6 o`clock) position and spin the tire again several times. If it continues to stop in the same position, the tire is out of balance. Tape a test weight to the 12 o`clock position. Rotate the tire 1/4 turn, to the 3 o`clock positon, let go and observe the following.

If it does not rotate-the weight stays at 3 o`clock the correct weight was installed, and the tire is balanced.

If the weight goes down, it is too heavy. Remove it and tape on the next lighter one.
If the weight goes up, it is too light. Remove it and tape on the next heavier one.
Repeat until the tire remains at rest at the 3 o`clock position. Then rotate the wheel another 1/4 turn, then another 1/4 turn, then another turn to see if the wheel is correctly balanced.

Remove the test weight and install the correct sized weight on the wheel.

Note: DO NOT ATTACH MORE THAN 60 GRAMS OF BALANCE WEIGHT. If balance weight exceeds 60 grams, take wheel to dealer for inspection and balancing.

After running the new tires for a few hundred miles, you can add the Ride-On if you choose. It will seal your tires against puncture and correct any remaining out of balance condition. Many folks who use Ride-On, claim that it helps tires stay at the proper inflation pressure, avoid cupping etc., and last longer, therefore paying for itself over time.

I can`t say that balancing is absolutely neccesary, but I believe that it is the smartest and most economical thing to do in the long run. JMHO

Enjoy the ride dragonrider.
---
Gordon
1991 VN 750 -"
Cosmic Lady
" or "
Bad Girl
"?
Purchased May 16, 2008
Approx.19,300km (12,000 miles)
H-D windshield
Relocated R/R
MF-AGM battery
Fiamm Freeway Blaster horns
F&S luggage rack and engine guard
Kury Offset Hiway pegs
July 13, 2016, Riding on the DARKSIDE now, Classic Radial 165/80-15
TOP TEN THINGS A NEW RIDER/OWNER SHOULD DO.
Click on link.
https://www.vn750.com/forum/11-vn750-general-discussion/9127-top-ten-items-you-would-suggest-new-owner-do-his-new-ride.html
---
Last edited by OlHossCanada; 03-14-2009 at

05:13 PM

.
Members who have donated towards server costs
Join Date: Apr 2008
Location: S.E. Michigan
Posts: 2,850
I've never heard anyone say balancing isn't needed, so that's news to me. I do know it's pretty freaking crazy traveling at a decent speed on un-balanced wheels, feels like riding on "balls" and maybe there's no control...

It's very easy to do at home, and there's a wide choice of balancing media that can be used.
Senior Member
Join Date: Feb 2009
Location: chesterfield ,Mi
Posts: 363
thanks to all who responded. i wanted to hear what everyone thought with out me saying why. i allways ballance my tires, i have bought a new tire for the rear .its a
dunlap k525 150-90-15 i was talking to my cousin about how much the bike shop wanted to mount and balance the new tire and he said i shouldnt waste my money balancing my tires because they come balanced from the factory . he said he never balances his bike tires. i told him he was crazy . he said he never has any trouble with them. i have tried to balance tires myself a few years ago ,and back then i had a short fuse,gave up and had it done , i know the concept and should try it next time. as with my cars , i like to do most of the work on my bike and the tires should be something i should do too . an so forth like i say, ride long and ride safe
thanks for the input
dragonrider
ride long and ride safe
---
Last edited by dragonrider; 03-14-2009 at

11:53 PM

.
Simple Solutions
Join Date: Jun 2008
Location: SEQUIM, WA
Posts: 965
Quote:
thanks to all who responded. i wanted to hear what everyone thought with out me saying why. i allways ballance my tires, i have bought a new tire for the rear .its a
dunlap k525 150-90-15 i was talking to my cousin about how much the bike shop wanted to mount and balance the new tire and he said i shoulnt waste my money balancing my tires because the come balanced from the factory . he said he neverbalances his bike tires. i told him he was crazy . he said he never has any trouble with them. i have tried to balance tires myself a few years ago and back then i had a short fuse,gave up and had it done , i knkow the concept and should try it next time. as with my cars , i like to most of the work on my bike and the tires should besomething i should do too . an so forth like i say ride long and ride safe
thanks for the input
dragonrider
ride long and ride safe
every place ive bought a tire from if i take the rim in they mount for free balance for cheep 5 or 6 bucks and dispose of the old tire, and there is no wait for the process (just a few min to actually do the work) if i take the bike the last shop i took it to to put on a rear tire it was 30 dollars to remove the wheel mount balance and reinstall i thought it was a good deal considering i didnt have to mess with the wheel pull now i regret it cause it could have been a learning experiance so if i get stuck having to do it i'd know exactly how... a couple tools and a couple minutes saves lots of money how much is your time worth how much is your dollar worth 2 questions i always ask if i pay someone else to do something im more then capable of ..... as for emergancy situations a rear tire u can get buy without (not recomended) and for the front open the calipers and let the wheel spin a couple times and put the weight on the opposit side spin again and adjust till you get random stop points i did this and i still had a wobble at 92 mph something about wobbles at highspeeds i dont like call me crazy but i'll never attempt this form of balancing again esp when i can pay 5 dollars to have it done for me and not have a wobble
---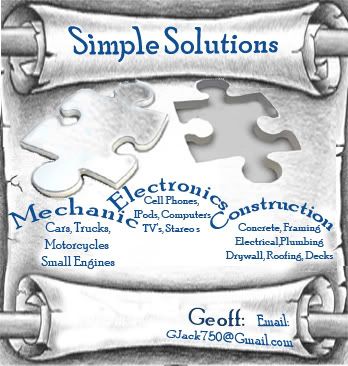 Stator #3
MF AGM
DeGoated
Ears Shaved
R/R relocated
Rebuilt
She's worth her weight in GOLD
If u dont have it already Here is the
Service Manual
How To
Test the Stator