Just lubed spline
---
I thought the damn coupling was frozen on the shaft until I saw the snap ring inside. Whew, was nervous for a minute. But then, couldnt get the drive shaft back on the primary drive spline. Pulled the boot back, glad I did because it was bone dry. The final drive spline still had plenty lube on it. Its not fun trying to get the drive shaft on the primary though.
Linkmeister Supreme
Join Date: Aug 2008
Location: Lethbridge, Alberta, Canada
Posts: 7,960
Good for you L2. I still have that little item of maintenance to do myself, as soon as I can get around a little better.
---
Gordon
1991 VN 750 -"
Cosmic Lady
" or "
Bad Girl
"?
Purchased May 16, 2008
Approx.19,300km (12,000 miles)
H-D windshield
Relocated R/R
MF-AGM battery
Fiamm Freeway Blaster horns
F&S luggage rack and engine guard
Kury Offset Hiway pegs
July 13, 2016, Riding on the DARKSIDE now, Classic Radial 165/80-15
TOP TEN THINGS A NEW RIDER/OWNER SHOULD DO.
Click on link.
https://www.vn750.com/forum/11-vn750-general-discussion/9127-top-ten-items-you-would-suggest-new-owner-do-his-new-ride.html
Drive less, ride more...
Join Date: Nov 2005
Location: SW Ga
Posts: 1,114
I think Fergy's treatment procedure for spline lubing/maintenance is spot on, but....in truth...I think that lubrication for the rear splines is much more important than the front.

I have yet to see a front drive spline set fail--notice that when there's a failure...it's always the rear.
---
'05 VN750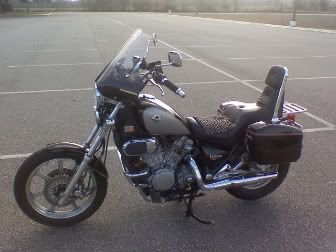 For other bike pix & mods, go to:
http://s1203.photobucket.com/albums/...k/VN750%20pix/
I have never done it and Ive had the bike 7 years so who knows if the other owner did. All the jibber jabber on here about it prompted me to take a look. Its a 1985 and I have 37K on this bike now. I bought it with 17K on it. L;ast time I took a look was when I had the driveshaft out 7 yrs ago for the stator change.
Members who have donated towards server costs
Join Date: Mar 2006
Location: Kyle, Texas
Posts: 4,054
I'm puzzled as to why you were removing the coupling from the drive shaft unless it was to replace it? Just must be missing something in the story. Yeah, that drive shaft is a bear to get back on the primary for most of us. Glad you got it all done though.
---
Fergy
Kyle, TX VN750.com member #707 VROC#19556
2002 VN1500 Classic
Spline Lube Procedure, with photos,
R/R Relocation
and
Coil Mod
Rusty Tank Cleaning!
Electrical Fault Finding Flowchart
SEAFOAM JUNKIE!
Just to check it. The manual show it removed so I thoght it just slid off. I thought maybe it needed lube on the other end. Even if I didnt want it too the spline fell off the primary when I pulled the final drive.