Members who have donated towards server costs
Join Date: Jun 2006
Location: Long Island, NY
Posts: 812
Fuel gremlins
---
It died on me today and it sure felt like fuel starvation. Ordinarily I would have switched to reserve except that the guage showed a lot of fuel, over a 1/4. Pulled to the side of the road and switched to reserve, waited a few minutes and after a few tries, she started and ran perfectly. The fuel guage showed over a quarter of a tank and I could hear it sloshing with the cap open when I shook the bike from side to side. Has anyone ever had this problem or had to clean the air vent on the fuel tank? Is it in the cap? Is there a way to see if it's clogged? Can you stick a thin piece of wire through it to see if it's clear. Does anyone know?
Gemguy
[email protected]
Drive less, ride more...
Join Date: Nov 2005
Location: SW Ga
Posts: 1,114
Without knowing more about your bike, it's hard to solve your problem based on just the info above.
In any case, a good first step to ensuring this problem doesn't occur again is to make friends with a gas additive called "Seafoam"...
When your fuel tank is near empty, first add about 3-4 ounces of Seafoam, then fill the tank as normal.
Then ride the bike for 10-15 miles, to get the Seafoam/fuel mix up into the carbs.
To
really
let Seafoam do its thing, let the bike sit for 3-5 days.
Then burn off that tank of gas as normal.
Then repeat.
After using Seafoam mixed with fuel tank per the can's directions at least once every other month, most riders experience better driveability, and a "happier" bike in general. This of course assumes that your bike is otherwise in reasonably good tune and good shape.
Seafoam is available at most auto parts stores (and now even some Walmarts) for between $6-$9 per pint container.
For still more info, visit:
http://www.seafoamsales.com/motorTuneUpTechGas.htm
---
'05 VN750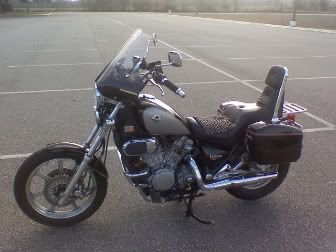 For other bike pix & mods, go to:
http://s1203.photobucket.com/albums/...k/VN750%20pix/
---
Last edited by theauhawk; 03-07-2008 at

12:56 AM

.
Undercover Sportbiker
Join Date: Oct 2007
Location: SoCal (SF Valley) 91343
Posts: 1,097
The easiest way to check if the vent lines are clogged is to take off the seat and pull the hoses from the back of the tank. I say hoses assuming you have a CA bike. Other states IIRC only have 1. Connect a piece of hose (scrap, etc. something just lying around) and blow into it with the gas tank open. Put a finger over the hole at the top and if you feel air that's not the issue. If you don't then you'll have to clean it out. (You should also blow through the vent line you just disconnected just to be sure. Rinse thoroughly after or rig up an adapter so you don't eat gas....)

You should also get to know your new best friend called Sea Foam. Could be you got a bit of schmutz that blocked the main tube on the petcock. Or your gauge is wrong. Either way, SF will cure probably 80+ percent of all your fuel/carb issues. Try the above and post back.
---