Members who have donated towards server costs
Join Date: Jul 2007
Location: Liberty MO
Posts: 40
Gas problem or electrical problem.
---
I decided to take my Vulcan out for a spin yesterday. Put a brand new MF battery in it last week but there was nothing wrong with the other one. Occasionally (maybe 3-4 times over the last year) my motorcycle would begin to cut out like it was running out of gas. I would end up on the side of the road and would look and joggle there. Once I turned off the petcock a couple times, another time a checked the fuel lines, yesterday I just opened up the tank and shook the gas around to make sure I had some. Always after finding nothing wrong I would crank it and it would crank back up and I would be on my way thinking that it was a piece of foreign matter. Last summer I pulled and cleaned the tank and found some stuff in it but it hasn't really made much difference. When it happens, it occurs within a couple miles of the house. Yesterday, it happened again and I ended on the side as usual. The only difference was that once I took off it started cutting out again, I could maintain maybe 30 mph. It idled perfectly but would cut out at much higher. I decided to limp home convinced that I had a fuel starvation problem. On the way I noticed that I had no dashlights and no tach. I turned the key off/on and the bike started running better but will still cut out above 3500 rpm. The good news is that the problem appears to be here to stay (I hope so that I can finally fix), the bad news is that I am no longer convinced that it is a fuel problem. Anyone had anything similar happen?
---
1994 VN750

Bought 1/06/2007 with 12152 miles.
Currently 30000+ and commuting.
Vance and Hines Exhaust
Stator (twice), r/r reloc, MF battery
Hey, Sorry to hear the bad news. But like you said, it will be good. Some of us have had the similar symptoms for various problems. My self it was a loose battery connection. It never crossed my mind that it could be that... but it was. It was making & breaking connection. The bike roling down the road was partialy sustaining it & all the electrical, guages tach ect, were doing weird stuff. It sounds like your deal is simillar. But be sure to check more than just where the battery is connected. For the Neg, check where it conects to the frame. For the Pos, I don't particularly remember where it all goes but there are a couple of relays and such that could have a loose connection. Good luck!
---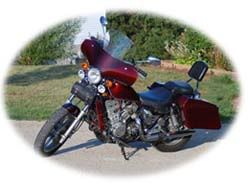 Orig. 8600 Miles 5/12/7 Currently 50,500Miles

Owners Manual
Repair Manual Download
Mosfet RR Test
Goof Proof Stator Test
VoIP Doc's Ear Shave & Re-jet Procedure
Hyperbuzzin's "How To Post Photo's.
Mosfet R&R Headlight Fix.
Senior Member
Join Date: Mar 2005
Location: Channelview, TX
Posts: 748
I'd almost bet money it's your ignition switch...

I've had that happen before, on the Hill Country Ride last year. Turned out it was _two_ things; the switch and trash in the carbs. The main reason mine cuts out now (once in a while), is the gas cap vent ain't workin' like it's 'posed to.

Jim
---
J.D.
Kerrville, TX
'95 Vulcan 750 "Therapy II",
aka "Raggedy Ann"
'95 VN750 project
'03 VN800B "The Little Black"
'04 VN800E Drifter project
'93 VN1500A custom project
VROC #16185
GCVROC #33
Photo album:
http://www.flickr.com/photos/leekayd/sets
Old Truck Junkie
Join Date: Jul 2007
Location: Roby Texas
Posts: 4,130
Mine would do that too. It seemed to do it if I let it idle to warm up. So now I start up as soon as it runs well enough to go I am off. I was thinking that the vaccuum was too low to open up the vaccuum controled fuel cut off. Also I use fuel water remover more often. Seems to help.
---
02 honda sabre 1100
and the Adventure Cycle
Join Date: Jun 2004
Location: Western PA
Posts: 6,138
Have you checked/cleaned the air filters lately?
I was having similar problems, and they seemed to have stopped after I changed the filters.

Mine would sometimes do it at the start of a ride, and other times towards the end of a ride.
But I never had the dash lights or tach quit???
Hmmm, maybe, like J.D. mentioned, it is the ignition switch. They have been known to cause problems.
---
AKA: Tim & 'The Adventure Cycle' VROC #24567, NEVROC, SteelCity VROC
"When life throws you curves,
Aim for the apex."


Author Unknown
Members who have donated towards server costs
Join Date: Jul 2006
Location: Kennett Square, PA
Posts: 3,505
Check your ignition coils, too, and make sure one of 'em isn't shorting out on you (look for sparks that shouldn't be there!). I'd check the front one first, given that you lost some lights whose connections are on the front end of the wiring harness. Look for worn or loose connections. Our bikes aren't happy running on just one coil, and will perform pretty much like you describe.
---
C
Members who have donated towards server costs
Join Date: Jul 2007
Location: Liberty MO
Posts: 40
It snowed AGAIN so I was off of the bike for a few days waiting for the roads to clear but yesterday decided to start it up and see if I could figure something out. I checked the battery that I had just installed and everything looked good. I started it up and couldn't get it to act up in the driveway so I took it out for a spin and went maybe 20 miles or so and it ran perfectly. It was like 20 degrees so I gave up and put it back in the garage. Go figure. I will put another shot of SeaFoam in it and clean the filters and hope it isn't the ignition switch. If it turns out that it is the ignition, where is a good place to pick one one up at a reasonable cost?
---
1994 VN750

Bought 1/06/2007 with 12152 miles.
Currently 30000+ and commuting.
Vance and Hines Exhaust
Stator (twice), r/r reloc, MF battery
Members who have donated towards server costs
Join Date: Jun 2006
Location: Long Island, NY
Posts: 812
It died on me today and it sure felt like fuel starvation. Pulled to the side of the road and switched to reserve, waited a few minutes and she started and ran perfectly. The fuel guage showed over a quarter of a tank and I could hear it sloshing with the cap open when I shook the bike from side to side. Has anyone ever cleaned the air vent on the fuel tank? Is it in the cap?
Gemguy
[email protected]
Members who have donated towards server costs
Join Date: Jun 2006
Location: Corpus Christi, Texas
Posts: 1,647
Thisguy,

It is cheaper to rebuild the ignition switch and there is a great pictorial of it here on the website. Mostly it's cleaning contacts and the like.

Gemguy,
I can sympathize with your symptoms being similar to Thisguy's but it is recommended that you start your own thread so as not to hijack the original.
As far as your problem is concerned, the fuel tank vent is a little black doughnut at the base of the filler cap located between the two bolts that hold it on the tank. You can take it out and see if it is clear and then put it back in. Does you tank whistle? This is a common sign that the vent has clogged.
---
Jim W
93 VN 750 "Ursula"
Moved R/R 08Sep06
R/R rewire 17Feb07
New R/R, Installed 14Jun08
New Stator installed 10 Jun08
Maintenance Free Battery 12Jan08
21480 Miles
VROC #8542