Need help with my carbs... I think!?
---
Ok, here's the skivvy. Since I did the ear shave with the under tank unified filter I haven't had a proper top end (WOT) As soon as I get the throttle to where the mains would kick in It bogs & looses power. Back it off & it's good again. The engine runs properly up to this point.
My current setup is 40 pilots, 132.5 mains & no washers on the needles. I had started out with 140 mains, two washers, too rich, I stepped down to 138's, 135's & where I'm at 132.5 with a combo of washer setups. Now with that said, I also have a color tune spark plug. This allows me to see the color of the combustion while the engines running. Running thru the gears with the bike on the center stand I show good combustion all the way thru gears & good as a crack of the throttle.
I only seem to notice the "bog" when I'm in real world situation. Under a load.
I suspected a vacuum leak so I checked around the carb with a propane tank allowing the gas to flow / with no flame. When you pass over a leaking area, your idle will change. I found no effect in this manner.
So I'm coming to the gurus, what else should I look at? Oh yeah, I run sea foam regularly. I have never had the carbs cleaned in all the miles I've done. Now, one thing I did notice the last time I removed the washers from the needle, one the needles had a slight bend near the bottom. This should be straight right?
I didn't disassemble the second again to check it, but I don't remember it being bent. I'd like to think I would have noticed that! lol
So, there it is. I'm about ready to pay a mech to look at it but I don't trust any locally. ltms.
---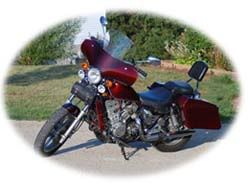 Orig. 8600 Miles 5/12/7 Currently 50,500Miles

Owners Manual
Repair Manual Download
Mosfet RR Test
Goof Proof Stator Test
VoIP Doc's Ear Shave & Re-jet Procedure
Hyperbuzzin's "How To Post Photo's.
Mosfet R&R Headlight Fix.
a bent needle isn't good.

where is the breather vent tube (that used to go to the right ear) routed.. it seams to cause higher end problems when left open to the air.
ok thats not it then. I would start with the bent needle.
Old Truck Junkie
Join Date: Jul 2007
Location: Roby Texas
Posts: 4,130
Have you tried running with out any air filters? Leave the carb opennings to the open air and run like you stole it. You may also try opening up on the air/fuel mixing screws.
---
02 honda sabre 1100
Old Truck Junkie
Join Date: Jul 2007
Location: Roby Texas
Posts: 4,130
I did just that when ron was helping me diagnose my very simular problem. I had the wrong filters.
---
02 honda sabre 1100
Senior Member
Join Date: Aug 2010
Location: Daleville, Alabama
Posts: 445
Quote:
Well I'm glad to report that straightening the needles & reseating the carbs seems to have corrected my issue. My babies got umph again!

Whohoo!!!!!
So you are going to be able to keep up with me now when I'm loaded with all my camping gear and stuff ?
Just messing with ya, gold it's running like she should.
---
MCCT Mod
Pickup Mod
12 Volt Receptacle Mod
Memphis Shades Santa Cruz
Homemade Luggage Rack
NGK Iridium IX Spark Plugs
Harley Sportster Exhausts
Rotating/Flashing Tail Lights
170/80 Michelin Commander II
Saddlemen Highwayman Slant Jumbo Saddlebags
Bought 09/10 12.2k miles - 04/12 33.4k miles