let's talk MPG
---
For those who have seen some of my posts, let me fill you in on where i stand

OK.. so i have KN stock replacement filters.. Cruzer pipes and carbs have be re-jetted to 142 main and pilot jet is still stock.

On my last big ride at highway speeds, i got some pretty poor mpg. I had to fill up at 85 miles, that came out to 29 mpg. My return trip was all back roads and my mpg was about 37.
I checked the plugs today and they looked like your general dark brown used plugs. They certainly weren't black for too rich nor whitish for too lean. I did check my tires and they were both pretty low on pressure, about 22 psi. I have aired them up and turned in the mix screws a turn.. they are both now right under two full turns out. What would be next for checking to improve gas mileage. When I was stock, I would have to go to reserve at about 110 miles, give or take a few. Another point to consider, is I am a heavier guy.. about 270. How much can this affect my mileage
---
Pittsburgh Dave
2001 VN750...old ride
2003 VN1600.. new ride
irst off, if you are concerned with MPG go back to stock. secondl, with your filters and exhaust a rejet wasn't nessiary so again you added a huge hole for gas to pour though. Then you have low tire pressure.. I will say it one more time.. OG BACK TO STOCk.. Or stop BITCHIN.
no reason to get snippy.. I understand that my changes would probably bring about lower gas mileage..My thought though was this last trip was way worse than I had been getting so i was asking what else could be a factor
---
Pittsburgh Dave
2001 VN750...old ride
2003 VN1600.. new ride
more uphill, a hand full more throttle, the wind was blowing in your face, If the plugs look fie, then you are getting a complete burn. Which then means that the engine is running normal, the carbs are set up correctly. You could be running poor gas.. I was getting about 20 MPG in my SUV consistently for 4 months, this month my MPG jumped up to 35. the only change in my driving habits this month, changed fuel stations.

The reason I am getting snide with you is because I am tired of hearing the same bs whining from you.. the bike's too small, its not powerful enough, and now... it sucks too much fuel... And when we give you advice, you just ignore it and start a whole new thread like this one on the exact same topic trying to get a different answer, which is insane.
wrong again.. the only advice I have gotten is.. 'leave as stock' OK.. so i didnt do that. The uphill part, in the wind..poor gas.. OK.. that's a possibility. I asked a new question because this bout of poor mileage was the first of its kind. My MPG had not dropped that dramatically since the re-jet, so not being the best mechanic, i asked for some input. if you don't like the question, then don't answer and move on. Better to leave it alone then to hack off a fellow member and get into a pissing match
---
Pittsburgh Dave
2001 VN750...old ride
2003 VN1600.. new ride
Didn't you start
THIS
thread? In this same thread you mention the exact same problem you are having now. and as we said, once you modify the intake and/or exhaust it adversely affects the fuel mileage.
I am running a modified intake, Modded Exhaust, Custom Ignition, and am getting about 25 mpg's... does this bother me.. not one bit, because I was expecting my mileage to drop. So like I said on your other thread.. it doesn't sound that bad. And as KM said in the above mentioned thread, You have to track your MPG over a span of a month, not just one or two short trips or long trips... each trip is different with different weather conditions, road conditions, traffic conditions ect. ect. There are so many variables involved with calculating your efficiency that just by getting say 25 MPG on your first tank and then getting 40 on your second tank, even though they were on the same trip on the same road on your way out you were stuck behind a tractor for 15 miles, and had road construction which left you idling for about 30 minutes, where on the way back you fallowed a semi truck the whole way back and got sucked along in his draft. So all in all... I stick by what I said.
I hope this chart helps you understand how to read a spark plug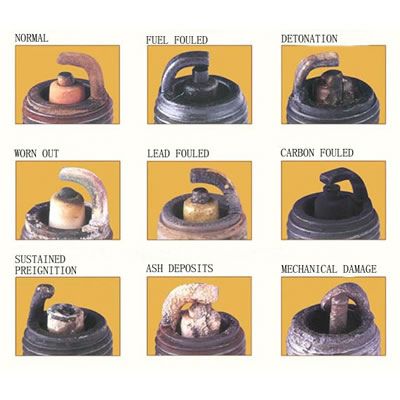 I've also stated about
3 times
that the 142s are way too big for your setup, and you should not have rejetted. Maybe a single size up, but not to 142. I run those with an ear shave!
Keep your thoughts contained in the appropriate threads. This is definitely a duplicate of the other thread.
To quote myself..
Quote:
Let me repeat this one more time, regardless of what God himself told you, you do not need to rejet for V&H pipes on the VN750.
Bigger main jets = richer mixture at 50%+ throttle = more fuel usage.
---
1986 Kawasaki Vulcan 750
NGK Iridium Plugs #7803/DPR7EIX-9
Duralast Gold ETX15 AGM Battery
Coastered & Shaved
TOC MCCTs
Metzeler ME880 [110/90-19, 170/80-15]
Balance Dampers Replaced
Tuxedo Mod
Rebuilt Forks w/ Progressive Springs
V&H Cruzers
VN750.com Grill Cover
Meanstreak Seat
Emgo 23-92411 Handlebars
MOSFET FH012AA R/R

1990 Kawasaki Vulcan 750

1998 Honda VFR800 FI

2014 Honda VFR800F

1989 Pontiac Firebird Formula 350
You need to add your tire psi to your signature, seams to be the only thing left off the hideous list, then maybe you would keep up with it! At that low you should notice in feel and drag by just sitting on and walking the bike backwards. The weather is changing now, so now is a critical time to keep an eye on tire pressures. Bikes tires fluxuate much more then car tires do.
I am also running 142/42 with screws out 2 1/2 turns with open exhaust and custom intake
Dave I think you should be running either 138s or... running the 142's with the with screws 1/4 turn out... how much blueing are you getting on your header pipes? Are both pipes the same temp, where is your bluing occurring?
IF your plugs look like picture 1, and your pipes are equal temp with out any blueing then you are set up correctly and you are jsut going to have to suffer poor fuel mileage.
If your plugs are fuel fouled, start by stepping down your jets to 138's and maybe even all the way back down to stock, readjust your air screws to 2 turns out and sync your carbs. Then get a
infrared heat gun
to test the temp of your exhaust and tune your carbs so you have equal temperatures between both header pipes.
You want good gas mileage, get a Vespa... and leave it stock... you want a fast powerful bike, get a Hyabusa. If you want a bike to just have fun with.. keep the Vulcan and stop worrying so much about your fuel economy.