Junior Member
Join Date: Nov 2011
Posts: 10
Front cylinder breaking up at cruise
---
Just to be clear... this is my vn750
I've done all the work to it. The bike has been running perfectly. Perfect jets, no choke starts, idles perfect, runs perfect etc.
I was riding home last night and literally all of a sudden around 65mph it started breaking up. I knew I had plenty of gas but switched to reserve anyhow with no change. I rode it more today. Starts perfect. Idles perfect. Still cuts up a lot at cruise or lite accel but will clear up with wide open throttle. I have clear gas lines and could see fuel with no bubbles. Pulled the petcock vac line and applied suction to double check nice fuel flow.
I figured I had some water in the gas..... drained carb bowls and were clean as can be. I pulled the carbs and they are clean as can be. I blasted them several months ago while chasing a random float needle sticking. Brand new jetts and float needles are only months old. At this point I thought I might have torn a diaphragm but that too was in good shape.
Pulled the plugs and they look perfect. My compression gauge adapter is stuck in a RF900 (which I don't wanna talk about it lol) but since it starts perfect (hot or cold) with no back firing etc I'm going to assume compression is fine.
Any thoughts would be great..... this is going to drive me crazy!!
Thanks,
Adam
I've rode this bike nearly daily since I finished it up in Feb. I've never had it run like this....
I've heard of tiny pin holes in the diaphragm could do this and they are easy to miss. I think both of them are the same so you could switch them and see if the problem moves go the rear jug.

First off I'd check the electrical connections on the ignitors/ coils.... And all ignition electrics.

But sounds carb related to me however.

Nice color scheme BTW...
Isnt that a 700 though ? (not that it matters, but theyre better)...
You Sir, HAVE to add to the "Bikes Name" thread in the GoatsBelly...just a guess..."Green Goblin ?" (ive seen bikes named that)...really, more of a pistachio, isnt it...

...lemme see...two words.......plug wires.......if theyre old, change em, if not check routing/shorts and both ends...breaking up at 65 is usually electrical...no power at 65 is air/fuel....
I had the same problem with my stock wires, until I changed to HD automotives...hate to say it, but Ford (was all i could get for free)...wires are as important as plugs, IMO...




Heh...just a thought, but wouldnt Jerry have had a field day with this one...lolololol...




No frame member in front of the rear wheel either...Im IMPRESSED !...I mean really...not sarcasm...thats a sweet frame job...




Junior Member
Join Date: Nov 2011
Posts: 10
Thanks guys and we have a winner. Carb vents
I have them T'd together and run to the fuel tank vent that runs inside the tank and up to the cap. Don't ask me why but this setup has been running great. The hose came off and started this whole breakup. I didn't think anything of it as I've had the vent dangling in the rear of the engine before without issue..... perhaps I cut it shorter to attach to the tank so when it came loose it was in a different place than before. I have taken my cap all apart and cleaned it out so I don't have any POOGS. I rode it non-stop from Gainesville to Daytona bikeweek this year w/o issue. Approx 115miles on 2.2 gallons of fuel. (I can only hold about 2.35 with the flip sides)
Here's a better shot of the frame. There is a cross member forward of the rear wheel that the fender (attached to). Color is Neon Green and it is brighter in person than photos lol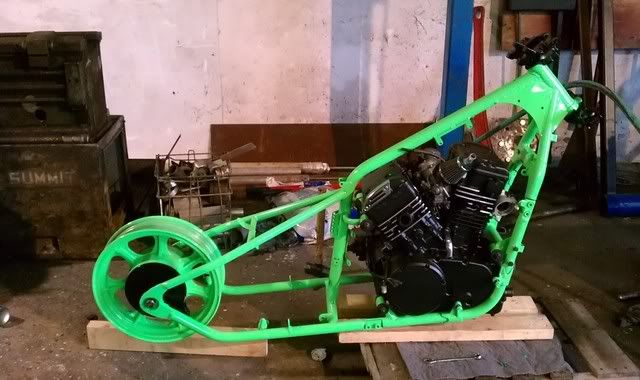 This is what I started with
...oh....I like the RAT version much better ! But thats just me...Im an old fart with dirty roots, lol...(rats got character !)




Senior Member
Join Date: Jan 2012
Posts: 619
Quote:
Heh...just a thought, but wouldnt Jerry have had a field day with this one...lolololol...
Where is Jerry buy the way???
Shhhh Swag...he's been behaving...nicely too may I add....which is cool, because he was ok...
Quote:
There is a cross member forward of the rear wheel that the fender
I shouldda specified "downtube"...my bad....just seems like a LONG stretch of frame w/o support...eventually, flex will crack the frame (happened to me with my BSA that I hardtailed)....I'dda gone with a tube from just behind the battery box straight up....not even a huge one...