Junior Member
Join Date: Dec 2010
Posts: 3
engine stops at half tank even on reserve
---
I hope someone here can give some advice, I have a 2000 VN750 which i really love but it has a problem with running at half full. I keep it on reserve all the time since it has a fuel indicator on the dashboard. But sometimes (only sometimes) when I ride at half tank the engine will just stop. If I pull over and wait about 10 minutes it usually starts right up again. I have always ran my bikes on reserve so that I do not have the hassle of running out of gas at the half tank mark and have never had a problem with any but this one.
Any advice is appreciated I love this bike in general but this is a problem and is really embarrassing since I am a kawasaki girl and brag about them all the time. So when I ride with the harley gang and it stops I want to push it in the ditch and leave it LOL
Senior Member
Join Date: Aug 2010
Location: Grand Rapids-ish, MI
Posts: 162
---
1985 VN700 A1 (Sold) | 2009 Ninja 500R EX500D9F
VROC #32761
Members who have donated towards server costs
Join Date: Mar 2011
Location: Rochester, New York
Posts: 1,803
Quote:
I hope someone here can give some advice, I have a 2000 VN750 which i really love but it has a problem with running at half full. I keep it on reserve all the time since it has a fuel indicator on the dashboard. But sometimes (only sometimes) when I ride at half tank the engine will just stop. If I pull over and wait about 10 minutes it usually starts right up again. I have always ran my bikes on reserve so that I do not have the hassle of running out of gas at the half tank mark and have never had a problem with any but this one.
Any advice is appreciated I love this bike in general but this is a problem and is really embarrassing since I am a kawasaki girl and brag about them all the time. So when I ride with the harley gang and it stops I want to push it in the ditch and leave it LOL
Sorry to say, you are creating some of the problem. Do not ride on reserve all the time. The smaller pick up screen is probably clogged up . See recent thread. Possible POOGS.
https://www.vn750.com/forum/showthread.php?t=18108
---
JM2001
" Loud Pipes Risk Rights "
2001 Vulcan 750
marbled
TOC upgrade on ACCT
Air/fuel mixture set to 2 1/2 out
rectifier relocated
splines lubed
iridiums
decals removed
upgraded mirrors
Pic up coil mod done
degoated
All LED lighting
Upgraded Mosfet rectifier
---
Last edited by JM2001; 05-09-2011 at

09:20 AM

.
Sounds just like a case of the POOGS.
I think there is a real nice write-up (maybe sticky) on fixing the POOGS.
I'm sure you can search this forum and find it though.

P.S. - The nice write-up is by cglennon. If you go to the "carbs and fuel system" section of this forum, cglennon's sticky thread is second from the top.
---
~~C8> Ratt
________________________
'91 VN750 - Cosmic Splendor/Candy Wine
Done: Coastered, .020 ign., Iridiums, VM
Plexistar II, MCCT's, Relocated MOSFET
Next: LED's
Will Do: Horns, Shave(maybe)
---
Last edited by ZCraggRatt; 05-09-2011 at

12:31 PM

. Reason: P.S.
Drive less, ride more...
Join Date: Nov 2005
Location: SW Ga
Posts: 1,114
These symptoms are the classic "Phantom Gas Syndrome" (aka, POOGS) which is essentially a vapor lock issue with the bike's gas cap and/or venting.
Take note:
there is nothing wrong really with your bike itself
. It just needs some "preventive maintenance", ok?....
Using the above "search" function, do a search for "POOGS" or "phantom gas syndrome". In one of the resulting forum threads, another forum member, Cglennon, has a very nice write-up on how to service your bike to kill this condition.
Let us know how it goes....
---
'05 VN750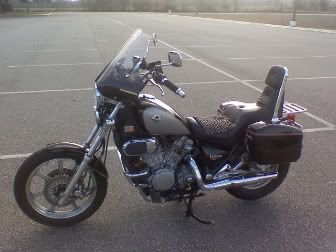 For other bike pix & mods, go to:
http://s1203.photobucket.com/albums/...k/VN750%20pix/
Big Dumb Viking
Join Date: Apr 2009
Location: Marietta, GA
Posts: 597
Easy way to tell if you have POOGS. Ride with the gas cap unlocked (thus open by a little bit). If the problem no longer happens...there ya go.

I had the same problem a few weeks ago. Fixed it by following the advice in the POOGS thread.
---
.
.
.
-Az
http://www.asbrand.com
1989 Kawasaki Vulcan 750
Upgrades so Far:
Coastered
R/R relocated
Analog Voltmeter
PFIII Windshield
RAM GPS Mount w/Garmin GPS
Cigarette Lighter Power Adapter
Saddlemen's Classic Explorer Seat
Pro-Tac Driver's Backrest
LED Tail Light
LED Rear Turn Signals
Luggage Rack
Storage Trunk
Engine Guard w/Highway Pegs
Radiator Grill Cover
Turn Signal Relocation Bracket
Saddlebags
Floorboards
Patriot Guard Rider
Join Date: Jan 2011
Location: Torrance, CA
Posts: 825
I had the same issue. I ended up buying a new cap which solved my problem.
---
1986 Black Kawasaki Vulcan VN750 "Black KAWK"
VN750 #9300 & VROC #33453
EMGO Handlebar, V&H Exhaust, Drop Shocks, Raised/Painted Fork, MeanStreak Seat, Tank Bib, ME880 Oversize Tires, Engine Guard, Custom Mirrors, Chris Products Turn Signals, Ear Shave, 150/42 Jets, PINGEL Fuel Valve, MCCT, Volt Meter, Shendegen R/R, AGM Battery, Coastered, .020 Coils, Relo Gauges & Headlamp, SilverStar Ultra, LED Flashing Brake Light, Center Stand Delete, WOLO Airhorn.
Banned
Join Date: Dec 2010
Posts: 448
You might ought to look at your fuel lines too. If they arc up higher than the fuel outlets, you can have the same problem as POOGS because the fuel can't flow freely over the arc at a half tank cause there isn't sufficient gravity in the tank for the fuel.
IMHO the POOGS would happen before you get to a half tank of fuel. I had both my fuel lines arced higher than the outlets and it would starve for fuel unless I kept the tank full.
It happened to me last week. I could be wrong tho.