"Pretty-up" those ears w/pic
---
Well after alot of thought I decided I kinda like the look of the "ears" but the fins on them were the hardest part to get past, so I made some carbon fiber inserts let me know if you think this looks ok ~as far as the Ears go anyway~ hahaha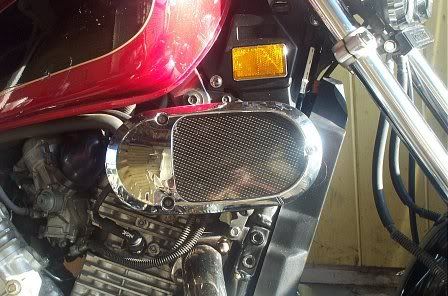 Please ignore the blisterd chrome
Members who have donated towards server costs
Join Date: Jun 2005
Location: Scarsdale, NY
Posts: 650
Very cool! I like it! (Now yuo've got me thinking of something cool to do to my ears!)
---
Anthony
1985 VN700
(Priscilla)
Sold
-------------------------------------------------------
Helpful Links -->>

Search
|
Vulcan Verses
|
VN750 Gallery
|
VN750 Items on Ebay
|
Link to VN750.com
2FAS4U
Join Date: Mar 2006
Location: Kentucky
Posts: 469
Uber Member
Join Date: Feb 2006
Location: Dallas, TX
Posts: 1,280
nice, anyway you can make me a set that has a ram air intake?
---
'04 Vn750
Currently Installed
nat'l cycle deflector shield
westco 12v30 MF, 30A/h w/ 350 CCA's w/ custom box
TOC stator cover w/ Frankenstator mod!
R/R relo
Soon to have (own or on order)
TOC ACCT's
Mez's 110-FRT 170/80-Rear
Custom rear fender and tail light
Givi hard bags w/ custom rear turn signals
Band Engineer/Webmaster for
Josey Contreras Tejano Band
Looks nice. Did ya take pics of the process?
wasnt any need to. the black "finned" ones just popped off, I used them as a pattern to cut the carbon fiber sheet, I used a large pair of sissors to cut the fiber, after its cut sized and edges filed smooth I used some 3-M double sided tape, but after doing that I wasnt real happy with the security of it, so I drilled 3 holes and used very small bolts with acorn nuts, a nice stainless rivet would look good also. Unlike sheetmetel the carbon sheet will bend but it wont stay bent and the filter isnt flat so the bolts were the best option for me.
I did not know that they just popped out..... thanks
Junior Member
Join Date: May 2006
Location: Jefferson, NJ
Posts: 13
Join Date: May 2005
Posts: 5
Where did you get the Carbon Fiber sheets?
Once Banned
Join Date: Jun 2006
Location: Bryant, Arkansas
Posts: 2,125
Jaackil - Try eBay. They always got some kinda carbon fiber sheeting. Just look for the vn750 parts (or the link off the main forum page).

Rick - I'd like to see what's under the fins. How did you blister your chrome?
---
2000 A16
Drilled baffles
$65 leather saddle bags
Kuryaken grips
relocated R/R
de-badged
25,000+ original owner miles