Member
Join Date: Mar 2009
Location: Fort Worth, Texas
Posts: 75
Different Version of Ear Shave
---
I read a lot of the posts on ear shaves and considered doing it but didn't really want to mess with it and down the bike for awhile. The ears didn't bother me as much as that lousy plenum chamber did. I didn't want to increase my carb noise and I didn't like the idea of jacking up the tank to fit the pod filters. I really didn't like the price of the pod filters at $60 x 2. Well the bikes been down for electrical problems so I decided to try something a little different.
I got to looking at the different K & N filters available and found the RC-2720, which is an oval with 2 holes in it. The holes are 2" and the centers are 5" apart. Our bikes are about 5.5 inches apart on the centers where the rubber boots go into the plenum. I found the filter for $42 shipped at Leading Edge Air Foils when everyone else wanted $42 + shipping. Here's the link,
http://store.leadingedgeairfoils.com...oducts_id=5364
I was concerned about airflow and did some research, found the filter is used on Rotex 503 Ultralite 2 stroke engine. The engine develops 49.6 HP and runs at 6800 RPM, that's roughly twice the flow requirements for our bikes. Assured that it would provide enough air flow I ordered one and waited for it to get here. Here is what the Rotex looks like with the filter on it.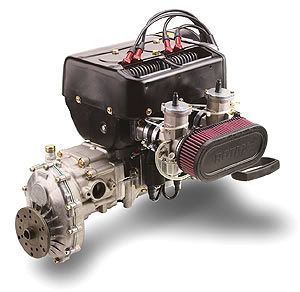 My biggest concern was space, the filter should fit by the measurements but reality is sometimes a different story. When it got here I did some fitting and found I needed to make sure the harness on the Lt was fastened tightly to the frame and down low near the 5 o'clock position. I had to modify the water inlet for the cylinder head water ports. The water port connection at the thermostat housing going to the rear head is just to long to let the hose flex around the filter, so I cut it and repositioned the end opposite the one for the front head like so. To modify it, I cut the tail port off and drilled a hole opposite but slightly off the connection for the front head hose. I made the hole a little tight and used the piece from the back I had cut off. I just used solder to seal it up. To close up the back I used a freeze plug I had ground down to fit in snugly and soldered that in also.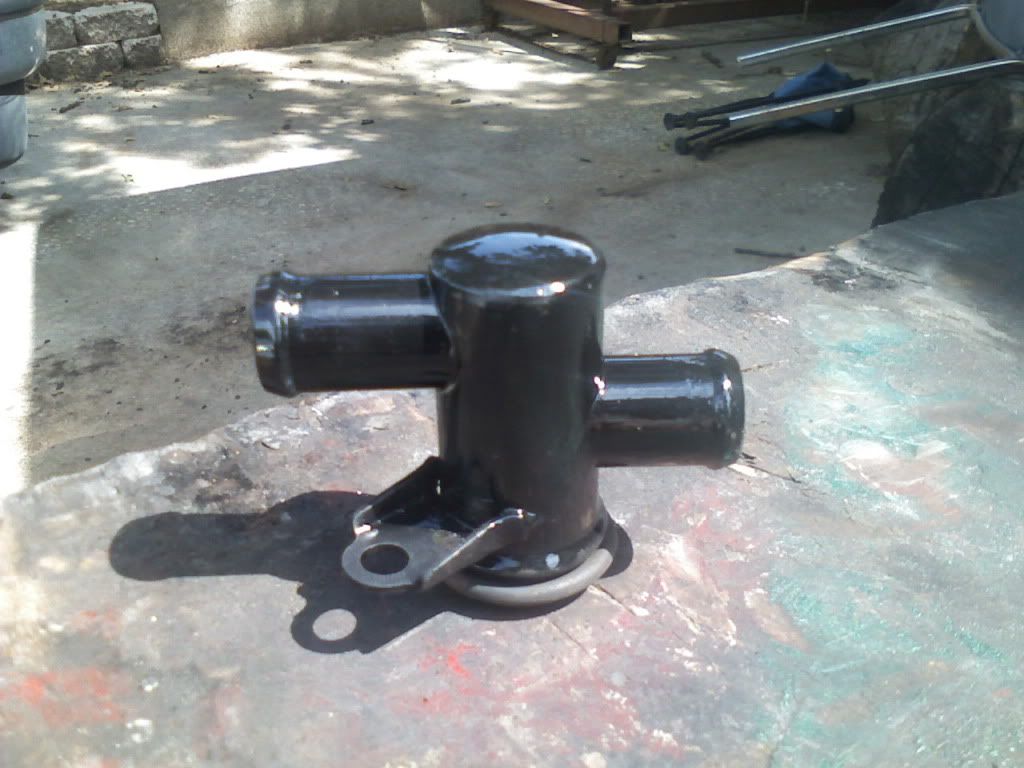 and
With that done, I had all the room I needed to put the filter in place. I used the original rear hose and put a schedule 40 plastic 90 degree elbow to turn it and used a Kelly Springfield S-4355 heater hose from Autozone that is moulded in a U to connect to the new port. I cut the hose and only used the U part of it.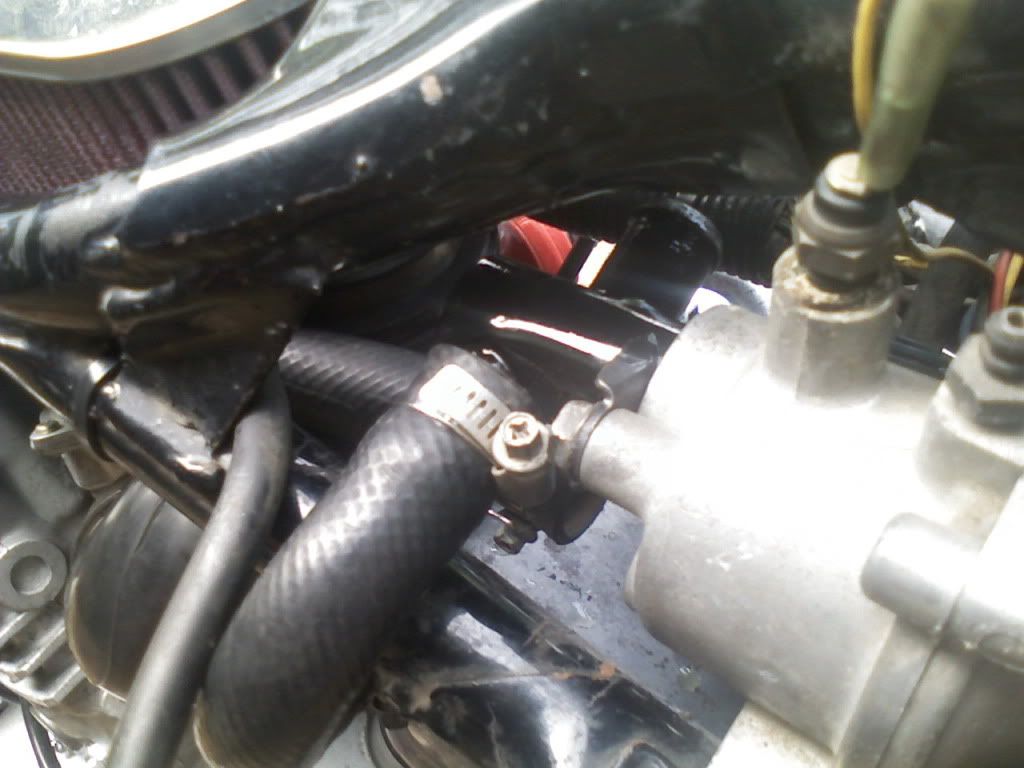 I had to modify the rubber boots and take the flange off where it goes into the plenum, the rear one I had to take down a little further. I used a chop saw blade to slowly grind away the rubber until I had removed what I needed to get the depth I wanted. I used 2" muffler pipe to connect the filter to the rubber tube, keeping the distance as short as possible. The pipe in the front is slightly longer than the one in the back.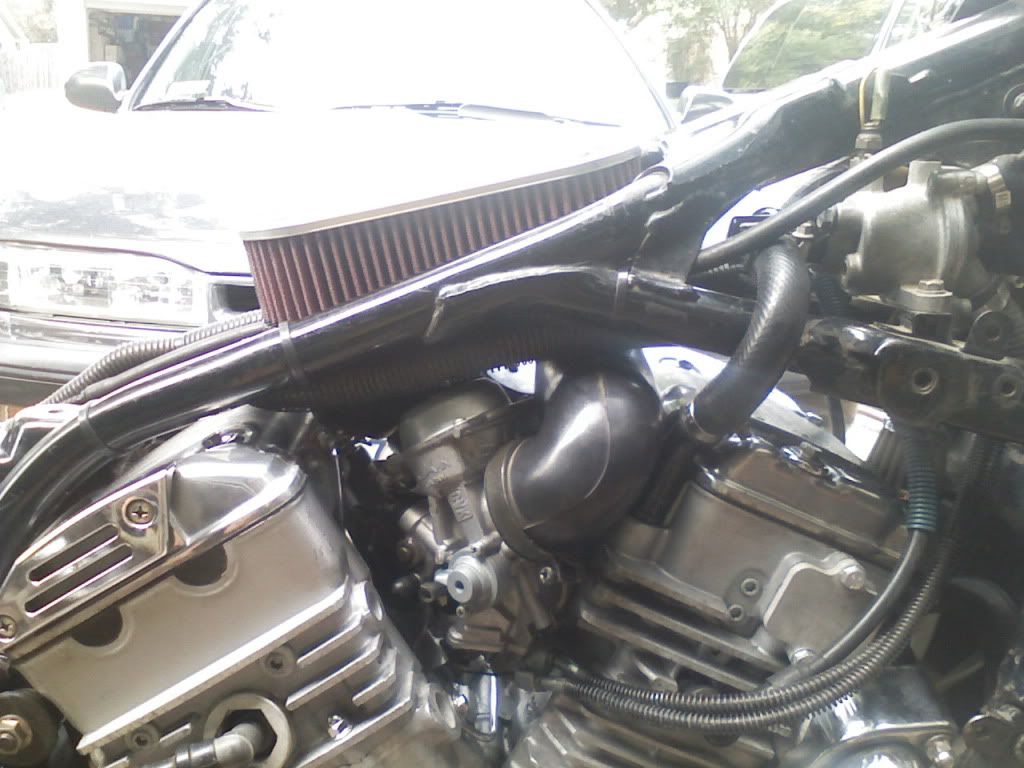 The filter fit in there perfectly. The tank does push down on it slightly but there is plenty of flex in the rear tube and all it does is make it all snug in there. There was very little increase in carb noise, it's protected from water and well hidden. I bought the $11 dollar stainless steel breather filter from Autozone, made a bracket for it and mounted on the front using the original hose that went to the plenum. Here is the finished product.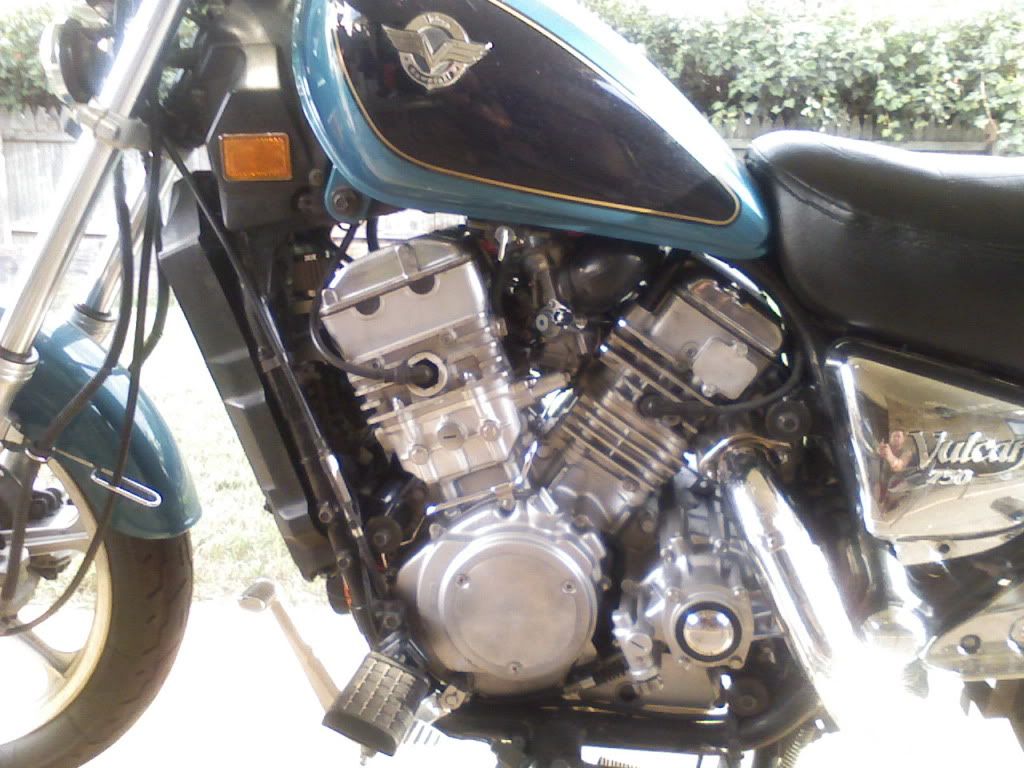 At this point, I'm still using the stock jets and I haven't noticed anything different. It seems to have plenty of power for the way I drive. I may rejet at some point but for now it seems to be fine like it is.
---
Last edited by AceMcgyver; 10-04-2009 at

07:11 PM

.
Senior Member
Join Date: Sep 2009
Location: South-Central, MO
Posts: 149
Lke it, nice clean look. I give it a
and the Adventure Cycle
Join Date: Jun 2004
Location: Western PA
Posts: 6,138
A single filter ear shave, Nice! Certainly does look clean!
Have ya had the bike to the upper end of the RPM's to see how it runs then?
Great job
---
AKA: Tim & 'The Adventure Cycle' VROC #24567, NEVROC, SteelCity VROC
"When life throws you curves,
Aim for the apex."


Author Unknown
Senior Member
Join Date: Jul 2007
Location: Castle Rock, Wa
Posts: 1,750
Did you ever read my thread about my air filter catching fire?

No, really nice job. I've thought the same thing but using the air box. I've done the research and have been told a number of times that CVC carbs should use a common air box for the smoothest ride.

DT
---
95 VN750 (eBay)31k+
GL1100 front fender
OEM engine guard
OEM high back rest
'V-Twin' HWY pegs
Black 750 Spectre handlebars
SunPro Volt Meter (Amazon)
Maier bug shield (JCW)
Bar Ends anti-vibe (JCW)
Emgo air filters
Tank bag-Eclipse
Tail bag-FroZone Cooler
Back Rest-Igloo 6 pak cooler
WalMart Saddle Bags
R/R Relocate
Dry Splines Lubed
AGM DieHard-Sears
Gutted Goat
Sporster XL Mufflers
LED's-stop,tail,turn,marker
Pickup coil mod to .45mm
Silverstar headlight
Rotella T6
Member
Join Date: Mar 2009
Location: Fort Worth, Texas
Posts: 75
I haven't had it past about 5000 RPM, but it does just fine there and seems to be willing to go more. I've got R/R problems with it so it's been down until I get money for a Rick's replacement.

I considered using the rear portion of the air box, (cutting it at the bend), and putting a filter on the front and top side. I think it would work and there is certainly enough room for it but ended up discarding that idea as to research and labor intensive. Building the mount for the filters where they are easily changeable. The filters that would work are common to small engines, but will they flow enough air. I suppose you could use foam filters at that point since they are hidden. Like I said, it seemed like a lot more work than just adapting the bike to an existing filter.

If the filter catches on fire I'm running.
---
Last edited by AceMcgyver; 10-02-2009 at

12:34 PM

.
Member
Join Date: Oct 2007
Location: Daytona Beach, Fl.
Posts: 63
Nice Job!!! Nice and Clean! Would be interested in the power range. 5,000 is about the speed limit. Let me know if you have to rejet?
Hoser
Join Date: Aug 2009
Posts: 118
Great idea and excellent tech. Thanks.
---
1986 VN750A(2) 12224 miles.
Growling at the World...
Join Date: Jun 2004
Location: Chicagoland, IL
Posts: 561
Damn fine looking modification. Unique and professional looking. You did good...
---
Evan Breyn ~ The Bulldog
http://www.bulldogsbike.com
2006 Harley Davidson Ultra Classic FLHTCUI ~ The Big Black Bitch ~ 26,000 miles.
2002 Kawasaki Nomad 1500 ~ The Red Dog ~ Traded in at 22,000 miles of smiles (purchased new 10/05 / Traded in 6/12).
1990 Kawasaki Vulcan 750 ~ Black Betty ~ 34,999.7 miles
VROC ~v~ 485
McHenry County Road Pirates
Chicagoland, IL
Members who have donated towards server costs
Join Date: Apr 2008
Location: S.E. Michigan
Posts: 2,850
Quote:
Damn fine looking modification. Unique and professional looking. You did good...
Ditto.