Member
Join Date: Jul 2008
Location: Saint George, UT
Posts: 44
Where to pick up new hose and clamps for carbs.
---
So I am looking for new hose and clamps for my carb. The old ones are in poor shape and come to find out I am missing a couple clamps. I think that I just want to replace them all. I when to the local auto store and the fuel line they had to offer was really thick and hard to put on. Plus I hate the factory clamps. Any recommendations on where to pick up some good hose and clamps that will work well in close quarters? Thanks.
---
Chainsaw
Simple Solutions
Join Date: Jun 2008
Location: SEQUIM, WA
Posts: 965
most parts stores carry hoses i'd check the local store... bring in the hoses and tell them the hoses are for fuel...
---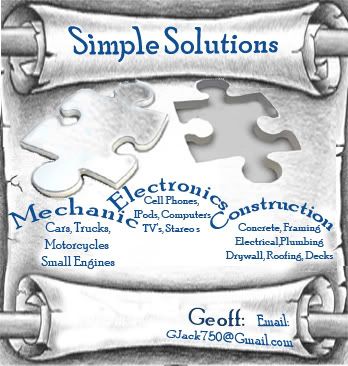 Stator #3
MF AGM
DeGoated
Ears Shaved
R/R relocated
Rebuilt
She's worth her weight in GOLD
If u dont have it already Here is the
Service Manual
How To
Test the Stator
Members who have donated towards server costs
Join Date: Jul 2006
Location: Kennett Square, PA
Posts: 3,505
SeeBeare is right, that you can get both fuel and vacuum lines at an auto parts store. I don't like the OEM clamps, either, and have been using smaller hose clamps on...well, just about everything! Home Despot or Lowe's ought to have everything you need along those lines.
---
C
Love My Baby
Join Date: Jun 2008
Location: Hollywood, Florida
Posts: 1,165
You can also try Harbor Freight if there's one nearby.
---
Rubyrick

MY BABY...
'05 VN750
16,000 miles +
Kawi tank bib
Kawi rear rack
Small windshield
DEKA M/F battery
VN750.com Grill Cover
LED license plate frame
Clear Alternatives LED brake light
Cortech mini tank bag on rear rack
Pirelli MT66 Tires: 110 front / 150 rear
Splines lubed when tires installed at 10,650 miles
Splines lubed again at 14,400 with stubby valve stem install

Place your mouse on the X below and drag to the O

X Even though you can't see Him, GOD is there! O