Front Cylinder Backfire
---
I got my carbs working and it runs down the road well. I'm still having issues with the front cylinder backfiring and wanted to bounce some ideas off everyone. Here is what I know:

The bike is coastered and I checked the seals on the coaster plates and they are sealed well. The exhaust is straight through with no goat belly.

The backfire only happens on decelleration with the throttle valves fully closed. I can hold them open a little and it won't backfire.

It seems to be worse between 1000 and 3000 RPM's on decelleration.

It's worse when I have the idle mixture screw 2 turns out, the backfire is not as bad with the idle mixture screw 4 turns out.

With the choke full on it doesn't backfire, partial choke still backfires.

I moved the petcock vacuum line to the rear cyl carb to eliminate that as a possibility.

It's looking to me like the front cylinder is lean on decelleration. Could this be a Low Cut Valve situation? Doesn't the Low Cut Valve kick in when there is high vacuum like during decelleration? Is there any way to test it? I suppose I could swap the valves and see if the rear carb starts backfiring. Does anyone have any other ideas?
---
Last edited by AceMcgyver; 08-10-2009 at

04:00 PM

.
Junior Member
Join Date: Jul 2009
Location: Manhattan, Ks
Posts: 15
Are you using the clutch when this happens? if not it could be do to there not being an H pipe connecting the exhausts any more so the pressure level in the exhausts are uneven and the backfire is do to trying to clear out the extra exhaust that is being built up. At least this is the issue on quite a few harleys that I have worked on for my friends and family.
---
'99 VN750
12998 miles - 2009
Completed:
Custom seat (steal tractor seat cut down to give more leg room), 10"X12" 1/8" steal plate Rack., 18" drivers back rest, custom Highway bar, coastering.
Future:
5 gal tank.
Simple Solutions
Join Date: Jun 2008
Location: SEQUIM, WA
Posts: 965
run a lit cig down the pipes sounds like a leak in thr exhast
---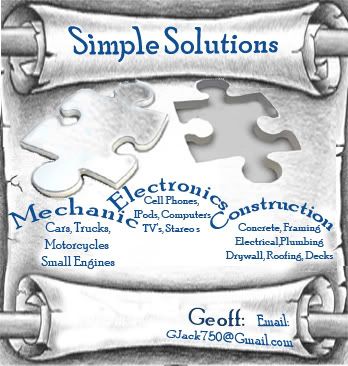 Stator #3
MF AGM
DeGoated
Ears Shaved
R/R relocated
Rebuilt
She's worth her weight in GOLD
If u dont have it already Here is the
Service Manual
How To
Test the Stator
Quote:
run a lit cig down the pipes sounds like a leak in thr exhast
Is there an alternative to this for us non-smokers? I hate to buy a pack and stink up my garage just for this test!
---
Current VN: 03 VN1600A
Past VNs: 92 VN750A, 98 VN1500A
Future VN: 94/97 VN1500A basketcase/bobber
There is no clutch action, it's just throttle off and slowing down. When I clutch it the engine goes back to idle and there is no backfire.

There is an H pipe connection half way down the pipes. I don't think I've ever heard about putting a lit cig in the pipe. How does that work? Are you just looking for smoke from the leak? Wouldn't you be able to do the same thing with air pressure down the exhaust?

Does anyone know when the Low Cut valve kicks in and how it works?
My understanding is you look to see if the smoke is disturbed. Similar to how you'd check for a leak around a window or with a candle or something. Not sure if it always sucks in or blows out or if it can do either but you'll see the smoke disturbed either way.
---
Current VN: 03 VN1600A
Past VNs: 92 VN750A, 98 VN1500A
Future VN: 94/97 VN1500A basketcase/bobber
Members who have donated towards server costs
Join Date: Mar 2006
Location: Kyle, Texas
Posts: 4,054
I don't know the answer to the low cut valve and how it works. Lance or Cindy might be able to help and hopefully will step in and answer that for you.
The smoke works like this. Cigar, or incense or what ever, you run the lit smoking item along and around connections in your exhaust, around the manifold and elsewhere, when the bike is running. Where there are leaks, you should see the smoke be pulled into the leaking area or blown away by the leak.
---
Fergy
Kyle, TX VN750.com member #707 VROC#19556
2002 VN1500 Classic
Spline Lube Procedure, with photos,
R/R Relocation
and
Coil Mod
Rusty Tank Cleaning!
Electrical Fault Finding Flowchart
SEAFOAM JUNKIE!
Ah, incense! The non-smoker's alternative. THANKS!!
---
Current VN: 03 VN1600A
Past VNs: 92 VN750A, 98 VN1500A
Future VN: 94/97 VN1500A basketcase/bobber
I'll check the exhaust tomorrow, there is only one connection other than the exhaust manifold and I have welded the pipes when I moved both pipes to the Rt side but usually I get pressure out of any holes, I haven't seen it suck air in. Right now the bike is dead, sitting in a gas station parking lot about 20 miles away waiting for me to charge and replace the dead battery.

I'm still leaning toward the low cut valve but don't know for sure how it works. I suppose if there was fuel on the vacuum side of the diaphram that would be a good indication I had a diaphram leak.