Help with jetting my lean vn750
---
Hello Vulcan gurus,
I recently picked up an 86 Vulcan 750 (non California)
This bike is all stock.
It runs very lean,The plugs insulators are white.just like when removed from the box.. At any rpm besides idle the bike has some small backfiring while not under load. When riding it I cant here the backfiring but I can feel it surging and every once in awhile it sneezes.
It has 175 compression on each cylinder.
It doesnt seem to have the decel pop so im probably not gonna marble it.(yet)
I cleaned the carbs out and replaced a blown out enrichener diaphram.
It currently has 132 mains and 38 pilots.
I was thinking of trying some 135 mains and 40 pilots.
Im at 1089 feet elevation,
What do you guys think.
Will it possibly help.

Thanks
Members who have donated towards server costs
It sounds more like you may have a vacuum leak or too much air getting into the intakes. How are your air filters? Check for leaks around the carb boots and vacuum ports/hoses by shooting some carb cleaner B12 around various areas while the bike is idling and see if it surges or coughs.
I guess it could also be starving for fuel some, but I'd lean more to the air leak side, no pun intended.
---
Fergy
Kyle, TX VN750.com member #707 VROC#19556
2002 VN1500 Classic
Spline Lube Procedure, with photos,
R/R Relocation
and
Coil Mod
Rusty Tank Cleaning!
Electrical Fault Finding Flowchart
SEAFOAM JUNKIE!
I have already checked for vacumn leaks with carb cleaner and a propane torch.
I had the carbs off and tore apart and cleaned them.
The boots appear in real good shape.
It was my father in laws bike who has recently passed away.
He was the original owner of the bike and told me before he passed that he never had the carbs off.
I drilled the tamper plugs and tried adjusting the screws out to 3 turns, it runs alot better but not perfect.
One of the air filters was old and falling apart,and bits of it got into the carbs bleeder holes the other one was new.
I wrapped the air filter cage with some air filter material used for our intake fans on our cnc"s at work,this fiber material is probably less restrictve than the original foam filters tho..
I know that some engines are tuned to run with air filters only and run lean without them.(new lawnmowers for example)
Im a pretty good mechanic and know alot about bikes and how carbs work.
The bike may have a vacum leak but i cant find it.
I have a new filter on order so i guess i will wait and see how it runs with that before I go any further.
Maybe i will even try plugging the air intake hole on my custom filter side just to see if it fattens it up a bit.
I may give it an earshave,new pipes and the such later on but just wanted it to run good stock for now.
Thanks for the reply tho.
Members who have donated towards server costs
You're answering a lot of the questions I thought of after posting. These bikes are set lean from the factory and it might be as simple as the one air filter being less restrictive. I've got a feeling that might be the whole problem.
It's a good plan to get it running great "before" doing the ear shave and mods. You'd be surprised how many decide to do stuff here while the bike is running bad. That's why I wouldn't change jets. It should run like a screaming ape when it's all working, stock. Good luck with it all, and it's good to have you in our group!
---
Fergy
Kyle, TX VN750.com member #707 VROC#19556
2002 VN1500 Classic
Spline Lube Procedure, with photos,
R/R Relocation
and
Coil Mod
Rusty Tank Cleaning!
Electrical Fault Finding Flowchart
SEAFOAM JUNKIE!
On His Lady Vulcan
Join Date: Apr 2008
Location: Washington State
Posts: 1,647
If your bike is completly stock and your 3 turns out, youre
WAY
to far out on your pilots for one. They come stock turned out at..... OH GAWD I am having a mind fart and can't for the life of me think what the stock setting is. More coffee please... Anyways my guess would be due to that air filter breaking apart on you has caused fuel blockage somewhere. Even though you cleaned them, clean them again, even the float needle. Tear it all apart. Good luck to you.
EDIT: Or as Fergy has stated....LOL
Peace
---
"You came out of your mom looking like SHlT. She thought you were beautiful. Don't know what scared me most, your looks or her judgment."
Pictures of the "Ladies"
---
Last edited by wkrizan; 08-10-2009 at

12:46 PM

.
Simple Solutions
Join Date: Jun 2008
Location: SEQUIM, WA
Posts: 965
o dont think your stock bike has jet issues im not what do the plugs look like marbeling and blocking that vac line leading to the air diaphram under the seat should richen u up slightly the stock turn on the piolet screw is 1 5/8 what do your puggs look like ? how is spark u got good gaps and strong spark at each hole? i recomend iridium plugs pricy but highly recomended... so u are running lean when u ride with the choke on do u have the same hesitation??a lil seafoam in the tank and new plugs i bet you'll see the improvement...
---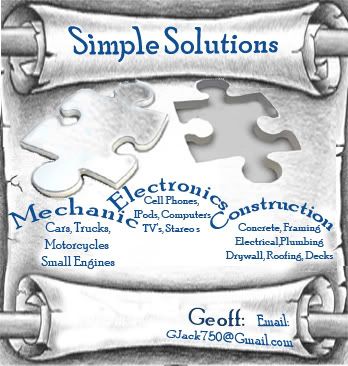 Stator #3
MF AGM
DeGoated
Ears Shaved
R/R relocated
Rebuilt
She's worth her weight in GOLD
If u dont have it already Here is the
Service Manual
How To
Test the Stator
First all these forums are great.
And so are the people.
I wouldnt really think a stocker would have jet issues either.
Im gettin closer.
I went from 1.625 to 2 turns out on both mixture screws.
No more backfiring at steady throttle.
Still has i little niss tho,cant figure out if its both cylinders or not(damn goat)
One cylinder seems to stop firing at real low rpm.The carbs still have the factory balance mark on them.but im gonna balance them and see what happens.
Im gonaa also check the 2 coils resistence's and see if all is good.
I had it running in the dark and didnt see any spark leaks.
I did have one between the long spark plug cap and wall in the hole when i got the bike, Cleaned the caps out put in new plugs and all seems well.
Ive got a adjustable spark tester I might check spark in a bit but it seems fine at the plugs.
Its good now to where im the only one that notices the miss. but im kinda picky about how my toys run.
Carbs are surgically clean,so i dont think i wanna clean em again.
Thanx all
Ill keep ya posted.
---
Last edited by Hammer034; 08-10-2009 at

02:12 PM

.
Linkmeister Supreme
Join Date: Aug 2008
Location: Lethbridge, Alberta, Canada
Posts: 7,960
I don`t have any techie advice to add, just a welcome to the forum. Glad you are getting the problems Hammered out. Sorry, I just couldn`t resist the pun.
---
Gordon
1991 VN 750 -"
Cosmic Lady
" or "
Bad Girl
"?
Purchased May 16, 2008
Approx.19,300km (12,000 miles)
H-D windshield
Relocated R/R
MF-AGM battery
Fiamm Freeway Blaster horns
F&S luggage rack and engine guard
Kury Offset Hiway pegs
July 13, 2016, Riding on the DARKSIDE now, Classic Radial 165/80-15
TOP TEN THINGS A NEW RIDER/OWNER SHOULD DO.
Click on link.
https://www.vn750.com/forum/11-vn750-general-discussion/9127-top-ten-items-you-would-suggest-new-owner-do-his-new-ride.html
Senior Member
Join Date: Jul 2007
Location: Castle Rock, Wa
Posts: 1,750
My bet it's the air cleaner. CV carbs are sensitive to any changes in the air intake.

DT
---
95 VN750 (eBay)31k+
GL1100 front fender
OEM engine guard
OEM high back rest
'V-Twin' HWY pegs
Black 750 Spectre handlebars
SunPro Volt Meter (Amazon)
Maier bug shield (JCW)
Bar Ends anti-vibe (JCW)
Emgo air filters
Tank bag-Eclipse
Tail bag-FroZone Cooler
Back Rest-Igloo 6 pak cooler
WalMart Saddle Bags
R/R Relocate
Dry Splines Lubed
AGM DieHard-Sears
Gutted Goat
Sporster XL Mufflers
LED's-stop,tail,turn,marker
Pickup coil mod to .45mm
Silverstar headlight
Rotella T6