Member
Join Date: May 2009
Location: Dade City FL
Posts: 97
Running on one cylinder
---
Ok so like everything else just as I get one thing fixed another issue takes its place. Couple weeks ago me and a buddy went for about a 150 mile trip and the bike ran fine on the way there. A place called the Blue Heron Cove in Weirsdale Fl (some of the best burgers I have ever had). We where only there for about an hour or so, when we went to leave the bike started right up without any problems but it was idling really low. It wasn't cold out at all and the bike was sitting in the sun so I know it didn't cool down to much just sitting there. Anyways we went ahead and took off and the bike was a little sluggish but not to bad. I figured it was just the burger I just ate helping me weigh down the bike lol. We had to pull off because we where getting ready to ride into some rain and still had a good 45 mins or so left to ride and didn't want to do it soaking wet. After about 15 mins the rain passed and we got back on our bikes and I noticed again it was idling really low at start up and I could smell raw gas, but it got back on the road just fine. We rode maybe another 20 mins or so before my buddy headed his way and I headed mine. No sooner did he pull away at the light did my bike all of a sudden start running on one cylinder. Felt like I was running out of gas. Gauge still showed about a third of a tank. It was sputtering real bad and the right side exhaust was back firing like crazy. It did it the rest of the way home. When I got home I pulled the plugs and the backs where fine but the fronts where gas fouled pretty bad. I went ahead and cleaned all four and switched them up. Ran the bike with the petcock switched to off and let it idle till it ran all the gas out of the lines. Turned the gas back on and fired it up. Ran perfect like a brand new bike. So I went ahead and replaced the right side diaphragm that I had ordered a few weeks before that I kept putting off and for a couple weeks now the bike has been fine.

Now fast forward to this morning when I started it up to get ready for work even with the choke on the bike wouldn't idle higher than 1500 unless I turned the idle up but I know for sure the bike was idled perfect Tuesday when I rode it last. The bike had the same symptoms as last time the whole ride to work. Fells like its running only on the back cylinder until I get it over 4k rpms then it runs smooth. Every time I pulled the clutch in to come to a stop or go around a curve it would conk out on me but fire right back up when I hit the button. I had run it down again to about a 3rd of a tank tuesday on the way home from work and when I got on it this morning it was reading closer to an eighth. When I stopped on my way to work to put some gas in it after I cut the bike off the right exhaust was still steady smoking. White smoke, and you could smell the raw gas.

When I went out for lunch I shut the gas off again and let it run til it conked out on me and hopped on it and took it for a spin and it was running perfect again. When I parked it to head back in i shut the gas off again and it was fine a few hours later when I got out to head home.

Im just hopping someone can help me pin point what the problem could be. I ran it by a couple people at work and they where all kinda thinking it was probably a stuck float. I'm hoping one of you guys can tell me otherwise because I all ready cleaned the carbs once and really not wanting to pull the carbs again if I can help it. When me and my buddy had the carbs off last time we weren't able to get to the floats because the bolts where stripping with what tools he had to try and get them off so we kinda had to skip that part. I know thats a horrible idea now but at the time it didn't seem like a bad idea, I was just ready to get my bike back together. Was killing me seeing it in pieces like that lol.

Either Way thanks for those that had the patience to read all of that and thanks for any help you can offer as always.

In case it helps. the bike has 12.4k miles on it, It did sit for quite some time with the last two PO's, I have ran 3 tanks off seafoam skipping every other tank in it since I got it a few months ago.
---
1993 Kawasaki Vulcan VN750 <To Be Named Later>
Purchased Used on 05/09/2009
11,681 Miles...
Dade City, Florida
Iridium Spark Plugs
New Shinko 230 Tour Masters
110/90/19 Front 150/90/15 Back
Carbs Cleaned 06/22/09
Spline Lube 6/29/09
1992 Kawasaki Vulcan VN750 <Parts Bike>
Simple Solutions
Join Date: Jun 2008
Location: SEQUIM, WA
Posts: 965
first things first im not thinkin its fuel ... because it was all of a sudden im thinking its electrical and im thinking its the ground between the frame and the engine.... double check all batt and frame connections...do u have a volt meter i want u to check the voltage at the coil with the key on (maybe bike runnin) red wire pos black wire to ground...next double check the ignition area with the key on bike in neutral wiggle the wires and spin the key and see if the neutral light goes out .... do u have spark?? i think we should tackle fuel after we eliminate all the elec issues possible ...
---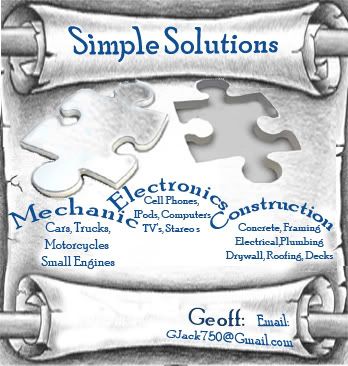 Stator #3
MF AGM
DeGoated
Ears Shaved
R/R relocated
Rebuilt
She's worth her weight in GOLD
If u dont have it already Here is the
Service Manual
How To
Test the Stator
The Professor
Join Date: Feb 2008
Location: BUFORD, GEORGIA
Posts: 3,147
Pull the plugs, if they are not gas fouled than it's not a stuck float. check the spark. It could be the ignition switch, ignitor, pick up coils, high tension coil, loose wires, ect.....
---

85 VN700 "Old Yella"
REBUILT ENGINE
CUSTOM PAINT
VANCE & HINES CRUZERS
EAR SHAVED AND RE-JETTED W/K&N'S
DUNLOP ELITE K591 FRONT & REAR
VOLTMETER
SYNTHETIC BRAKE FLUID
SYNTHETIC OIL & GEAR LUBE
PLEXISTAR 2 WINDSHIELD
SPLINES LUBED
ACCT'S GREASED W/TOC SPRINGS
COASTERD
LEATHER SADDLE BAGS
LEATHER TOOL AND ROLL BAG
PICKUP COILS GAPPED AT .018"
NGK CAP, WIRES, IRIDUMS
BARNETT FRICTION PLATES & SPRINGS
CUSTOM GRIPS, MIRRORS, LEVERS
ORIGINAL STATOR & R/R 14.5v
DEKA MF AGM ETX15L
Best Auto/Moto Insurance | Motorcycle Protection Today | FREE Trade-In Quote
Simple Solutions
Join Date: Jun 2008
Location: SEQUIM, WA
Posts: 965
quick checks on carbs open drains and not quality of fuel... because of strippedscrews try squirting carb cleaner in the drain home and strait into the fuel in hose ... if there is debri in the jets from not changin the bowls you will have to pull the carbs... another trick is try to sqeeze a strand of throttle cable through the jets you may be able to clear it and then hose it out with carb cleaner..... just know the second time around is way easier then the first and the third well wath this blink carbs out...
---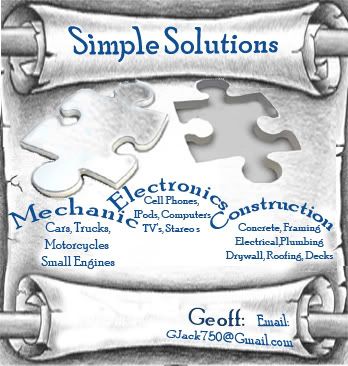 Stator #3
MF AGM
DeGoated
Ears Shaved
R/R relocated
Rebuilt
She's worth her weight in GOLD
If u dont have it already Here is the
Service Manual
How To
Test the Stator