Staling after Seafoam clean
---
So I poured some straight Seafoam into the fuel lines. Let it sit there for a few hours. Took a little while to start and when it did puffed smoke. try to ride and soon as any amount of throttle is applied no matter how small it dies. it idles just fine. right now the engine is fully warmed up. so I know that it has to be running regular fuel now. but still soon as I apply the throttle it dies. the choke open or closed doesn't matter.
Jace
I had the same problem, but I ran mine through the tank. Ended up taking the petcock apart and cleaning it. I guess it broke some gunk loss and stoped up the pc. Also I ran some straight through the right carb, wrong thing to do, burnt the right pipe realy bad. From now on I will only use it as directed.
By the By when it gets into the carbs it will smoke like a mosiquito sprayer for a while. It may have losened som gunk in the carbs, hope you dont have to take them down for a cleaning.
Simple Solutions
Join Date: Jun 2008
Location: SEQUIM, WA
Posts: 965
try and hose the carbs with carb cleaner... then apply a lil starter fluid and see if u can force the bike into the upper rpm range ... once there try and plug the carbs by hand one at a time at high rpms to see if u can suck whatever gunk may be in there through... if this doesnt work it may be carb dunk time...
---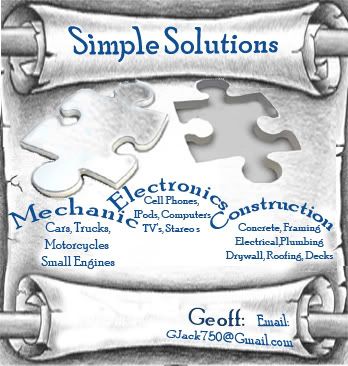 Stator #3
MF AGM
DeGoated
Ears Shaved
R/R relocated
Rebuilt
She's worth her weight in GOLD
If u dont have it already Here is the
Service Manual
How To
Test the Stator
Members who have donated towards server costs
Join Date: Mar 2006
Location: Kyle, Texas
Posts: 4,054
What did it do before you tried the seafoam bath? Just curious as to what caused you to want to do a full soaking. I'm not saying you shouldn't have done it, just wondering what the symptoms were before the seafoam.

It sounds like something is clogging your main jets or your float valves won't let enough fuel in to do anything but idle. Could be the seafoam loosened up some gunk and it got shifted somewhere else in the carbs.
---
Fergy
Kyle, TX VN750.com member #707 VROC#19556
2002 VN1500 Classic
Spline Lube Procedure, with photos,
R/R Relocation
and
Coil Mod
Rusty Tank Cleaning!
Electrical Fault Finding Flowchart
SEAFOAM JUNKIE!
it seems to be okay now. I was trying to use the seafoam to clean everything out. guess I did. got her up to 100 and she ran fine.
now I have a new gremlin. No headlight. bulb checks out and fuse is okay. and the headlight indicator doesn't work either, and when I flip the lites from low to high the highbeam indicator doesn't lite up either. only thing I did electronically is stand up and whallop my head on the underside of the left controls. I am going to post this info in the electronic section also.
I think I hit the clitch more then the actual control. I have no power at the fuse box either. all other lights work