Junior Member
Join Date: Mar 2009
Location: N.E. Pa.
Posts: 4
Here's a cheap mod!
---
So, this comes form the KLR forums it's called the $.22 mod, (well at least some of it).
Let's start form the beginning.
My boy bought a '93 750 (that's why I'm on this site!
It has these God awful loud straight pipes, (did I really think that was cool when I was 17)???
Any banna, it has a stumble right off pilot on the needle, (lean).
So, being the constant tinker, I ripped the tank off.
"There is NO way I'm ripping these carbs off just to get at the needle"!
So, being a mechanic/barbarian........
If you slide a hammer handle at the end of the air box and wedge the air box up get a, 3/4" lenght #2 philips tip, (I ground the top off one to make it fit), 1/4" open end wrench, you can get at the screws that hold the carb top on.
Then you can jjjjjuuuuusssssttt get the needle out. (be carful of that dia. it's flimsy and is expensiveto replace)!!!!!!!!!!!
you'll see the stock needle is non-adjustable.
No-problem-bo.
This is where the KLR mod comes in.
Go to Lowes (or???????????) and get some #4 washers
Slip the washer on the needle and that'll raise the needle up 1 position as though it were a clipped needle.
I have 2 on my KLR and it works good.
One did Gary's bike right!
Buttoned it up, (you can get at the back screw on the clutch side carb with a LONG screw driver. Put some grease on the tip to hole the screw).
Took maybe 1 hour, counting the 15 minues of thinking time to do it!
Just thought I'd pass that on.
Joe
Give me enough time and I'll break it good!
Linkmeister Supreme
Join Date: Aug 2008
Location: Lethbridge, Alberta, Canada
Posts: 7,960
At first glance I read it as .22 cal mod. LOL I think we have all threatened to put an ornery hard starting vehicle out of its misery at one time or another.

Congrats on your creativity and thriftiness. McGyver would be proud.
---
Gordon
1991 VN 750 -"
Cosmic Lady
" or "
Bad Girl
"?
Purchased May 16, 2008
Approx.19,300km (12,000 miles)
H-D windshield
Relocated R/R
MF-AGM battery
Fiamm Freeway Blaster horns
F&S luggage rack and engine guard
Kury Offset Hiway pegs
July 13, 2016, Riding on the DARKSIDE now, Classic Radial 165/80-15
TOP TEN THINGS A NEW RIDER/OWNER SHOULD DO.
Click on link.
https://www.vn750.com/forum/11-vn750-general-discussion/9127-top-ten-items-you-would.html
Simple Solutions
Join Date: Jun 2008
Location: SEQUIM, WA
Posts: 965
Quote:
At first glance I read it as .22 cal mod. McGyver would be proud.
Not so sure... no duct tape or swiss army knife... and no explosions!! !
---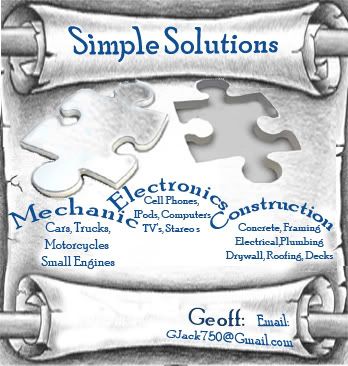 Stator #3
MF AGM
DeGoated
Ears Shaved
R/R relocated
Rebuilt
She's worth her weight in GOLD
If u dont have it already Here is the
Service Manual
How To
Test the Stator