FINALLY Repaired- Embarrassed
---
Hello to all,
I am the guy who bobbed my 2003 750 and has been fighting with her the whole time. I purchased a bike with a known bad stator...but the price was right for a bike in very good condition. I read about the tuxedo modification, and without hesitation, I gave it a shot. However, I used a cheap replacement from EBay...first of many mistakes with my nightmare. The cheap stator came apart and ruined my magneto...which ended up requiring an engine pull anyway. Here is what I ended up doing to the bike over the next few weeks (or months) to the electrical system.

1. Tuxedo Modification
2. New Caltric Stator and regulator (big mistake)
3. New Shorai Battery
4. LED Turn signals
4. New Headlight
5. Bobber Tailight
6. Switched Cooling fan
7. Engine pull to change magneto
8. NEW Stator from Ricks Motorsports (in case the previous stator was grounding with heat)
9. New Mosfitt Voltage Regulator
10 New relocated ignition switch
11. Blue wire modification
12. Two wire modification

Still, the bike would not charge. She would run great on a fresh charge, but suddenly it would discharge the battery and kill the bike. Even blew the 30 amp fuse one time. Was driving me crazy. As suggested by someone here on this forum...I went back and checked every single wire connection I made. Checked for cold solder joints...checked for failing heat shrinks. Checked my grounds over and over. I tested the stator...checked out fine...but I changed it again in case it was grounding out under extreme heat. I was about ready to drive my bike into the Indian River out of frustration.

Yesterday, I added oil to the bike (after the last stator change) Then, I grabbed the battery and dropped her into place under the seat. Suddenly, I saw it....plain as day. The positive battery terminal was almost touching one of the bolt lugs on the frame. Then I shook the battery...and it did touch creating a spark. If I would have taken the time to install the battery terminal straight to begin with, and actually made sure the red rubber terminal cover was pushed into place correctly, it never would have happened. The battery was actually vibrating when running, then, grounding out to the frame and killing the battery suddenly. With simple adjustments, the bike fired right up and rode perfectly for several hours.

Moral of this story is: Never assume anything. Don't be stupid like me and overlook something as simple as this. Obviously the bike needed a new stator and regulator anyway, but I could have saved myself a lot of headaches along the repair process. I am ashamed of myself. I am supposed to be a mechanic.

My son is due home from overseas in 30 days after this latest deployment, and I will be giving this bike to him He has spent the past several years protecting me here in the US, so giving him the bike is the least I can do for him. #GoArmy #FightingMan
mayor of Narnia
Join Date: Jul 2015
Posts: 248
thats great and thank your son for his service for me
---
new supetrapp mufflers
led turn lights

talked to wolfie got highway pegs
to late to bring back wolfie now ride on brother
degoated
new rear drive & splines lubed h-pipe installed riding on the darkside
Yes you may be a mechanic but I'll bet money that you also may be a human as well
---
ONE RATS ASS GIVEN PER POST
Support your local
FREEBIRDS MC
1986/5 Vn700/750 Frankenfook cross eyed bitch "Mellisa Fayhe"
I am a BIKER and i'm proud.
FREEBIRDS MC CENTRAL NY
lowered with progessive 412 10" shocks
rejetted for K/N Pods part#rc 2340
sportster seat
'
I didn't lose my mind.i gave it away
BRING BACK WOLFIE."
Peace and Carrots
"RIP
"And I'm free...as a bird"John Lennon Free as a Bird
"
I only carry when I have my pants on
"Joe Robinson RIP aka Old Dog
We all make mistakes, none of us are perfect. Glad you got it sorted in the end and what a fantastic present to give to your son!
---
Man can not live by bread alone... he needs Duct tape & WD40
2000 VN 750 Senior Member
Join Date: Sep 2010
Location: Central New Jersey
Posts: 2,494
As mentioned previous to this post, give my thanks to your son along with our respect and admiration for what he is doing for this country. Don't worry about making a simple mistake. I am sure you learned a lot more because of it than you would have if it all fell into proper order on its own. The fact you realized your mistake, corrected it and were willing to tell the rest of us about it shows some real honesty and class. I am sure your experience will play back in the heads of many here when they have a similar unfound situation. I know I will remember to look for the simple and obvious before replacing and tearing apart too much at first.

Good luck to you and your son and I hope you both get many miles together.
---
and always remember, "Ride until you rot!"
**Really not sure if the Big "C" is back right now
but having to face the fact that this is a lifetime routine
going forward. Five operations done and it still continues.

Tom
Vulcan 2000
New ride: 2009 Victory Vision Arlen Ness Signature Series
4507 miles
Senior Member
Join Date: Nov 2012
Location: WV
Posts: 6,768
Looks good, very unique. A video of those flappers in action might be awesome.
Going to give my battery a look too. I know the hold down strap is off of it, some of those giant speed bumps (frost heave) we have might have made it pop up. It's not that you missed the problem that matters, but that you found it ... and also shared it.
I'm sure your son will be thrilled, as will you.
Two wheels down! Let us know how the unveiling goes. 30 days, here's hoping for great weather.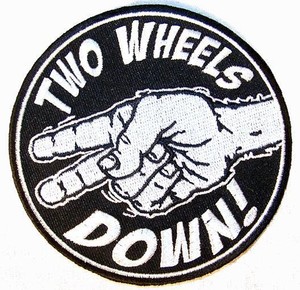 ---
Last edited by Spockster; 09-14-2016 at

08:16 PM

.
Video of Flappers
---

For you Mr. Spockster. Thanks for all your help
Video
---

Video I made for my son so he could keep track of my progress. He has no idea I built this bike for him.
Also...I am not really a professional mechanic. I am really a Business Owner and High School Football Coach. I am just a shade tree guy whos hobbies are rebuilding / repairing boat motors and engines of all types. This whole motorcycle stuff is new to me. Thanks for all your help.