Frame Mod Stator
---
Here is a
link
for the photo's for a frame mod to get to the stator. This is being posted for a member. Any questions will have to go thru
arkjeff
.
Sorry about the link. I had attached a slide show & apperently it times out. Which would explain why it worked when I tested it & didn't work later.
Here's Jeffs info.
Quote:
Hey y'all.
I took the pictures, know the bike and know the owner. I am also on the slowest dialup known to man which is why I had to mail kanuck69 a CD with the pics when he asked for them. So, while I've seen the pics, I haven't viewed his presentation of them.

This is sorta like that kid's game where one kid whispers something in the ear next to him and so on and on. What comes out at the end may not make sense...

The joints are held together by bolts on either side of the initial cuts. The bar stock serves several purposes and is indeed slid into place by way of the slots visible in one of the pics. This allows you to insert the upper portion and swing the other into place b4 sliding the bar into the rear portion of the existing frame. The bar not only gives the joints strength but keeps the bolts from crushing the rather soft and hollow frame tube. A weld job may be stronger but defeats the purpose of a 'roadside stator change', which is possible with this mod.

I've been on this forum for over 3 years and know a few of you. I know that most if not all of you are much more 'particular' about your bike than my friend may be. He used a Skil saw to cut the frame tube, scrounged a piece of bar stock form a junkyard, and just basically winged it from there. Maybe his attitude was that he had nothing to lose at that point. ?

Any improvements some of you may make is just all for the better. Go for it. My buddy was utterly disgusted with a 12 month + 1 day bike with ~12K miles that had a stator fail. He was basically ready to run it off a bridge into the river and I kinda don't blame him. Instead, after calming down, he came up with this idea with no real concerns with the appearance, just practicality. I do know that changing the stator took about 30 minutes tops after creating an easy way to get to it.

FWIW, the bike or frame is solid as a rock. You can in fact take it apart in just a few minutes. This mod was all he wanted it to be and he is totally satisfied with it. If I still had my vn750 we'd do it to mine and might change something or maybe not. But anyhow, it is what it is and if it spurs some of you to build off it and make a prettier fix then it was worth the postage to mail kanuck a CD.

PS

He did this mod just about one year ago. The 2 of us had gone on a 2 week trip around the US and wound up at Kentucky Lake for the Vulcan get-together (looking like the Beverly Hillbillies) and I think that was in Aug or Sept of last year. Just a week or so after we got home he started having the classic symptoms of a bad stator.

So figuring in a period of pouting, scratching his head and refusing to do a motor pull or pay for a fix, it has been just about a year. No problems. And, as he says, maybe this will insure that the stator never goes bad again now that it is so easy to fix!

And yes, Aluminum. The ends had to be shaped on a grinder wheel so they would slip into the curves just a bit.
Sorry. limited to 10 pics 5 from gallery omitted.
Sorry. limited to 10 pics 7 from gallery omitted.
Sorry. limited to 10 pics 9 from gallery omitted.
---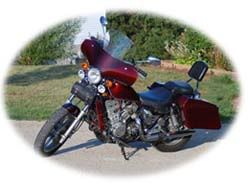 Orig. 8600 Miles 5/12/7 Currently 50,500Miles

Owners Manual
Repair Manual Download
Mosfet RR Test
Goof Proof Stator Test
VoIP Doc's Ear Shave & Re-jet Procedure
Hyperbuzzin's "How To Post Photo's.
Mosfet R&R Headlight Fix.
---
Last edited by kanuck69; 10-16-2008 at

12:21 PM

. Reason: Photo's & Text Added
On His Lady Vulcan
Join Date: Apr 2008
Location: Washington State
Posts: 1,647
Ummmm link dont work
---
"You came out of your mom looking like SHlT. She thought you were beautiful. Don't know what scared me most, your looks or her judgment."
Pictures of the "Ladies"
Members who have donated towards server costs
Join Date: Apr 2008
Location: S.E. Michigan
Posts: 2,850
yep, all it does is flip you right back to this thread....bummer.
and the Adventure Cycle
Join Date: Jun 2004
Location: Western PA
Posts: 6,138
Cool.
I still have the parts I got from a donor frame to do a similar mod.
Maybe one of these days I'll get around to it
---
AKA: Tim & 'The Adventure Cycle' VROC #24567, NEVROC, SteelCity VROC
"When life throws you curves,
Aim for the apex."


Author Unknown
Members who have donated towards server costs
Join Date: Apr 2008
Location: S.E. Michigan
Posts: 2,850
It's got a strange "ending", like not finished. I don't see how that removable section is secured; what holds it tightly in place-one short road trip, or a flick of the side stand and it's all on the ground....

Are there more pics coming?
HAWK
Join Date: Feb 2006
Location: Chicago land
Posts: 2,576
Maby there is bolts we cant see or didn't get picts of.
---
Chad Falstad "Hawk"
Vroc #17649
2011 HD Ultra Classic "angel"
2001 Nomad 1500 Sold March 2012
2001 VN 750 "Sold June with 2008 with 21,000""Serinity"